Recently on Cyclingnews.com
An interview with Olivia Gollan, February 6, 2006
The times, they are a changin'
Last year was tough for Olivia Gollan. After a move to Europe's biggest women's team things started to unravel when the big results didn't eventuate, her form dropped and she just didn't feel like riding. Then losing her good friend Amy Gillett sparked the need for a change. Gollan speaks to Cyclingnews' Les Clarke about those changes, the racing year ahead plus her view for the future of women's cycling.
Hello!
Photo ©: Robert Arnold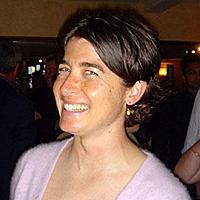 Starting her racing career later in life, Olivia Gollan is a rider who demands respect. Established as one of the mainstays of the women's pro peloton, the 32-year-old from Newcastle, NSW, won the national championships road race in 2003 before heading to Europe with the AIS women's squad in 2004. Consistently in the top ten for world cup races in 2004, Gollan caught the eye of the Nürnberger juggernaut and subsequently moved across to the German squad to race in 2005.
But 2005 didn't go according to plan. Take a look at Gollan's palmares for the year (compared to previous years) and it becomes quite clear something wasn't quite right. In August last year, "I made the decision I wanted to go back to Italy, and basically I just needed a change," says Gollan. "I'd had a fairly ordinary season - I hadn't been enjoying my racing as much as I had in the past - and there was the fact I lost a really good friend [Amy Gillett]. I just needed something to make me change my focus and get me out of a rut, I guess."
After her strong showing in 2004, Gollan had also spoken to Italian team Nobili Rubinetterie-Menikini-Cogeas, and according to the Australian, "When it came down to the decision I made then - between Nobili and Nürnberger - Nobili ran a very close second." So when she needed to get back to Italy, the choice was pretty simple - "They had been a team that I'd really wanted to ride for anyway, so I contacted Walter Zini and asked how he felt about me coming across from Nürnberger to Nobili." The negotiations ran smoothly, and before too long the effects of a fresh start were beginning to show. "After I'd actually made the decision, made contact with him and got halfway down the track of negotiating things I had a whole new lease of life and started to get really excited about 2006," she says, before continuing, "I had a much more positive feel about how I was going to go on the bike, and ironically, I then started going really well on the bike! I got better form, felt stronger, and felt like I could really hurt myself again."
Bottles up for Olivia
Photo ©: Philip Volle

After living in Novellara in the north of Italy with the AIS women's program, Gollan felt the cultural change associated with the move from Italy to Germany may have contributed to her desire to get back there. This is particularly pertinent when you consider the fact that many Australians ply their trade in Italy. "I love Italy - I have a real passion for the country, and I'm really looking forward to living in a little town again," says Gollan. "I'll be living about ten kilometres from Bergamo, which is right near Milan. While there are limitations there are lots of positives. I'll only be about 50 or 60 kilometres from where the AIS are based in Barrese, which is really good for keeping in contact with people there - it's nice to know there's a group of Australians not far away." And it's not just the Aussies that keep Gollan company either - she's gotten to know the locals. "I've also got some friends in Novellara, and I'll be going back to their place a lot, I reckon," she says.
Working very hard in 2006
Photo ©: Rachel Burke

With all the right ingredients, Gollan has rediscovered her passion for racing - does she think this could translate into strong results in 2006? "I really hope so. I know that Nobili have a lot of faith in me to get some results, and I know that with that kind of confidence behind me I can actually go out there and get some big results." As a result, Gollan has set herself some goals for the season, not least of all to perform well at certain world cup races and "a crack at one of the major tours."
Gollan will race at the Geelong tour and world cup opener there later this month before she heads over to Wellington for that city's tour and world cup round. Depending on Commonwealth Games selection she'll either stay in Australia for the Melbourne games and then fly straight to Europe afterwards, or head back to the Continent after Wellington. Flanders is the week after Commonwealth Games, "So it's going to be recovery and getting over jetlag then racing Flanders," according to Gollan.
"Whilst I haven't sat down with my director as yet and mapped out a definite program, I'm certainly going to race all the world cups, and in amongst that the Tour de L'Aude, the Giro and Thuringen," says Gollan. "After that, depending on how it all goes, we'll look towards world's. It's a lot of racing, and a lot of travelling. The thing about Italy is that there's a lot of really good one-day racing; there are lots of little tours, and I know Nobili goes to France to do a few races like Trophée d'Or and Bretagne - they could fill in my August period, which would be really good."
Gollan meets the press
Photo ©: Rachel Burke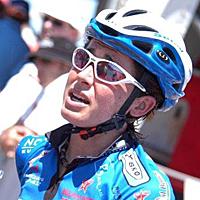 Fleche Wallonne is one of Gollan's targets for 2006, and after performing well in the past, she's hopeful she can ride even better there this year. "Uphill finishes suit me when I'm fit. Fleche Wallonne is just such a famous and mystical race - two years ago I came fifth there, and I came top ten in 2004. I think it's a race I can do well in, but it's just a matter of being fit at the right time and being in the right position." The world cup round in Montreal is another of the Australian rider's picks for a strong performance in 2006. "Montreal also suits me - those really hard races with uphill finishes are races I know I can well in. If I'm fit and confident, they're something I can aim for."
There are more races on Gollan's radar, with some new races on the calendar catching her eye. "There are some interesting new races coming on the calendar this year - a teams time trial world cup, and a world cup in Sweden. They're having the teams time trial in Denmark, and two days later the world cup race in Sweden. The world cup in Sweden is an interesting course - I actually went there last year, raced the course and won...but hey! I think those additions to the calendar will be good."
There's been a big shakeup in the pro women's ranks heading into 2006, with a former teammate of Gollan, Judith Arndt, leaving Nürnberger for the T-Mobile women's team, which has relocated to Germany from the US. "I'm really excited about this year because T-Mobile are coming across - with them having Judith [Arndt] and Ina Teutenberg it's going to be a really strong team, as well as the other people they've got on board," says Gollan, before adding, "rather than having the two main teams - Buitenpoort and Nürnberger, which are quite top heavy - it's good to see a dispersion of the top talent among the women's team, which will make it more competitive."
In the Australian national champion's jersey
Photo ©: James Victor

It's a phenomenon that Gollan believes will eventually make the sport stronger, something that happened in the pro men's ranks quite some time ago. "I think we're getting to the point now where there's enough depth in women's cycling to do that [spread the talent]. There are more teams coming on board because there's more money to go around, so it'll just snowball, I hope. A big part of this is because development programs like the AIS women's squad have begun to feed riders into the top echelons, all of them capable of winning races. "Only two years ago, riders like myself, Nat [Bates] and Oenone [Wood] were staying with the AIS women's team so we had somewhere to race because the pro scene wasn't that developed."
Gollan knows how integral the AIS women's team is to the development of the sport and to Australia's chances of producing top-level female athletes; it offers a chance to be seen doing your best on the world's best stages. "This year they've already got a development squad they'll take to Europe for two different trips, and whilst they've got some girls who are capable of getting some big results, they're not trying to set the world on fire and take on the big pro teams. It's largely about getting the girls over there and giving the women in Australia with promise a chance to shine," she says, before adding, "If they shine they shine - pro teams will pick them up, and if they're stuck in Australia pro teams will never pick them up."
Gollan explains her strategy
Photo ©: Rachel Burke

The 32-year-old qualified teacher is also well aware of the need for riders to race in Europe, regardless of whether they're part of an institute or not. "There are lots of girls; Spratty [Amanda Spratt] is obviously one of them, but I think there's a lot of depth there - I also think we need to keep focusing on getting them to Europe. There are a lot of girls who are on the fringes of getting a scholarship or getting the opportunity to get to Europe. If I had my time again I'd spend some money to try and get myself over there, even if it was for six weeks or something like that because you can't take those steps if you're here," she says, before making the point that, "I think that if girls can from somewhere find the money and get to Italy or Belgium for some good hard racing, you just step up a level and get an idea of 'this is where I'm at, and this is where I need to be - it's not just about how I go uphill, or how I go round corners. It's not just about how I go on the flat - it's all of those things put together."
Showing the strain
Photo ©: Mark Gunter

But Gollan knows there's still a way to go before women's pro cycling can offer everything the men's does. "I feel like there's a lot more interest in women's cycling, and a bigger push from the UCI and national federations to give women more events," she says. "The best thing that could happen would be the establishment of a really good Tour de France, because that's something that we need on our calendar. Unfortunately, every year it just fizzles for one reason or another; but once it's established, I think that's the key to making women's cycling a bit more captivating."
The big tours are what gets people most interested in the passion and 'meaning' of the sport, and that's why Gollan's adamant the UCI and race organisers institute a big race for the ladies. "It's something that we need, and whilst it's great to get more world cups on the calendar, if I went up to a random person and said I won the world cup in Sweden they'd say 'yeah, who cares?'. If I said to them I won a stage of the Tour de France they'd be like, 'Oh, wow - you do the Tour de France?' to which I could say, 'Yeah, I ride the women's Tour de France'. That sounds pretty lame, but if that's what gives people respect for what you do, then that's what keeps people interested. If they have respect for you, it means they're interested," says Gollan.