An interview with Erik Zabel, Saturday, December 16, 2006
Erik Zabel: Cycling's iron man
Erik Zabel (Germany)
Photo ©: Andrea Hübner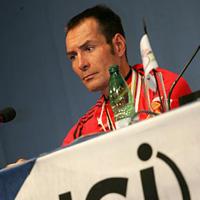 Erik Zabel is going into his 15th year as a professional cyclist, has nearly 200 career victories, with palmares better than most teams could offer, rides from the first race of the season to the last and fills in the off-season by riding (and of course winning) six-day races. Cyclingnews' Susan Westemeyer tracked him down to ask if there is anything he can't do.
While he may be an iron man on the bike, as a father there is one thing Zabel can't do. The rider freely admits that when watching his son Rick, who, not surprisingly, also races, he simply can't watch the 13 year-old cross the line. "I just can't look at the finish line, I always stand in the last curve. The worst is if he crashes. Then I turn weak. I don't want him to make any mistakes, but on the other hand, I know that he has to make mistakes."
While Erik isn't forcing his son into the sport, he wouldn't stand in Rick's way either, if he did decide to pursue the same route as dad. But for now, Erik is just passing on some fatherly wisdom. "The most important tips that I can give him are: first, wear a helmet. Second: Have fun with what you do," explained Zabel. "When I go to a junior race with Rick, then I am always satisfied to recognize this is still my sport at its roots. I see myself as I used to be. Why should I stop him?"
"I have Plans A, B and C for the time after I stop riding. One of them has nothing at all to do with the sport."
-Zabel talks about retirement
Erik says that, like any teenage boy, Rick listens no more to him than he did to his father at that age. "His team director or friends or his teammates' fathers will soon have more influence over him than I will. I can still remember how it was: If someone in my family gave me tips or advice, then I always looked at it very critically. It's the same way with my son."
Zabel has come a long way since the days he rode junior races, with or without the family advice. Those 15 pro years have seen him bring home, among others, six Tour de France green jerseys, four wins in Milan-San Remo, one German national championship. Since he started cycling in 1993 cycling had come a long way, as Zabel explains: "The biggest change has been in the presentation of cycling in Germany. We have a situation today like that which existed 15 years ago in Belgium. Back then the media didn't interest itself just in the sporting aspects, but also for the gossip columns. We still have to learn to deal with that in Germany."
Zabel celebrates on the podium
Photo ©: AFP

"At the beginning of my career, it was all just about sport," continued Zabel. "But that really was a long time ago. The young riders of today don't have that problem, by the way, they know how to play along with the media."
The first 14 years of his career were spent in the magenta jersey of Team Telekom/T-Mobile, and it was a major surprise to many when he changed over to the new Team Milram last season. The change did Zabel good, he said, increasing his motivation in the new surroundings. "I had a good feeling from the beginning and was happy to be doing something new," explained Zabel. "I have been able to largely full fill my expectations and hopes."
"I am simply happy," he continued. "My current teammate Alessandro Petacchi and I were competitors for many years. But our relationship consisted not just out of competition, but also of respect and acknowledgement."
Zabel (L) of Team Milram, Norway's Thor Hushovd (2L) of Credit Agricole, France's JP Nazon Jean Patrik (2R) of AG2R
Photo ©: AFP

Despite the years of experience, Zabel cites the move as a challenging learning experience after being forced to ride for someone else in his favourite event. "It was a big step for me to play the role of a helper in my favourite race, Milan-San Remo," Zabel admitted. "It was quite an experience to overcome my own ego, play my assigned role, and then still be happy with it. At Telekom and T-Mobile I had the role of the number one in the sprint for ten years, but with my transfer to Milram, I didn't have any problem recognizing that Petacchi was the faster man."
The two top sprinters didn't get to work together as much during the season as they had hoped, due to Petacchi's injuries. Petacchi's injuries aside, Zabel was satisfied with their accomplishments, which include Zabel's double stage victory in the Vuelta a Espana. "The cooperation with Alessandro at the beginning of the season at Milan-San Remo, the Belgian Classics and the races in Germany like the Henninger Turm worked very well," he said. "We want to continue on from where we left off in Spain. It worked out very well there."
It's expected Zabel will again do the Tour-Vuelta double again in 2007, with the following season likely to be his last. "Why not? It's only two years until the 'long vacation'," he said. "Not that much will change [in his 2007 race planning]. Alessandro and I naturally want to try it again at Milan-San Remo - it would be a dream to win there. Otherwise, I can only say that I have noticed that I am riding more consistently in the second half of the season than I used to."
Zabel (Milram) will contest at least one more
Photo ©: Sirotti

Zabel is very self-aware and knows that his swan song in near and he is not going to let it take him by surprise. "I still enjoy the sport and naturally I am still at the stage of considering plans for the future. I would like to stay involved in cycling. But I have Plans A, B and C for the time after I stop riding. One of them has nothing at all to do with the sport."
Until then, however, he will not only ride for himself and Petacchi, but do his part for the younger riders on the team. "It means a lot of me to share my experience with the 'young lions'" explained Zabel. "I can especially give them good tips on the longer races. Since we often train together, such as now on Mallorca, we have lots of chances to talk. And they can always call me, which they regularly do. That is a new and good experience for me."