An interview with David George, November 20, 2006.
David George: A new plan of attack
David George hopes that starting his '07 plans now will pay dividends
Photo ©: Shane Goss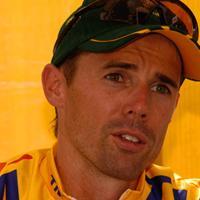 Having won the Tour de Langkawi at the start of 2006, South African Time Trial Champion David George is aiming to translate that kind of form into European success in 2007. Last year he hit top condition very early on in a bid to secure a contract; this time round, he's hoping to find a new team early on and structure things very differently. George explains the approach he feels can pay off to Cyclingnews' Shane Stokes.
This is a period of change for South African rider David George. On Saturday he married his fiancée, Michelle Carstens, exchanging single life for that of a newlywed. At the same time he's seeking another type of commitment, the 30-year-old is currently looking for a new professional team to race with in 2007.
George beat SA teammate and defending champion Ryan Cox
Photo ©: Shane Goss

George had some good results this season, including victory in the Tour de Langkawi, second in the Giro del Capo, a win in the South African Time Trial Championships and third in the national road champs. He had been left without a contract by the Barloworld team at the end of '05, but that strong run of early form captured the interest of Spanish squad Relax, who signed him on a one year contract in March.
He celebrated the good news by taking second in the Commonwealth Games Road Race, then travelled to Europe to get kitted out in the colours of the Continental Professional squad. Starting with a new team at such a late point in the season made things a little more difficult than they would otherwise have been, but he settled in and rode strongly in the Tour of Burgos in August, finishing fifth in the time trial and 11th overall.
When he spoke to Cyclingnews back in March, George said that a good ride in the Vuelta was his main aim for the rest of the season. However he fell sick just before the race, requiring a course of antibiotics and suffering a drop in form as a result. After finishing the Grand Tour in 70th, George went on to perform respectably at the World Championships.
"I have been talking to a few teams - all of them European. That's important for me at this stage of my life, to race somewhere else would be hard."
-David George quashes the possibility of
joining a non-European outfit
"I was hoping to go little bit better in the Vuelta. Sometimes things need to work out better than they did," George told Cyclingnews. "As for the worlds, I was reasonably happy with that. I'd just finished a Grand Tour for the first time and I wasn't quite sure how I was going to come out of it, especially with the Worlds being just a few days later.
"In the end, I was happy enough with the improvements. In the TT I was three and a bit minutes [3 minutes 34 seconds] off Cancellara over 50 kilometres, which for me is an improvement over the last few years. Finishing in the front group in the road race is not in itself a fantastic result, but they are all signs that I'm going in the right direction."
George finished 17th in the World Championships time trial and came home sandwiched between Luca Paolini and Cadel Evans in 39th in the road race - some two seconds behind victor Paolo Bettini. All in all it was a solid season, even if he wasn't able to replicate his Tour de Langkawi form in Europe.
Looking back on the year, George feels that getting a contract late made it tougher to find top form. "I went well in some races but it is always difficult to have more than one peak, one special period," he added. "Especially when you come into a new team in the middle of the year and you have to learn new team ethos, and a new language. That is a tricky thing to do at the best of times, but midseason it is even more difficult.
Victory in the Tour de Langkawi helped secure the South Africa a ride
Photo ©: Shane Goss

After two seasons with Barloworld George found out late in 2005 that he was among several riders who would be without a contract for 2006. Without a team and with few vacant places in the peloton, George knew he needed a big result to secure a deal for 2006. Hard work back home put George in excellent shape prior to February's Tour de Langkawi, where second behind Saul Raisin on the first big mountain stage elevated him to the yellow jersey. From that point he maintained control of the jersey through to the finish line of the 2.HC ranked event.
George was in the shape of his life but hitting top form so early meant that it was hard to step up a gear once he was in Europe. "I think peaking so early does make things tough," he admits. "Especially when you have a relatively uncertain start to the year. I had to put all of my energy into doing something fantastic to get me back in the game. You are then starting with a new beginning, a different team, so it is a relatively challenging thing to do when it is a completely different culture and different language. It is not an impossible thing to do, of course, but I just think it needs a bit of time…you have to find your feet and adjust to the races you are doing."
With that in mind, it's clear that the ideal situation for George is to have the security of a deal before next season gets underway. That will give him time to move back to Europe, meet his team-mates and settle in before the going gets tough. George is hopeful that next year's plans will work out better than in '06.
Early season form didn't follow into George's European campaign.
Photo ©: Shane Goss

"I'm waiting for responses from a few people," he says, when asked what stage negotiations for 2007 are at. "As far as Relax goes, it was always going to be a difficult one… they are a completely Spanish team with not many foreigners, and I kind of came in halfway through the year. I don't think that is ever going to work. I am probably not going to give them full satisfaction and they are probably not going to give me full satisfaction, financially for me or economically for them."
"I have been talking to a few teams - all of them European. That's important for me at this stage of my life, to go and race somewhere else would be hard. I wouldn't really stick to that, I think. I fought hard to be in Europe and I would like to stay there."
George raced for US Postal from 1999 to 2000 and says he is hoping to find another big outfit for next year. "We are looking for the right kind of setup. I don't just want to settle for any kind of team, I want to find the right squad. It has been a reasonable year so I'm hoping I can get a decent deal.
"Obviously I would like to be racing in the ProTour, I would like to have another stab it. That said, there are a couple of hundred other guys also looking for the same positions, including some big riders who haven't been signed. So it is never an easy task, particularly when you are a foreigner."
David George claimed second in the Commonwealth Games Men's Road Race
Photo ©: Shane Goss

George has been working his plans for several weeks, intermingling the contract search with preparations for his wedding. The latter took place on Saturday and now, with time ticking down to the end of the year, he's hoping to find another successful union in the immediate future.
"The first of December is obviously the start of serious training time, so I'd like to get things sorted out by then if possible," he explains. "Being in a Southern Hemisphere country, it is pretty easy to get stuck in and not worry about too many delays because of the weather. If I get a deal, I'm planning on doing things a bit differently than this season…building up more gradually and peaking for European racing.
"If I look at my results over the last two years, I have had a few top 10 results in reasonably big stage races," he continued. "I really think that with a bit of focus and a bit of guidance from the right team, that we can convert those placings into wins. I am close, finishing top 10, placing sixth or fifth or 11th. I'm there or thereabouts, and that means that I just need to be a little bit more focused, to train a little bit differently. I also believe that without having to focus on a February objective, I will be able to have a really traditional build-up and hit my peak when it really counts."
George is, incidentally, still waiting to see the prizemoney from the Tour de Langkawi. He said that he has been told that it has been paid to a Belgian race organiser that is acting as an intermediary. "It's been a long wait. Seemingly they have paid out to someone, but I haven't seen anything as yet and haven't got any money so far. Hopefully it will come soon."
George also took 10th in the Men's Road Time Trial while in Australia
Photo ©: Rob Jones

Although he's not yet received the monetary rewards for those efforts, the confidence boost from his ride in Malaysia convinces him that he can win in Europe. Particularly with the restructured program that he is planning. So just what does he think that he can bring to a team?
"Well, if I had to sell myself I'd say that… I am probably not going to win 110 bike races in my career, but I think I can win a few," states George. "I also think I can contribute much to a team, if the right kind of role is set out for me."
"I'd like a clear role from the start because I am someone who works pretty well with objectives and with a clear picture. For me, is easy to get on my bike and do seven hours training. I love what I do and I would like to carry on doing it for as long as I can. But I would like to do it in a structured and organised team where I can play a role, whatever that may be. It could be winning or working…whichever it is, I'm happy to do it if I have a clearly defined role."
Photography
For a thumbnail gallery of these images, click here
Images by Shane Goss/www.licoricegallery.com
Images by Rob Jones/www.canadiancyclist.com
Images by Shane Goss/www.licoricegallery.com