An interview with Bart Brentjens, May 8, 2006
Keeping that winning feeling
Now a spry 37 years of age, Dutchman Bart Brentjens started making an impact in mountain biking more than a decade ago when he won the 1995 world championships, following it up by winning the first Olympic mountain bike gold medal in Atlanta in 1996. He secured a second world championship title in the same year to become the world's best mountain biker during the mid-nineties. Brentjens spoke with Cyclingnews' Steve Medcroft about winning races at an age where most pros would have retired long ago.
On the podium at the 2004 Olympics
Photo ©: Rob Jones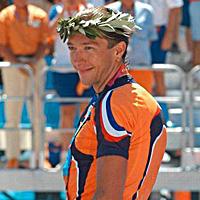 After nine more seasons in the lead pack in both cross country and the growing discipline of marathon (in which he earned a silver medal at the 2005 world championships), you'd think a veteran of Brentjens' age would start slowing down. But no chance, says the Team Giant rider, who has won the world cup opener in Curacao and placed third in the Sea Otter omnium behind Frenchman Jean-Christoph Peraud and Englishman Liam Killeen so far this season. "I was healthy the whole winter so I didn't miss any training," Brentjens said from his home in central Holland in early April about his early-season successes. "I did more gym training – twice a week with weights – and I feel like I have a little bit more power in my legs."
Brentjens says he hopes to use that power in his quest for the marathon world championship. But, if his first few match-ups against the world best cross-country racers are any indication, he might want to set his sights on the cross-country championship as well.
Cyclingnews: As ambassador to mountain biking for the Netherlands, there was a lot of publicity that you had a hand in designing the Curacao [in the Dutch Antilles islands - ed.] course. Did that give you an advantage in the race?
Bart Brentjens: I actually didn't have much to do with the design of the course; I just gave some advice. It was a good course though. The short climbs and the heat fit me - I did a small race there in November so I knew it a little bit.
CN: Curacao is a long way from anywhere. Was it a tough trip?
BB: It can be a problem for riders to travel that far - it's not so good for your condition. But the riders I talked to say it was a popular place to race and if you combine it with two or three other races in the same time zone, like I did, it makes it easier to handle the travel.
CN: You went straight to Sea Otter from Curacao?
BB: I did. I liked Sea Otter as well, although the conditions were worse than the last couple of years and they changed the points system [from a UCI-sanctioned stage race to a four-race points omnium – which included a UCI cross-country race as it's fourth event].
Looking a little disappointed
Photo ©: Jon Devich

CN: The mud made for an interesting short track.
BB: I like short track but this race was too much like farmers wrestling pigs. It was dangerous – you couldn't see how big the holes were. They should have had a rain-option course ready.
CN: You did a lot of marathons in 2005. Are you becoming a marathon specialist?
BB: I did six marathons (last year); three world cups and three others. Which was one or two more than 2004 and about the same number I wanted to do this year - one or two world cups, two other marathons and the world championships again. This will let me stay focused on cross-country because qualifications for the country's Olympic start spots has already started so the national trainer asked me to ride for the points.
CN: What was your goal in 2005?
BB: The world championships in the marathon. I finished second so I had a good result, but I was focused on first place.
Taking the win in Curacao
Photo ©: Rob Jones

CN: What appeals to you about the marathon?
BB: During the 2004 season, the Olympics were my main goal. In 2005, I had the possibility to do everything for this one race; for the marathon. I'm good in this length and I had the possibility of winning...I think you have to do everything for the world championships. The cross-country championships are more difficult for me to win than the marathon.
CN: What makes you a good marathoner?
BB: I think it's a combination of things. I'm a little bit older than other riders. I have a lot of endurance and power. I like longer distances - the race can't be long enough for me. And it's very challenging to ride a marathon because the courses are not loops - you have to concentrate all the time, you have to check over the courses, the feed zones, the technical zones. It's also very beautiful to be out there in nature. Marathons bring you back to the roots of mountain biking.
CN: Now that you have the marathon world championships as one of your season goals, do you train differently now than you have in years past?
Rocking on at Sea Otter
Photo ©: Rob O'Dea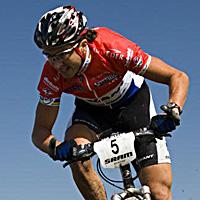 BB: Not really. I think I have a lot of endurance because I've been racing and training for a long time. It's not that you build up endurance over one year – you have to build it up over 10 or 15 years. The only difference is that once a week, I do a longer training ride - like four or five hours. The rest is the same.
CN: You held your own race for the first time at the end of 2005?
BB: The Bart Brentjens Challenge. There's a website – www.bartbrentjenschallenge.com . I planned to have my own race once for a long time but waited until I found a good organiser and a good sponsor. We had 1,500 registrations. For a first-time event, it's not huge but we have a three-year contract so we want to make something big out of it in the south of Holland [the region of the Netherlands Brentjens grew up in].
CN: What kind of races did you have?
BB: We had three distances – 40, 60 and 80 [kilometres]. The 80 is a marathon. There are plans to make it a world cup marathon for 2007 or 2008. The shorter distances are for riders who'd like to participate just for fun. (Brentjens won the marathon-length race, beating countryman Nicolas Vermeulen).
"Marathons bring you back to the roots of mountain biking."
-Brentjens explains why he has moved more into marathon MTB racing
CN: Does organising the event take a lot of your time?
BB: There are a lot of phone calls but is not disturbing to my training or my races. I like to do things like this so it's not a problem at all... the work relaxes me actually. The race is also at the end of the season, after the world championships and all of the other races are done.
CN: As an older rider, do you still look to the 2008 Olympics as a goal?
BB: I don't know. Sometimes I don't feel like I could do a good race over there. I know that it's not a problem to get there – to qualify – but to be on the podium at the 2008 Olympics is probably not realistic. The question I have to ask myself then is whether I should go to the Olympics if I know I can't go for a podium.
CN: Have you made that choice?
BB: At this moment, I can't say what I'll choose. I have a contract with Giant for 2006. At this moment, I still feel very good. I can race with the top riders in the world and I can win, but I know the Olympics are different. Maybe I'll go just to participate, but I have to see.
CN: Let's go backwards. How did you get into cycling?
Riding at worlds last year
Photo ©: Rob Jones

BB: When I was 13 years old, I had an injury in my right leg; an infection in the bone. I used to speed skate in the winter and I always tried to skate on very thin ice – the ice was not strong enough for skating but we liked the feel of it. Then one day I fell into the water. The water was very dirty and I had blisters on my feet [Brentjens would use long-distance skates to play ice hockey] so I caught an infection. That water infected my blood and there was an infection in my bone. I was in the hospital for seven weeks; fifty days. After that, I couldn't walk for even half an hour. I started cycling to recover.
CN: Mountain biking or road bike?
BB: Road bike. I started mountain biking when I was 23 years old.
CN: How did mountain biking develop in the Netherlands?
BB: In the beginning, it was a sport for winter – for road riders who wanted to stay in good health in wintertime. After we heard that mountain biking was a summer sport in the US and it became a summer sport here, I started competing in Europe and Holland. I was also doing road races and cyclo-cross in winter. I think I had more talent on the mountain bike than on the road bike, though. Soon, I was invited to join teams. It was unbelievable for me to get a bike and clothing for free so I started with a small team in national competition and a year later, I grew up to a big team and raced internationally.
CN: You became professional at how old?
BB: 1994. I was 24 years old.
Looking solid at the Olympics
Photo ©: Jon Devich

CN: You started travelling the world. Was this a new experience for you?
BB: Yes. I hadn't travelled much; only to neighboring countries, like Belgium, Germany and France. In 1994, I started traveling all over the world. You're on your own and you can do what you want - that it is a good feeling. It motivates you to perform very well in your sport so you can continue to do it.
CN: Mountain biking was a brand new sport in the 1996 Atlanta Olympics and you were a young racer. Did you feel like you had a chance to win that race or was your gold medal a surprise?
BB: I won the world cup in 1994 and I was the world champion in 1995 so I knew that I could do well in the top races. For sure, I had a good feeling that I could win the gold medal but you don't know until it happens. It changes your life when you really do it.
CN: Thanks for the time and good luck in 2006.