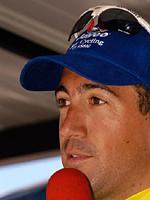 Photo: © Shane Goss
Moving on up: The Trent Wilson Journal 2006
After four years as a pro in Europe, "Willo" is heading Stateside, joining Jittery Joe's-Zero Gravity. . With a leadership role at the Athens, Georgia-based team, 2006 will no doubt provide exciting times for the likeable boy from Sydney's west. Trent also his own web site at www.trentwilson78.com where you can find out even more about this Sydney rider.
Australia, October 5, 2006
Final stint for '06 season
G'day,
Willo gets chased home to
Photo ©: Trent Wilson
This August/September has been something different then what I have been used to the last six years. August has never been my favorite month for motivation but always a good month to gain late season form with number of race days outweighing recovery days two-to-one. This is obviously good because the only training you're doing is coffee shop rides after you've smashed yourself is some tour or one day race. This year was a lot different with only five days racing, most of them being criteriums.
So instead of trips to the coffee shop, there were a lot of long days behind the motor bike to keep the miles in the legs and try to get some late season form. I have really struggled with form the last two months, with no leg speed in the criteriums and no racing miles in the road races.
The team went to Canada for the Montreal-Quebec 255km road race were I was fifth and Hatto (Peter Hatton) won the criterium two days earlier. In the USPRO criteriums, Hoppy (Jeff Hopkins) was unlucky to podium after a near crash and was sixth. Two weeks later he pulled off that win he so desperately wanted after an awesome all round team ride, in the Atlanta 10k Classic (which is actually 100km).
That race was the last race of the season for the whole team, except me. We headed out for a night in Atlanta that night for Ando's (Marc Anderson) bucks night/end of season party/going home shindig. It had to be one of the funniest nights I have ever had with team mates, and the stories will only be relived at the coffee shop. Although it does have to be said, Ando is the only buck in the world to have gone to bed that early on his buck's night - the sushi from the Japanese Tempura restaurant could be the reason for it.
Trent believes he's in
Photo ©: Trent Wilson

Hop and I moved out of our apartment just before our last race and then stunk up our director's house for a week before coming home to Australia. The US Open was in full swing and the five-set thrillers were great viewing to help pass the time.
It was great to get home, as always, and the weather here turned for the better just as I arrived. I headed up to the Grafton and had an absolute "Barry Crocker" (shocker). After not finishing worse than fourth since 1997, I climbed off at the top of the Gibraltar range. To say I was devo'd was an understatement - considering I had kept training in the US while everyone else hung the bike up, to stay fit for the last few races of the season. I dunno if it was jet lag, lack of racing or just bad form.
Last weekend was Goulburn to Sydney and while the results say I finished third I still consider it a great result. Last year I was fourth with great form and was devo'd, this year with the form I had, I couldn't have expected anymore. Chris Jaangeward was the strongest rider and a very deserving winner. The two of us were away with a third break away rider, Stuart Shaw, for the last 90km - after we attacked the initial break of 15 riders. It was a savage day with bush fires blazing and gale force winds throughout the ride, competitors were struggling to stay on the road - myself included.
Next up is the Jayco Herald Sun Tour which I am riding with the national team. With the new format and the new UCI rules (of only two composite national teams including one U23) I am pretty happy to have gotten a start. Hopefully the form is on the rise - which I think it is after the past few days of training. After the Sunnie, I'll be ripping into the 'offy' (off-season) for a month.
Cheers
Willo