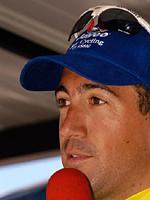 Photo: © Shane Goss
Moving on up: The Trent Wilson Journal 2006
After four years as a pro in Europe, "Willo" is heading Stateside, joining Jittery Joe's-Zero Gravity. . With a leadership role at the Athens, Georgia-based team, 2006 will no doubt provide exciting times for the likeable boy from Sydney's west. Trent also his own web site at www.trentwilson78.com where you can find out even more about this Sydney rider.
Athens, GA, USA, April 17, 2006
Getting ready for Georgia
G'day,
Riding at Redlands
Photo ©: Steve Cohen

What to write about in this diary entry? There is so much to talk about in such a little space. I haven't had a chance to sit down and write anything in the last few weeks due to racing, traveling, settling in and training. It has been full gas - plenty of stories and so much to write about. Nothing like 'another' long car drive!
Last time I wrote I was in California and had just finished the Central Valley classic in Fresno the conditions were really bad. Things got better from there as we headed further south to Malibu. The weather was 100 times better and the place we were staying at was sensational. You'd be mistaken if you thought we were staying at Deb's house (our host) for a holiday of luxury. Thanks Deb for the great week…
We eventually got into the racing side of things after a week of relaxing and training in the bergs. The race was the San Dimas stage race consisting of a 5km uphill time-trial, a 170km road race around a circuit that took its toll towards the end and finished off with a crit on Sunday afternoon.
After a week of fantastic weather the conditions turned to rain again for the time trail. Time trialing is not normally a forte of mine but being uphill it certainly makes it less of a weakness. I shocked a few, including myself, to finish fifth.
The next day after having Phil Wong and Pete Hatton in the early break it all came back together, and on the second last time up the hill a break of five was formed. We got a decent gap on the field thanks to the efforts of Glen Mitchell and myself. The other three were along for the ride seeing there was this Toyota United vs. Healthnet battle going on. We had nothing to lose, especially seeing those two teams were controlling the race. Last time up the climb Mitchell attacked and I went over the top, dropping Tim Johnson. You'd be mistaken for thinking the Commonwealth Games were a week early with all the four remaining guys being from the Commonwealth nations. Mitchell, Karl Menzies, Heath Blackgrove and me came into the last 2km together where I went for it. I almost thought I had the win till big Karl came over the top of me with 50m to go. I finished fourth and moved to third on GC. Blackgrove took over the lead.
Redlandsopoly
Photo ©: Trent Wilson

The crit was looking to be a roll around the block until once again the skies opened and it turned into 90mins of hell. Menzies and Gord Fraser went on the attack from the gun and put Toyota United under pressure and we even through a few guys on the front to help. It came back together and nothing ended up changing on the GC. That was 90mins of pure stress, my shoulders were sorer than my legs. I was pretty happy with the weekend and I ended up on the podium. Pete Hatton also rode well to finish in the top ten.
Next on the agenda was Redlands. I've heard a lot of stories about this race and it lived up to its name, although only three days long this year. I rode a pretty average TT on the first day and that put me off GC for the weekend, where I ended up 17th after the three days. The crit on the second day was interesting, with nine corners and 170 riders - the math doesn't add up! Anyway, I won a few primes early and was setting up to lead out either Hoppy or Evan Elkin. Hop got caught up in a crash and Evan broke a seat clamp so I was forced to sprint myself. I managed to finish in the top ten which is a rarity for this mountain goat.
The last day of the tour was the infamous Sunset loop and it is as hard as they say. After two laps the field was down to fifty odd and midway through there were 30 riders left. The last few laps I tried everything and attacked non-stop but hats off to Healthnet who did an awesome job for Nathan O'Neill. They rode strong and kept it together for a bunch kick. We came into town and did five laps of the crit circuit. It was strung out and a sprint for whoever had the legs left. I ended up fourth and Evan finished tenth, showing he's got some great form.
Redlands even had its own version of monopoly, called Redlandsopoly, which I won. Hoppy had to find something he can beat me at….
After three weeks in California, Hoppy and I finally got the chance to get back to Nashville and spend some time in our new pad. We were only there for a week before hitting the road again to go south. The week started with a few recovery rides and one five-hour ride in the Tennessee countryside. On the weekend we went to a smaller local race where I won and Hoppy was third. It was a good hit out, and 'a win's a win.'
On the podium
Photo ©: Gray Quetti

Apart from that I got a chance to kick back on the lounge for a while, check out Nashie, and catch up on things. Nashie is certainly an interesting town; 800,000 people and not as hillbilly as I first thought. Although we did go for a few beers one night and it was a bit of an eye opener for this Sydney-sider, with cowboy hats and line dancing going on everywhere. I haven't yet got into the country and western music.
Apart from the Tornado warnings every second day the weather has been great. The only other interesting thing is when Hoppy and I went to pick up his scooter he bought, 160km from Nashville. With a top speed of 70km/h, on the way home I could get Hoppy on the wheel behind the mini and with a wind resistance could get him doing 80km/h and we got home that little bit quicker. That was an epic in itself. When we told the owners of the scooter Hoppy was going to ride it back, they looked at as like we had a screw loose.
That week went very quickly and before we knew it we were on the road again. This time Hoppy and I went south to Georgia to check out a few of the stages for Tour de Georgia, and then head to Jacksonville, Florida for two races. Hoppy and I spent three days in the bergs doing five hour rides, checking out the time trial circuit and two of the harder road stages. The TT circuit is nasty and has a 3km climb in it which at times hits almost 20%! The two penultimate road stages are very hard, with some tough terrain which will definately split the men from the boys. Thanks to Herbert from Lightspeed for putting us up - great pad mate!
Hoppy's mullet
Photo ©: Trent Wilson

Next we were off to Athens for a night to pick up three riders and head to Jacksonville. The weather in Florida was sensational but as soon as we pinned the number on for the Saturday night crit it turned on some hectic weather. Not only rain, but gale force winds and lightning. Luckily for me when it started raining 10 minutes into the race I was already up the road with six other guys. We held on till the finish where I grabbed another third. I had a drag race with the eventual winner to the last corner (where there was a river crossing the road by this stage) to see who had the bigger balls, which turned into me hitting the brakes first and hitting the last corner second, then getting passed on the line by one other rider. (I really have to start learning names of riders in this country). The boys did a great job leading Hoppy out for the bunch kick which he won, and Pete Hatton even hung on for second in the bunch. So, three in the top ten was pretty good.
Sunday's race was a flat 160km and as a team we rode really well. Apart from Hoppy and Pete, we also had Phil Wong and Marc Anderson. A break went up the road early and we let it go. At the halfway mark, we through the bunch in the gutter and rode as a team to not only split the bunch but catch the break. A few laps further on and the bunch split again and we had Hoppy and I in the move. There were 20 riders left, and coming into the finish the game plan was for me to set Hoppy up for the bunch kick. Coming into the finish I went to chase an attack and as I got to it I had a gap. A quick yell over the radio from Hop and I kept going with one other guy. We started sprinting 200m out, and with 50m to go I once again thought I might hold on - but the bunch got to me just as I was in spitting distance from the line. I sat up and finished tenth and Hoppy ended up fourth.
Hoppy and I are now on the way back to Nashville for another week to relax before we head back to Georgia for the Tour de Georgia which starts on Tuesday. It's a big goal for the team, being a Georgia based team and a big goal for me so I hope for a big one.
"The life and crimes of Ando"
The enigmatic Ando
Photo ©: Trent Wilson

To finish off I will give the second update of funny man Marc 'Ando' Anderson who from here on will get one paragraph a month dedicated to him. Problem is he does so much funny stuff…or I mean stupid stuff; it's hard to mention it all. The man loves 'a dip', which for Aussies like me that don't know what it is, it's tobacco shoved in the bottom lip so it looks like you've done five rounds with Tyson. I haven't met anyone as southern American as him. His crash total out training is now up to three, the first being where the Einstein rode through a 10m long line of moss on the road and the second being in front of 100 spectators in some soft sand.
Oscar James Wilson
Photo ©: Trent Wilson

Ando's Aussie slang is really coming along well with help from the three Aussies - he's now got words and sayings like coat, rip into, goats, over this tour, grippo, etc. entrenched in his vocab. To top all that, the other arvo we squeezed in a quick hour ride before dinner. He got a big rev up from us when he headed out the door with a bottle of water, a bottle of mix, a sqeezy, a banana and a power bar. I thought he was up a five hour epic. You're a legend, mate!
Lastly, I'd like to make mention of the new arrival of my cute little nephew Oscar James Wilson, who of course I haven't seen yet. Though, apparently he's not so cute at the moment seeing he hasn't stopped crying since entering the world.
It might be time for me to have a stint at the wheel.
Cheers,
Willo