Recently on Cyclingnews.com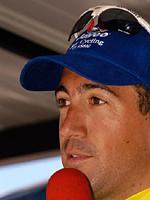 Photo: © Shane Goss
Moving on up: The Trent Wilson Journal 2006
After four years as a pro in Europe, "Willo" is heading Stateside, joining Jittery Joe's-Zero Gravity. . With a leadership role at the Athens, Georgia-based team, 2006 will no doubt provide exciting times for the likeable boy from Sydney's west. Trent also his own web site at www.trentwilson78.com where you can find out even more about this Sydney rider.
Sydney, Australia, March 6, 2006
Weddings, BBQ's and lots of training
G'day,
The wedding at Taronga Zoo.
Photo ©: Trent Wilson

The last six weeks have been full gas for me back in Sydney - training long kilometres, getting into a good routine, organising visas, saying my goodbyes and getting gee'd to get to the States flying. In January, it was good to see my old sparring partner get the win of his life and my new partner in crime get the first win of the year in the first race we've done together.
Russ started the year well; actually, well is an understatement - fantastic! After a fourth in the national time trial champs he was a little disappointed, but that was all forgotten after he took out the national champs green and gold jersey. I was so happy for my mate, and was pretty emotional after the hard times we've had together in Europe - even though we're not team mates anymore, we'll be mates forever. After winning a stage in the Tour Down Under and finishing seventh overall he confirmed his good form, his preparation for the Comm Games was good and he deserved a start. Unfortunately, the selectors didn't see it like that and left him out of the team. It's just another Einstein idea from selectors that are clearly looking after their own. Don't get me wrong, all the riders that got a start in the Comm Games deserve their spot but surely you can't leave the national champ out. Just like me not getting a start in the Tour Down Under, but I can ride two Giro d'Italias. It's a joke; no, it's a hoax!
The last supper
Photo ©: Trent Wilson
Moving onto my new team mate now - Hoppy. Our first race together was the Joseph Sunde memorial and we rode together like we'd been doing it for years. I was up and down the road non-stop all day, before it was clearly obvious it was going to be a bunch kick. I went to check if Hoppy was ok with four laps to go. His response was, "relax, catch ya with half a lap to go" in typical Hoppy style. Sure enough with half a lap he gave me a "yep", and I led him from the last corner. As he came over me I knew he'd won, the next rider was already two metres off his back wheel. I gave a premature salute to claim the victory and Hoppy took the win easily for the team's first win of the year.
Since then I have been pumpin' out 850-950km weeks, really rippin into the k's and I can feel the form coming up well. It's the first time in five years I have not done the Tour de Langkawi, so I got the opportunity to stay home and rip into the training - but I'd prefer Tour Langkawi anytime, it's a great race. It is also the first time I've had a really good January for a few years, so it would've been good to test the form. After a good Bay crits I was looking forward to having a good Nationals but that didn't happen. Taking 19th wasn't too bad but it was better to see Russ win.
Willo and Macca go golfing...
Photo ©: Trent Wilson

Apart from training I had my mates wedding at Taronga Park zoo where I was best man so I got him to the alter. I've had the standard few barbies, a bit of track racing and a lot of visa problems. What started out to be an easy procedure turned into a two month epic, a few sleepless nights, a lot of mucking around, an upper cut to my back account and a last minute flight change. I've finally sorted my visa today, and will now fly straight to the team's training camp tomorrow with half a day to spare.
I'd just like to make a special mention to Graham Blackman of Blackman bicycles and Trent Fitzgibon of Reynolds wheels, who helped me out with equipment while in Oz and a thanks to Keneth Mills in the US who gave me a leg up into the states. It should be an interesting year with new goals, a different roll and a fresh start.
Cheers,
Willo