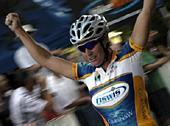 Photo: © Shane Goss
Speedy Gilmore: The 2006 Rochelle Gilmore Journal
Rochelle Gilmore - super sprinter and scratch race silver medallist at the 2002 world track championships - is a woman of ambition. After proving her prowess on the track, she's aiming to forge a successful career on the road. In 2004, she rode for Denmark-based Team S.A.T.S but in 2005, Rochelle joined the one of the longest-named teams in women's cycling, G.S. Safi-Pasta Zara Manhattan, where she will continue in 2006.
Follow Rochelle as she continues her rise to the top of the tree with her regular diary updates.
Giro d'Italia Donne - Italy, June 30-July 9, 2006
Action heats up at the Giro
Stage Two - 115 km (Formello-Formello)
Crash victim
Photo ©: CJ Farquharson

115 kilometres in 38 degree heat! I managed to stay well hydrated during the undulating course which circled a beautiful small lake called Lago di Bracciano. I didn't take a bottle before the first and only intermediate sprint at 57.5 kilometres. I was focusing on this sprint but totally missed it! My speedo was out by about three kilometers and I think we had actually past the sprint before I even started looking for it. There is always luck involved with the intermediate sprints as they are not very well sign posted… I didn't see any one kilometre or 500 metre signs leading into the sprint.
Following the disappointment of missing the intermediate sprint I made my way to the back of the bunch and held my empty bottle in the air, indicating to the official race vehicle that I'd like to take a feed from my team vehicle. My team car pushed its way through the convoy and efficiently serviced me with two frozen bottles made up with my 'summer fruits' flavoured high five sports mix… what a treat! My favorite sports drink frozen cold on a stinking hot day!
Then it was straight back into race mode, the bunch was moving along fast but by this point of the race it was evident that no one was going to move clear from such an enthusiastic bunch. The 10 kilometre to go sign seemed to arrive very quickly, which really motivated me. I was feeling fresh and confident that I had enough energy to stay at the front of the race and ascend the final five-kilometre climb with the best of them.
Regina Schleicher (Nurnberger)
Photo ©: CJ Farquharson

With only three kilometres to go I was still positioned in the top ten with good legs but, my race soon came to a complete halt when two riders crashed right in front of me - again, it's happening a lot lately! I had no time to turn my wheel and avoid the crash so I ploughed into them and fell lightly. I was untangled and on my bike quickly but I had dropped my chain and had to dismount again, the race was now out of sight and about five team cars had zoomed past.
The eventual winner today was Regina Schlicher (Nurnberger) who is known as one of the world's toughest and fastest sprinters. Following Regina was two riders known more so for their climbing abilities, Singrid Corneo (Nobili) and Nicole Brandli (Bigla) who were second and third respectively.
Although the end result was disappointing, my legs felt great today and I have every reason to look forward to the rest of this tour - tomorrow is another chance!
Polar data:
Distance: 114 kilometres
Average Speed: 38.8 kmh
Time: 2hr 56 Min 25 Sec
Average Heart Rate: 171 bpm
Max Heart Rate: 205 bpm
Cadence Average: 86 rpm
Ascent: 720m
Temperature: 38 Degrees