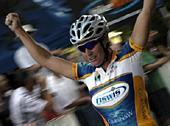 Photo: © Shane Goss
Speedy Gilmore: The 2006 Rochelle Gilmore Journal
Rochelle Gilmore - super sprinter and scratch race silver medallist at the 2002 world track championships - is a woman of ambition. After proving her prowess on the track, she's aiming to forge a successful career on the road. In 2004, she rode for Denmark-based Team S.A.T.S but in 2005, Rochelle joined the one of the longest-named teams in women's cycling, G.S. Safi-Pasta Zara Manhattan, where she will continue in 2006.
Follow Rochelle as she continues her rise to the top of the tree with her regular diary updates.
Trofeo Guareschi - Italy, May 11, 2006
Two in a row in Parma
The harsh days in the mountains are starting to pay off!
Rochelle is all smiles
Photo ©: Rochelle Gilmore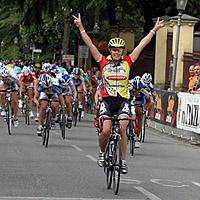 I won the Trofeo Guareschi race in Parma for the second year in a row on Sunday. Traveling to the race I felt confident, and it's easy to be confident knowing that you are capable of something if you've done it once; you're definitely capable of doing it again. I trained harder than ever during these past two weeks, added to the intense training was the tremendous stress I had put my body through due to unknown mountainous terrain and unpredictable weather and snow blizzards! After completing the tough training programme planned by my coach Warren McDonald I was absolutely exhausted two days before the race in Parma.
The Saturday before the race I was left with no choice but to recover whilst flat on my back in bed all day, I could hardly move! I had taken Friday off the bike but was kept busy with annual tests at the hospital and then finalising some furniture orders for my new home. I managed to do 30 minutes on the rollers Saturday night but my legs would not spin faster than 80 rpm.
When we arrived at the race on Sunday we (Safi-Pasta Zara-Manhattan) learned that the course had changed from last year. Initially this news messed a little with my head. The new course was still fast with an uphill finish but the it was different - a longer 800m drag which was not so steep, whereas last year's race finished up a short 150m steeper pinch - more of a power (snappy) sprint than a long drag.
After analysing the finish straight I started to feel excited again; my team were all giving me their advice as to where I should kick - most of them saying leave it late as it's easy to run out of gas on an uphill finish. I was more concerned about the timing rather than the point at which I would start my sprint.
What next? During the pre-race lunch I was attacked with a severe allergy, maybe to the pollen? It hit me hard, my eyes, ears and throat were very irritated and I couldn't stop sneezing! I was so lucky that the AIS team were at the race because they have a very reliable and safe medical kit; also travelling with them was the famous Dr. David Martin, a very trusty source for advice! Three hours before the race I took a couple of sniffs of the Vicks antihistamine inhaler but I returned to Dr. Martin after an hour complaining that I felt worse! I took a Claratyne and hoped for the best.
My legs felt fine on the bike during the race. I had a runny nose and had warned my team-mates and friends not to spend too much time on my wheel just in case!
I rode the final laps at the front surrounded by my team mates and a swarm of AIS riders who were putting together an impressive train.
With 2km to go I found myself on second wheel, that of Jenny Macpherson from Australia. 2nd wheel is not exactly the most ideal place to be with 2km to go and I was hoping and waiting for another train to draw up alongside us or pass us so I could slip in a few riders back. Jenny was strong and lead through the last corner with 800m to go, and I think we gapped the bunch through the corner, which put me in a very difficult position.
At 500m to go I had a tired, dying wheel in front of me and a huge angry bunch about to close in around both sides of me. I had no choice but to jump early and to my amazement I put a nice gap into the bunch but still with 300m to go. I was extremely lucky no one was strong enough to jump with me! I held the gap until it was time to sit up and roll in - relieved and surprised! I really stuffed up the sprint, but pulled it off due to strong legs on the day.
Polar heart rate data:
Time: 1:59:20
Distance: 78.952km
Max HR: 214 bpm
Average HR: 191 bpm
Average speed: 39.7 km/hr
Temperature: 23 degrees
Average cadence: 90 rpm
An epic training ride
Here's a quick story on a training ride I did on April 29 - ahh, the joys of bike riding!
Today's loop took 5.5 hours, and I honestly thought it was going to be a disaster - it rained heavily from the start of the first climb to Passo Vallas (30km climb) and the drops got colder and colder as I got higher, but even though my hands, face and feet were frozen my body stayed warm while I was climbing.
At the top of the first pass it started to snow and I was covered in white flakes - great, I caught in a snow blizzard! As I was descending at walking pace I got so cold that I couldn't breathe properly or hold the bars and my body kept doing these big spasms that were nearly throwing me off the bike. I only had to descend 15km before the next pass started (Passo Rolle) but I had to continue at walking pace and keep stopping to re-grip the bars. There were no cars at all and I did not see one single cyclist all day, on a Saturday.
I only had to climb 8km of Passo Rolle before the top, but I didn't warm up much this time so I stopped at a bar at the top to get a hot chocolate. I ran my hands under hot water to try and get warm but that was useless, I just burnt them. I was wet through. I now had a 25km descent down to Fiera di Primiero. I saw the sun pop out after my hot chocolate so I jumped straight back on the bike and took off, enjoying the first 5 minutes until I was totally numb. The rain started again and the roads were once again wet... hairpins all the way down and I was nearly stopping on them!
I got halfway down (at San Martino) and had to detour the main road, I was in such a state...I saw this lady and yelled at her in a grumpy tone - how far to Fiera di Primiero? She said it was 12km! I was such a mess; I was shaking, panting, teeth chattering and seeing black spots, talking to myself, etc. I was just so cold - I can't explain. Finally I got to Fiera di Primiero and turned left for the 8km climb to home (Passo Cereda). I've never looked forward to a climb so much, it was still raining heavily but my body warmed up after a couple of kilometres. I had decided last night that the spa baths in Italy cost too much, about $A5000-6000 but after today I think it's a must have. I can imagine I might feel the same coming home from skiing some days during the winters.