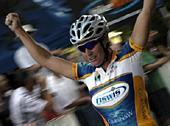 Photo: © Shane Goss
Speedy Gilmore: The 2006 Rochelle Gilmore Journal
Rochelle Gilmore - super sprinter and scratch race silver medallist at the 2002 world track championships - is a woman of ambition. After proving her prowess on the track, she's aiming to forge a successful career on the road. In 2004, she rode for Denmark-based Team S.A.T.S but in 2005, Rochelle joined the one of the longest-named teams in women's cycling, G.S. Safi-Pasta Zara Manhattan, where she will continue in 2006.
Follow Rochelle as she continues her rise to the top of the tree with her regular diary updates.
Montebelluna, Italy, April 22, 2006
Showing off the goods
Rochelle outside the motorhome
Photo ©: Rochelle Gilmore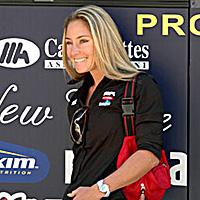 Safi Pasta Zara Manhattan women's professional cycling team was officially launched in Montebelluna, Treviso, Italy on April 8. The launch was a huge success with a surprising number of national and international media present. The sponsor's representatives had a great day and were extremely impressed by the professional manner in which the team was presented. The day started off with an introduction of the riders and staff; SAFI is once again made up of riders from all over the world - listed below:
Diana Ziliute (Lithuania)
Zita Urbonaite (Lithuania)
Gintare Gaivenyte (Lithuania)
Silvia Pariette (Italy)
Daniela Fusar Poli (Italy)
Luisa Tamanini (Italy)
Anna Zugno (Italy)
Marta Bastianelli (Italy)
Laura Basso (Italy)
Giuliana Marcon (Italy)
Nikki Harris (Great Britain)
Amy Hunt (Great Britain)
Veronica Andreasson (Sweden)
Sabrina Emmasi (Switzerland)
Miyoko Karami (Japan)
and myself
The 2006 SAFI team
Photo ©: Rochelle Gilmore

The president of the team is Maurizio Fabretto who started it 11 years ago with eight victories in the teams' first year. The number of victories increased each year and peaked with 85 wins in 1999! The commitment Maurizio has made to women's cycling is possibly the most impressive we will ever see from any individual. SAFI Pasta Zara Manhattan has been known under many different names including Acca Due'O for a long time. Sponsors come and go, the name of the team changes but the organisation continues!
This team has achieved many outstanding results in its 11 year history - let me list a few...
One Olympic gold medal - Zoulfia Zabirova 1996
Rochelle and her Opera...
Photo ©: Rochelle Gilmore
Nine world champions - Natalia Karimova 1997 (track), Diana Zilute 1998 (road)
Edita Pucinskaite 1999 (road), Marion Clignet 1998/1999/2000 (track), Nicole Cooke 2001 (road), Nicole Cooke 2001 (TT), Rasa Polikevicute 2001 (road)
Three world Cup winners - Diana Ziliute 1998/2000 (road), Nicole Cooke 2003 (road)
Five European champions - Diana Ziliute 1997/1998 (TT), Alessandra D'ettorre 2000 (road), Giorgia Bronzini 2003 (track), Gessica Turato 2005 (road)
One Giro D'Italia (1) - Nicole Cooke 2004
Two Tour de France titles - Edita Pucinskaite 1998, Diana Ziliute 1999
Rochelle is all smiles
Photo ©: Rochelle Gilmore

After the official introductions and interviews were complete the guests enjoyed a lunch provided by one of our major sponsors - Pasta Zara. The Italians definitely pride themselves on their pasta and I can tell you, this pasta was fantastic! Another team supporter - Astoria Vini provided the best tasting wine in Italy…they say! Their contribution to the event put a bit of life into the party!
After lunch and some socialising, we (the girls) had a brief moment to relax in our new motorhome before it was back to work. Off with the casual kit and back into the work clothes (cycling apparel) for a photo shoot out on the road. We were all very motivated to see how our new bikes felt; I was a little worried that the Opera wasn't going to match the comfort and feeling of my Paris, but I was overwhelmed - the Opera is beautiful!
Enjoy the photos from the presentation. My next report will provide some information about my new home and the local area in Northern Italy. I'll get out there and explore the roads for training first!
Photography
For a thumbnail gallery of these images, click here
Images by Rochelle Gilmore & friends