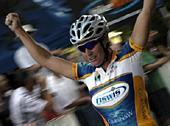 Photo: © Shane Goss
Speedy Gilmore: The 2006 Rochelle Gilmore Journal
Rochelle Gilmore - super sprinter and scratch race silver medallist at the 2002 world track championships - is a woman of ambition. After proving her prowess on the track, she's aiming to forge a successful career on the road. In 2004, she rode for Denmark-based Team S.A.T.S but in 2005, Rochelle joined the one of the longest-named teams in women's cycling, G.S. Safi-Pasta Zara Manhattan, where she will continue in 2006.
Follow Rochelle as she continues her rise to the top of the tree with her regular diary updates.
Melbourne, Australia, February 6, 2006
Comm Games: What a team!
Have you ever walked away from a job interview feeling very excited and confident that it all went well, but at the same time felt a little nervous? That's exactly how I felt today.
At 9am this morning I arrived in Melbourne and checked into my hotel where I spent the day anticipating the announcement. My mind fluctuated through both positive and negative thoughts, one being, 'I'm here in Melbourne to start my specific preparation for the Games, but what if for some reason I'm left out of the team? What would I do with myself?'
I was feeling confident about my inclusion. I had some good results late last season in Europe but still, when you start listing the names and calculating the numbers it becomes very clear that the selectors have had some difficult decisions to make. I'm looking at the names now and wondering who will miss out on riding the road race, nine endurance riders have been named in the team and only six riders can start the Road Race. The thing is, every rider in our team has the strength and ability to win. Together we should be unbeatable!
When I sit here and visualise the atmosphere and support that we will receive at the Games, I start to get goose bumps. The Australian public will finally get to see the Australian women's cycling team (which includes World No.1 Oenone Wood and Current Olympic Champion Sara Carrigan) combine our different strengths and hopefully create a desperate and impossible situation for our rival countries. I might sound a little confident on behalf of the team, but I guess we have to be. Our competitors may fear us as a team, but that most certainly will not stop them giving it their best shot.
I'm now based in country Victoria until the opening round of the World Cup series in Geelong (which I won last year). Round two will be held in New Zealand a week later, and then I'll move into the Games village about 10 days before the points race.
My preparation will be specifically structured to complement the road race, although I am also hoping to gain selection during the final week for the points race on the track. I'd imagine Kate Bates (2002 Commonwealth Games Winner) will be a definite starter for the points race, but Australia can start three that event, so hopefully it will be Kate, Alexis and I. Even without specific preparation for this event, I can contribute with a supportive effort for Kate. In return, she will be a very powerful and reliable teammate who will play a significant role as our driving force in the road race, if selected.
Friends and fans have been asking what our tactics will be at the Commonwealth Games, most of the interest being raised due to the fact that we have a team full of winners. A cycling team will often be made up of domestiques (workers) who have been selected to support one or two riders who we call the 'pea'. So what's the plan; who's the pea? Both the points and road race are tactical events, which can play out a number of different scenarios. We can predict and plan a strategy, or even a few, but with such a strong, smart and loyal team we will be able to make most of the decisions out on the road during the race.
At the 2002 Commonwealth Games in Manchester I came second in the points race. I've placed that silver medal at the end of my bed for motivation. After winning silver, my expectations are high. This time I'm targeting a different event: the road race, and I'd have to admit that anything less than gold would not be satisfying.
I had a difficult start to the season as I was forced to take a month off the bike in December following a heavy crash at the Olympic Velodrome, Bankstown where I fractured my vertebra (L3 transverse process). It was a very slow recovery and a long road back to an enjoyable level of fitness; the first two weeks back on the bike were demoralising. In saying that, I now feel as fit as I have ever been. The adaptation phase kicked in last week and I've since felt unstoppable. My back is totally pain free, even after a 160km ride in the hills. I'm healthy, I'm happy and excited. In order to get the best performance out of myself on the day, I have a great training environment/schedule set out (by Warren McDonald National Road Coach) leading into the 2006 Commonwealth Games. See you in Melbourne!
Rochelle
www.rochellegilmore.com
The Team
Road
Natalie Bates (NSW)
Sara Carrigan (Qld)
Rochelle Gilmore (NSW)
Olivia Gollan (NSW)
Alexis Rhodes (SA)
Kathryn Watt (Vic)
Oenone Wood (ACT)
Track Endurance
Katherine Bates (NSW)
Katie Mactier (Vic)