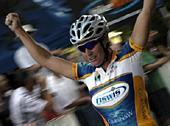 Photo: © Shane Goss
Speedy Gilmore: The 2006 Rochelle Gilmore Journal
Rochelle Gilmore - super sprinter and scratch race silver medallist at the 2002 world track championships - is a woman of ambition. After proving her prowess on the track, she's aiming to forge a successful career on the road. In 2004, she rode for Denmark-based Team S.A.T.S but in 2005, Rochelle joined the one of the longest-named teams in women's cycling, G.S. Safi-Pasta Zara Manhattan, where she will continue in 2006.
Follow Rochelle as she continues her rise to the top of the tree with her regular diary updates.
Adelaide, South Australia, January 13, 2006
A good and bad day in the office!
Today was the 2006 Australian national road championship and I managed to lose the race twice! Firstly, I did not react to the aggressive breaks made by Kate Bates and Sara Carrigan and then I lost the sprint for third when I pulled my foot and dropped my chain with about 150m to go.
In my opinion, Kate Bates and Sara Carrigan were definitely the two strongest riders in today's race and their results were well deserved. The other strong riders out there were Olivia Gollan and Nat Bates. The race to me seemed a little quiet; I predicted that the race would have been more aggressive. The attacks from Kate and Sara were most certainly too strong for anyone else to respond to but other than that, not much happened.
So what was the good thing about today? Well, I felt fantastic. I started the race with no idea how fit I was after having time off with a fractured vertebra. Ok, I didn't make the final break but I was feeling very comfortable with the group, responding to any of those moves was not so difficult. I popped over the hills at the front of the group with no worries.
I am a little down after today's race because I would have liked to see what I could do in the sprint. Now I have to wait for the next road race. I have missed racing - I love it! I'm now flying back to Sydney for some track training on Sunday and Tuesday, and then I will fly to Los Angeles on Wednesday for the Track World Cup.
My next report will be written on the flight home from LA.
Cheers,
Rochelle