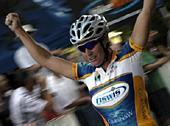 Photo: © Shane Goss
Speedy Gilmore: The 2006 Rochelle Gilmore Journal
Rochelle Gilmore - super sprinter and scratch race silver medallist at the 2002 world track championships - is a woman of ambition. After proving her prowess on the track, she's aiming to forge a successful career on the road. In 2004, she rode for Denmark-based Team S.A.T.S but in 2005, Rochelle joined the one of the longest-named teams in women's cycling, G.S. Safi-Pasta Zara Manhattan, where she will continue in 2006.
Follow Rochelle as she continues her rise to the top of the tree with her regular diary updates.
Geelong, Australia, January 4-8, 2006
Putting on the commentator's hat
Rochelle
Photo ©: Rochelle Gilmore

Co-commentating at the Bay Criterium series last week was an absolute blast. I had a fantastic week working with Phil Liggett, Phil Anderson and Ian Gates. I could not dream of working with a more experienced and professional group of guys! I can certainly learn a lot from them - they are the best at what they do!
I was at first very concerned about attending this year's Jayco Bay Classic as a commentator rather than a competitor. I feared that I would not fit all my training in and that I would lose a week's preparation. After the first few days I realised that I had made the right decision, I was enjoying myself and the experience I was gaining was invaluable! Plus, I was training well and being motivated by watching the racing!
At times I started to wish I was out there racing, but I just had to remind myself that I was not fit to race yet. My injury was still in its healing process.
I fractured my L3 (transverse process) on the 27th of November in a heavy crash at the Dunc Gray Velodrome during the 'Sydney Thousand' event. Following the Oceania Championship in NZ (which I managed to win) from the 1st-5th of December, I stopped exercising completely. I did not return to the bike until the 26th of December. The Jayco Bay Criterium Series is a very tough way to get back on the bike, the racing is extremely intense and the accelerations in and out of the corners place a lot of stress on the lower back. It was just too soon. I did not want to take any risks with a back injury.
Overall Bay Classic winner Katie Mactier
Photo ©: Rochelle Gilmore

With two days remaining until the National Road Championships (Adelaide), I now have two full weeks of training in my legs, and I have no idea what to expect! I have watched the fitness of my competitors with great interest during the Bay Series - but knowing who has form won't help me much if 'I' don't have the form! Obviously we will have an indication of my fitness levels after the Road Race on Friday.
Until then, I would just like to congratulate Katie Mactier for her awesome dominance at the 2006 Jayco Bay Classic. I would also like to say a HUGE thanks to John Trevorrow, Ian Gates, Phil Anderson and Phil Liggett for giving me such a wonderful opportunity and experience last week!
Cheers,
Rochelle
www.rochellegilmore.com