Joe Papp contemplates this latest twist
Photo ©: Joe Papp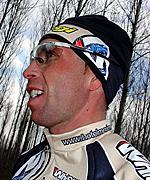 Papillon: The Joe Papp Diary 2006
Joe Papp, a UCI Elite rider and self-confessed cycling gypsy is now riding the Italian granfondo circuit with Team Whistle. Before moving to Tuscany, he was a double stage winner at the 2003 Vuelta a Cuba (UCI 2.5) and has finished in the top-10 three times at the UCI Pan Am Continental Championships (2005, 2004, 1996). Joe's writing is good enough to make boring racing intriguing and intriguing races captivating. Learn more about him and his adventures on the bike at www.joepapp.com.
The South China Sea experience - Part II (read Part I here)
Stage 4 - December 29, 2005: Guangzhou Circuit Race (Guangzhou Higher Education Mega Center, Guangzhou, PRC) - 105.6km
I felt a bit better today on the bike, despite a swollen right thigh and minor infection of the tissue. I obviously didn't do a smart job of cleaning the wound, owing in part to lack of supplies, and in part to lack of motivation. There is something to be said for speaking the language of the country in which you are racing, as it facilitates so much and really frees you from having to be dependent on others for even basic communication. At least I can buy a Coke here if I want to, though I'm nowhere near as independently-mobile as when I am in Latin America.
We had a long transfer to the stage today in Guangzhou, where we're racing around the Guangzhou Higher Education Mega Center, which is exactly what the name implies - a large university centre.
Another great use
Photo ©: Joe Papp

Today's circuit was like a NASCAR track and there were no turns, which made for fast racing. Despite the absence of course features that could be taken advantage of to split the bunch, through sheer force of will a small group escaped in the final quarter of the race and Champion System was represented by Simon "Little Bear" Chau.
We weren't sad to see a concerted chase develop, since Simon would have had great difficulty outsprinting his breakaway companions for the win, but I was incredibly surprised when Derek launched an attack with just under 1km to go in the penultimate lap and the break still up the road. Rather than saving himself for me to lead him out only a few kilometres later, he instead cracked himself in a poorly-timed solo effort that did nothing but hasten the general regrouping. I was left to freelance the sprint on my own, and when I jumped as we were cresting the gradual uphill that came with 500m to go, Derek couldn't hold my wheel and I was on my own. I finished 5th and was a bit disappointed that a communications error kept us from riding a more forceful finale.
Honestly, it doesn't matter to me whether Derek or I win a stage - just so one of us does. Sure, I want to earn points for the points classification (which is based on intermediate sprints and stage placing), but it will be almost impossible to beat Kam Po Wong in that competition, since he has won two stages already. Hopefully we can sort out our tactics for tomorrow and avoid any major gaffes.
We're staying in a dorm at the South China Normal University, and there is no elevator and we are four to a room sleeping on bunk beds that consist of a sheet of plywood and a thin mattress pad. This is the one night when the accommodations are old-school, and the Sponsor conveniently had business to attend to back in Hong Kong!
The author is almost
Photo ©: Joe Papp

David Sommerville went above and beyond the call of duty this afternoon when he attended to the road rash that I had thus far resisted cleaning properly. While I lay on the floor whimpering after taking a shower, Dave picked out all of the gravel and other debris, cleaned the wound and covered it with Bioclusive transparent dressings that our team director, Alan Ho bummed from the Hong Kong National Team.
Oh man, I'm such a scumbag. I haven't mentioned Alan up until now, as my editor pointed out to me. Alan Ho is an ex-rider who won the Tour of the South China Sea in 2000. He is from Hong Kong, and is currently the coach and manager of Champion System's Asia-based team.
Stage 5 - December 30, 2005: Jiangmen Circuit Race (Jiangmen, PRC) - 105.9km
Humping our luggage down 14 flights of stairs was inordinately painful and a rude task first thing in the morning when there is no espresso to be had for miles. I'm fondly remembering the French toast breakfast I enjoyed that first day at the Hong Kong Sports Institute and hope the food at tonight's 5-star Yucca Hotel compares.
We had a two-hour transfer to the Baishuidai Garden Exhibition Center in Jiangmen for today's stage, which was contested on relatively flat, wide-open 4km circuit on which we rode 25 laps before heading out of town for the finishing climb to Longguang Tower. Before the start, Dave and Jared and several other riders did something naughty which resulted in their being fined 50CHF each - they engaged in "incorrect behaviour, urinating in front of spectators at the start." Doh.
Just in case
Photo ©: Joe Papp

While they were peeing, I was posing for pictures with riders from the Japanese National Team, specifically #31 Makoto Iijima who looks like a bike racing version of the traditional Japanese samurai warrior. He rides like one too, having refused to give me an inch of space yesterday when I was trying to take him off of Kam Po's wheel before the final sprint (I did finish one place ahead of him, however!).
Don't ask me why, because I really don't know, but less than 100m into today's stage I said to Australian Bradley Hall, "Let's tweak 'em a bit," in reference to attacking the Hong Kong National Team at the start rather than letting them control the field all day. And tweak them we did, jumping away with a rider from the Swiss Track Team and quickly gaining 20 seconds on the bunch. Just before the field could reel us in, a small group came across to the three of us and we spent the rest of the race up the road.
Taiji Nishitani (JPN) beat me into second in the first points sprint, but after that, in exchange for my begrudging help in the break the Australia duo of Nathan Jones and Brad Hall led me out for the remaining four sprints, which I won handily. My major goal today was to do just this - get in a break and contest the point sprints to move up in that classification but also take some pressure off of my teammates so that they could contest the stage finish at Longguang Tower.
Everything went according to plan (though I hadn't intended to be in a 100km+ breakaway) until the final 2km of the finishing climb, when a chase group headed by the race leader made contact with us and there were no Champion System riders present. Later at the hotel during our team meeting the guys explained that they had covered just about every attack and counterattack except for the last one, which was the one that stuck, but at that particular moment I was really, really bummed out. I clung to the first group until the final kilometre when I cracked (eventually finishing 29th on the stage), but Daniel really missed out. We did the math and he rode the climb just about as fast as stage winner Kam Po Wong, but owing to the fact that he was in a chase group a minute back he was riding for a top-20 instead of top-3 finish.
Joe Papp and Daniel Lee
Photo ©: Joe Papp

It's no big deal in the grand scope of things, since like I said before Daniel is a super-talented athlete who has next to no experience in road racing. Therefore, the fact that he hasn't crashed or accidentally chased down his own teammates is far more important than the opportunities he's missed out on. I have faith in the boy, however, and bet he does good things on the final stage, which finishes with a nasty 2km climb after 100km on open roads.
The Yucca Hotel was as good as expected and everyone - especially the Aussies and Americans - is very sad to have arrived here late and have to depart early tomorrow morning. I bought beers for Nathan and Brad at dinner tonight in appreciation of the help they gave me today. Thanks to their lead-outs and the points I won, I jumped from 6th to 2nd in the points standings behind Kam Po Wong. That means that if Kam Po takes back the overall GC lead and maintains the points jersey (which I am sure he will do), and I stay in second, I'll get to sport the orange leader's jersey. Cool.
Stage 6 - December 31, 2005: Zhongshan Nantou TCL Air Conditioning Cup (Nantou, Zhongshan, PRC) - 103.4km
If stage 5's circuit was like a NASCAR oval, then today's track with like a Formula 1 course - it was pancake flat, T-shaped with three u-turns. There were far more spectators in attendance today than during stage two, and for the entire race I was daydreaming about what it would be like to climb the podium in front of 30,000 Chinese. It only took 2:29:38 to find out, because I finished 2nd to Kam Po again today!
After all of the hiccups and missed chances, the Champion System team rode like professionals today, especially Daniel, who delivered me into the first four riders by the U-turn so that I could do my stuff. The sprint I uncorked would have been worthless, however, were it not for the efforts of all the CS riders who spent much of the second half of the race riding tempo to limit the advantage of a threatening breakaway that we missed. It gave me such joy to see a line of orange and blue jerseys controlling the race from the front of the field - even if we were chasing - and Daniel's heroic work to drag me to the front in time for the sprint was icing on the cake.
The Chinese National Team, which has one rider in the top-10 in GC, lent us a hand in the chase, and after the break was caught it was the Australians - riding for Hall - who took charge in the final kilometres.
There was a lot of dicey riding between the second u-turn and the final bend before the finish, and when I lost Derek's wheel it was Daniel who raced up the gutter to get me back to the front. Though he was discombobulated by the truck waiting for us in the middle of the last turn, he did his job and I was one of the first riders to roll into the home stretch. The Malaysian who would finish third, Ahmad Fauzan, jumped first with over 400m to go to the line, and I followed him closely up the left side of the road. He didn't sprint for long, however, obviously not wanting to lead me out. I had a second to think about what I was going to do after he stopped pedaling, and the best option seemed to be starting my jump then, before I lost momentum and was swarmed.
Champagne fight
Photo ©: Joe Papp

So even with Kam Po on my wheel I gave it the full gas, and about 20m from the line I thought I might have held him off. Unfortunately, he came by me so quickly on the left that I was breathless. The only solace I'm taking right now is from the fact that we two finished well ahead of third place, just like on the second stage, in a sprint that started from almost a dead stop because of the truck. Bike handling and positioning are more important than raw speed in these bunch sprints, and Kam Po and I are showing that we do it better than everyone else (though he's definitely got more raw speed than me).
The podium ceremony was incredible - I've never seen so many fans at once in my life. I won't even try to describe it except to say that I was almost pulled into the crowd by a band of teenage girls and riot police were needed to free my teammates and me from the masses. I threw my flowers and a water bottle into the crowd, which resulted in a scrum that would have done the All Blacks proud, and Derek and Daniel stole a huge balloon from the S/F area that they pulled between them to the race hotel. See my website, www.joepapp.com, for a video of the heist.
Stage 7 - January 1, 2006: Zhuhai SuperVision Media Cup (Qinglu Road, Zhuhai, PRC) - 63km
Alan Ho, David Sommerville
Photo ©: Joe Papp

New Year's Eve was a tame one for my roommate Dave and me. We were in bed by 11pm last night and are obviously very boring individuals. Right now it's tough for me to get excited about going out and partying it up on New Year's when my wife Yuliet is in Cuba and we haven't seen each other for three months, so I was happy to call it an early night and dream about riding the Vuelta a Cuba in a month's time.
The Swiss weren't so inclined, however, as evidenced by their long, drawn faces this morning at breakfast. I'm glad someone had a good time at least!
We had a short transfer to the start in Zhuhai, but any time saved this morning was to be consumed in the post-race transfer from the PRC into Macau, which entailed a five-minute bus ride, clearing Chinese immigration and customs, walking across to Macau and clearing customs and immigration there before finally getting a bus to the Grandview Hotel, which is just across the street from the Macau Jockey Club. Now that's cool.
Today's stage was mercifully short, though we rode what seemed like a faster pace than yesterday. The course was a cigar - out and back with two u-turns on a four-lane road running along the water in Zhuhai. Champion System's plan was simple - keep me in second in the points so that I could wear the orange jersey once more for tomorrow's stage and then go for the stage win.
That's right, I was entitled to start today's stage in the orange jersey of points leader because Kam Po Wong took back the overall lead by virtue of his stage win and time bonus yesterday! Being a clothing manufacturer, Champion System (who provided all of the leaders' jerseys for the race) ordered up a custom-sublimated points leader jersey for me that featured the company logo on the front. They printed it at the factory last night and drove it over this morning. Very cool.
Derek (left)
Photo ©: Joe Papp

The guys did a great job today, especially Derek, who went away with Brad Hall and Taiji Nishitani and Simon, who covered the major break of the race. In the closing laps the field was all together and it was again Daniel who spirited me out of trouble and into the front to contest the sprint. It's amazing how he has gone from being a shaky rider to someone capable of riding just to the right of a large crack in the gutter at 52kph while passing the entire field with me on his wheel.
Just like yesterday Daniel delivered me to the front as we entered the last u-turn with only one straightaway to the finish. This time it was a bit more hairy, as I was boxed while waiting to jump (it was a long way to the line!) and then swamped and narrowly avoided a crash with 300m to go. Kam Po was boxed as well, he found his way out of the bunch with me on his wheel and we had our closest finish yet. Though I had the draft, the sprint wasn't long enough for me to come around him (200m as opposed to 400m like the last two drag races) and he just held me off at the line.
There's no shame in being beaten three times by a rider of Kam Po Wong's class and I'm honoured to have raced against him.
Stage 8 - January 2, 2006: Macau Tower to Colane, Macau - 92.2km
Joe Papp so eager
Photo ©: Joe Papp

The entire team had dinner in a Portuguese restaurant in Macau last night, yet despite the wonderful food I didn't recover very well from the race and the hours spent transferring here from the mainland. Thankfully today's stage was raced in a fairly controlled manner until the last few kilometres before the final climb. I had a go of it in every intermediate sprint and earned enough points to ensure that I retain my second place in that classification.
With that feat accomplished, all that remained for me was to lend a hand to Daniel and Derek to ensure that they arrived at the base of the narrow, winding climb to the statue of the Goddess Ama in the front of the bunch. We raced the final 3km to the turn-off to the climb as if they were the finish of a classic, but both D and D were in very good position as we rounded a left hander and began the ascent. I pulled the pin immediately and cruised up the climb in first gear, slapping high fives to our support staff as I rounded the bend leading into the final 50m at the top. Mission accomplished. Derek and Daniel climbed with the leaders and Derek took 5th though he might have finished top-3 with a more aggressive sprint, while Daniel was 8th.
We pedaled back to the Grandview Hotel, ate, napped and went to the post-race dinner and awards presentation before hitting out for a night on the town in Macau. I didn't believe him when he told me earlier in the trip, but Scott was right - you can buy anything your heart desires in the mall in the Casino Lisboa.
January 3, 2005
After celebrating the end of the race last night, we slept in today until 9AM and then got on with the drama of making a 1-hour hydrofoil transfer back to Hong Kong. Actually, the only drama was when Derek, Dave, Jared and I were sweating about getting cross town to the ferry station after the race bus left without us. No worries, Alan arrived a little past noon and arranged a separate bus for us. I'm sure the other passengers on the hydrofoil thought it a bit odd when we wheeled our bikes up the gangplank and into the passenger compartment, but then again, after some of the things I've seen on this trip, maybe not.
January 4, 2005
Joe Papp
Photo ©: Joe Papp

"Copy watch, sir? Copy watch?" and "Step into my office, sirs." Those were the words Dave, Jared and I had been waiting to hear, and after following her into a rundown high-rise we quickly ascended 17 stories to the "office" of a street vendor based near our hotel in Kowloon. Replica watches were on the menu, and I left with two sweet IWC's and a Rolex. Yes, Accord Swiss Watches is our team sponsor, and I have a slew of genuine Tag Heuer's and a Baume & Mercier at home, but how can you visit Hong Kong and not leave with a new, inauthentic time piece?
January 6, 2006
A final note for this diary concerning international travel: Those of you who fly a lot know that when you're given an airline ticket either from your team or from work, if it's not a business class fare, your relative comfort depends a lot on the luck of who your seatmates are. If you've ever taken your seat in the plane and not found someone sitting next to you when you arrived then you know those last few minutes of boarding before the doors are locked can be more nerve-wracking than the Cuban Missile Crisis.
"Will I have this entire row of seats to myself???"
"Is that 250-pound guy squeezing down the aisle headed for the seat next to me?!?"
"Is the goddess Fortuna kind enough to get me an upgrade???"
The ideal seatmate
Photo ©: Joe Papp
On the flight to Hong Kong from LAX, I was truly blessed and had a row of three seats on the left side of the Airbus all to myself. Except for the food service, that's better than a business class seat in my opinion, unless it's British Airways Club World Sleeper Service. I flew on a Boeing 747 from Hong Kong today, and was assigned an aisle seat (again on the left side) in the back of the plane. There was only one seat next to me, and as one of the last to board, I dared hope that fate would again be kind to me and I would fly solo in row 68.
I'm a married guy, and if I wasn't praying to be seated in an empty row, then my obvious choice for a travel companion would be my lovely wife Yuliet. However, that being outside the realm of possibility right now for a variety of reasons, I will forevermore wish to have as my seatmate Nok, the Laotian-American woman who was later than me in boarding and eventually claimed the spot next to mine. Who would have thought that an 11-hour flight could be so...entertaining?
Until next time, when I'll hopefully be reporting back after having won five stages in the Vuelta a Cuba
Ciao.
Photography
For a thumbnail gallery of these images, click here
Images by Joe Papp & friends
Email Joe at joe@cyclingnews.com