Nat Ross basking in the glow of glory
Photo ©: Nat Ross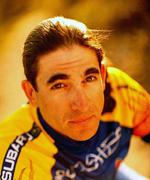 Going the distance: The Nat Ross diary 2006
As a six-year professional mountain biker who's competed in twenty-eight solo 24-hour races, you'd think that ultra-endurance racing has consumed every waking hour of 35 year-old Nat Ross' adult life. But this lean, long-haired and laid-back Coloradoan has a more complete resume than even the most upwardly-mobile corporate go-getter - although that won't stop him going the distance when it matters.
May 1 , 2006
Breaking the course record at the 24 Hours of Temecula
Earlier this winter, when I was formulating my race schedule for this season, I put in a race that I have wanted to do for quite some time. I figured that it would be best to stay in California for a good chunk of April since Colorado typically has some big snowstorms that get in the way of riding. Looking back, I should have stayed in Cali after the Sea Otter instead of driving back to Golden for a week in between races. I always seem to forget how many miles separate the two states. Luckily, one of my main sponsors, Subaru, always makes traveling more enjoyable. This trip, I had the luxury of breaking in a brand new Tribeca. This car is made for guys like me, complete with an in dash GPS Navigation System to keep one from getting lost or off track.
At Sea Otter
Photo ©: Bruce Hildenbrand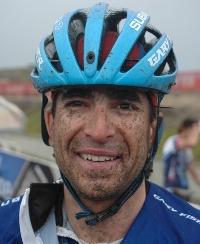 In Phoenix, I picked up Myron Billy. We met at our friend Jake's house and went out big Wednesday night. The hangover drive to Temecula on Thursday was rough. The plan was to pre-ride the race course in the afternoon but as usual, I mistimed our arrival (thanks to an unexpected wicked hangover). We ended checking out the course at night with our lights. Laird, the Granny Gear race promoter, was also out riding at night so we were able to chat with him for quite a while on the course. After riding in the dark we had a late dinner and then headed back to the hotel to grab a good ten hours of sleep.
Friday always ends up as a crazy day. Too much to do in too little time! Myron and I set up my Gary Fisher 10X10 tent and dialed it in. Jake had given us several cases of Fat Tire when we left Phoenix, so we put the beers on ice, set up the workbench, prepared my race food, and organized the pit. Our campsite was styled out before dinner, so we went to Sizzler to feast on the buffet. After stuffing ourselves, we went to see Scary Movie 4. It was me, Myorn, and all the high school kids in the state of California. All and all the movie was pretty lame, so save your dollars for something else if you haven't seen it yet.
I slept like a champ overnight and woke up ready to rock and roll. The weather couldn't have been better for breaking records. The plan was to complete 20 laps. I had looked closely at Tinkers lap times from the previous year as record stood at 19 laps. Tinker is an amazing climber. And his strength to weight ratio is as good as it gets. However, I live to climb. I figured that if I climb consistently every lap, and eat all my meals on the bike, I would be able to break his record.
The tough part for me was going to be getting enough food in between miles 8 and 9 on the 10 mile course. That was the only flat section on the whole course to eat without having to climb a heinous hill right afterward. I rode with three different CamelBaks throughout the race; one contained water and the other two had different sports drinks. My nutrition was perfect throughout the race, as everything I put into my body worked as planned.
Myron is a professional mechanic and I'm psyched that he was my crew. Without him, I could not have experienced the success that I did. The weather channel had projected a 30 percent chance of rain, but instead, it rained from 10PM till 6AM. This threw a wrench into my race strategy. I ended up completely changing my kit all the way down to my base layers on laps 11, 12, 13, and 14. It was all I could do to stay dry. At mile 2 on the course there was a twenty minute climb, where I got all sweaty and soaked while climbing and then I had to descend. I hate getting sick in the middle of the race season, so I chose to stay as dry as possible to prevent it by changing to dry clothes numerous times. As the night went on and the rain kept coming down several of the hills became impossible to ride with greasy mud. I managed to stay warm and dry throughout the night and I love riding in the mud so the rain wasn't all that bad.
The Le Mans start
Photo ©: Tom Weigand

During the race, I burned up the battery on my Ipod just after dark. Myron gave me his while mine was charging in the Tribeca., and he had some great tunes like live Matisyahu and Mos Def. Mine was fully charged by 4AM enabling me to jam out to Reggae from the sunrise to all the way through to my last lap. I love to listen to Reggae every Sunday, so I was in the right mindset to finish the race in style.
By the end of the race, I had racked up 200 miles and 30,000 vertical feet of climbing. I was so intent on getting the course record that second place was something like eight laps down. Thankfully, the course was made for 29 inch wheels, and very lap, I noticed other racers with big wheels turning the pedals and reaping the benefits. As I sit at home resting and recovering, I realize how much the course truly beat me up. "I'm sure that it had nothing to do with the first seven laps on my hardtail." I'm not complaining however, for me, the best part of a 24 hour race is recovering. I really enjoy the down time after these races!
L8, Nat Ross
Photography
For a thumbnail gallery of these images, click here
Images by Bruce Hildenbrand
At Sea Otter Nat went up against the elite two-six crowd and got a face full of mud for his efforts
Images by Tom Weigand www.trweigand.com