Recently on Cyclingnews.com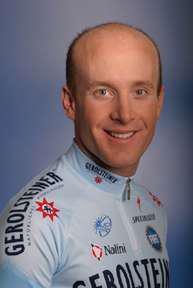 Photo ©: Gerolsteiner
Streaming ahead: The Levi Leipheimer diary 2006
After a great 2005, Levi Leipheimer is back in 2006 with his German Gerolsteiner team, and looking for even more success. A sixth place finish in the 2005 Tour de France, along with a big win in the Tour of Germany saw Leipheimer establish himself as one of the European pro peloton's main men and possibly America's number one male stage racer.
With a supporting cast that includes wife Odessa and three Chihuahuas, Levi will be out to conquer more stage races in 2006, so follow Levi's progress to the Tour and beyond on Cyclingnews.
Tour de France, July 1-23, 2006
The Levi Leipheimer Video Diary - Prologue
Levi talks prior to the prologue about the outlook for the 2006 Tour in the wake of Operation Puerto
Video ©: Mark Shimahara

Next video
More Tour video Levi Leipheimer diary index

NOTE: Please be patient as the file downloads to your system, as it is large but good quality. It is available only as WMV (Windows Media Player) format, and if you do not have a video player on your system capable of replaying these videos, please visit Microsoft to download a free verson of the WMV player. See Microsoft's download page.