Kristin Danielson
Photo ©: Larry Hanelin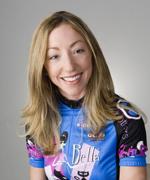 Married to the sport: The Kristin Danielson diary 2006
The long-time partner and now wife of Discovery Channel rider Tom Danielson, Kristin Danielson (nee Johnson) is a talent in her own right. Like her hubby, Kristin came from a background racing on fat tyres before recently making the transition to the road, and after a season with Ford-Basis, she'll be riding in Velo Bella-Kona colours in 2006.
May 27, 2006
Getting my head in the game
After a long month of traveling, I'm happy to be back home in Durango. My adventures lead me first to the Tour de Georgia. Tom put in a great race, proving that he has improved his time trialing skills and is ready for all his upcoming races.
After the Tour de Georgia, Tom and I traveled to Italy where we met up with one of the Discovery Team directors, Sean Yates. We spent a week driving up and down the incredible switchback roads that are precisely situated among the Dolomite mountain range. When we approached a climb that had been designated apart of the Giro course Tom jumped out and off he went. Tom made the steep grades look easy as he pedaled a fast cadence and was barely breathing. Any other person would have been all over their bike just to get up the extreme roads.
I have to say Italy quickly became one of my favorite places in Europe. The small mountain towns were so beautiful and quaint. The roads among the mountains are so incredible. I can't get over how they even managed to build them. Or the towns for that matter.
After we finished Tom's reconnaissance of the Giro's climbs I headed back to Girona and Tom headed to Belgium. I was happy to get back to Girona as my training had suffered from spending much of the previous two weeks sitting in a car.
The road riding around Girona is great. I put in some long tempo road rides and there are so many various options and the weather was unbeatable. After a week of being in Girona by myself I was more than ready for my friend from Durango, Sarah, to visit. She speaks Spanish so she helped me get some errands done that I had been putting off due to my lack of Spanish skills. Next we were off to Madrid for our first World Cup.
I thought driving in Los Angeles was bad; try Madrid when the entire city roads are under construction! I was so fortunate that Sarah decided to race as well because I think I would still be on the highways in Madrid trying to find the course. At the race, we met up with my teammate Wendy (Simms) as she was planning on racing the next three weekends of World Cup races.
I have to be honest and say that my first World Cup experience wasn't what I expected. While pre-riding the course Sarah asked me "do you think I should lock out my fork for the entire race?" I had to laugh because I'm sure you could have raced on a bike with no suspension and have been fine.
On race day I lined up 99 th out of 115 and Sarah was right beside me in 109 th position. Wendy has had some great results already this season so she was a few rows ahead in 75 th . In front of me was sea of brightly colored jerseys and toned bodies. And everyone had her race face on.
The official counted down then we were off, racing to the single track. As we approached a steep short climb, inevitably, racers started to get congested and within five minutes of the race start we were off our bikes trying to get around one another. I became frustrated and the minute we were able to hop back on I wanted to pass as many girls as I could. I only brought knobby tires from home, so I felt confident that I could take the inside line on a corner and sneak past a few ladies. My confidence quickly disappeared as I took a digger trying my not so sneaky maneuver. By the time I got back onto my wobbly bike I heard the motorcycle behind me, 'oh great' I thought. So for the next 5 laps I tried to pass as many racers as I could for such a short race. In the end I managed to pass around 30 racers and knew I had given it my best shot.
I don't know if I will return to that particular World Cup but I would like to increase the number of world cups that I participate in every year. I walked away from my first World Cup realizing that no matter what the race course is like or where the course is held you always have to put any negative aspects aside and focus solely on how to race your best race no matter what the situation is like.
Wendy, Sarah and I drove back to Girona after the race and spent a few days taking it easy with a trip to Costa Brava - eating at delicious restaurants and doing some road riding.
After traveling for a month I was more than ready to return back home to Durango. I had planned on racing in one of my favorite road races - the Iron Horse Bicycle Classic. It starts in Durango and goes over two mountain passes into the small mountain town of Silverton. I planned to get back with enough time for my jetlag to wear off before the race but I didn't plan on getting bronchitis. My after-race cough turned into much more; it combined with the long travel day from Europe I was coughing nonstop when I finally laid down for some sleep. Although I am disappointed that I wont be able to partake in Durango's most talked about bike race, I will cheer for my friends who are going to race and I'm finally back on track with my training and finding some consistency after a month of being in inconsistent training situations.
Tom has agreed to go with me to the next two NORBA races - in North Carolina and Vermont. Since his parents live in Connecticut, we'll stay with them in between the two races and Tom will be back on his old stomping grounds. Tom returns back to Durango next week after racing in one of the hardest races, the Giro. He has been training unrelentingly for this race since November; so it was a huge disappointment when he came down with a severe cold on the first major mountain stage. He went from looking at a possible top 5 finish to just finishing. I felt so bad from him since I know how much time and effort he put into this race. Although he is pretty frustrated, nothing can take away his talent and he has plenty of time to get that top 5 finish.
Good luck to all the Iron Horse Bicycle Classic contenders I'll be cheering!
Till next time,
Kristin