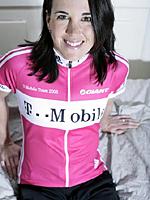 Photo: © T-Mobile
All American Gal: The Kimberly Baldwin Diary 2006
With both the men's and women's teams as one in 2006, Kimberly Baldwin now finds herself part of the all-powerful German-based T-Mobile squad. Everything is "pretty much kick-ass" is how Kim describes things. And once racing begins, kicking ass is something she's intent on doing!
Route de France Feminin, August 8, 2006
Dejected but none the worse for wear
Vive la France. Hmmm. The five of us T-Mobile girls came to this race with a bit of trepidation. The Route de France was announced back in February. I clearly remember because I was staying at our team manager, Bob Stapleton's, place in California at the time and Bob was confirming our participation in the race. So I've known for months that we were coming. But still, our racing experiences in France haven't always been the best, so we came with open minds but a bit of anxiety for the French experience nonetheless.
The T-Mobile team
Photo ©: Kimberley Baldwin

We left our house in Langerwehe, Germany Friday morning and arrived at our closet-sized hotel in Harfleur by late afternoon. We drove 40km to the team presentation in the coastal town of Fecamp. The presentation was supposed to start at 7:00 but by the time we arrived, the time had changed to 7:30pm. And apparently they were trying to headline and hype the up-and-coming French singing talent and tied her into the team presentation, thinking maybe this would help her career to take off. This woman would sing two songs, then the announcers would introduce three teams, then the woman would start singing again. We were getting antsy. Everyone was hoping they would be the next team called, so they wouldn't have to sit through anymore French singing. Thank God our team was called up after the second encore. Some teams had to sit through two more!
The town of Fecamp is really beautiful and is situated right between these amazing white cliffs. It was really crowded with vacationers and Magali, our French connection, told us that many people come from Paris to vacation here since it's only a few hours away. We got to see Fecamp again the next day as well, since that's where the prologue took place.
Prologue
Spectacular scenery
Photo ©: Kimberley Baldwin

This was the shortest prologue I have ever done. It was only 2.2 km. So even though I finished an incredibly crappy 55th, I was only seconds behind my teammates due to the short distance. It seemed like so much work for all our staff for the day! A forty km transfer there and back, tune up both time trial bikes and road bikes, get the trainers set up, prepare the drink mixes, etc. I really give the guys credit for all they do.
Stage 1
The next day's stage started back in Fecamp, so after a slow morning of drinking coffee and packing up for our 'hotel' transfer, we headed back to the seaside. The fog was really rolling in as the field rolled out of town. Speaking of field, it is especially small here with only 75 women and 13 teams. Missing are some of the bigger European teams like Nurnberger and AA Drink. But that doesn't take away from the depth of the field. With riders like Diana Ziluite, Nicole Brandli, Edita Pucinskaite, Susanne Lungskold and Amber Neben, and of course our own Judith Arndt, there is no lack of talent.
The stage was 118 km long and very fast. Since we were headed south from the coast, it felt like we had tailwind almost the entire day. By the end, we had averaged 48km an hour I believe! It was a very active race and attacks were going all day, but nothing was getting away and we came in for a field sprint. Diana Ziluite won her second stage out of two.
Beautiful white cliffs.
Photo ©: Kimberley Baldwin

We were dismayed after the race to find that we were not staying in a hotel as promised, but in a school. Staying in a school can mean many things, but usually in France, it doesn't mean anything good. And it wasn't. My husband had texted me asking me to call shortly after we arrived there. I texted him back saying, "Probably shouldn't talk to you right now. Staying in a school. Just took ice cold shower and had to dry off with a bed sheet. I LOVE France."
We actually made the best of it though. Our staff set up the grill outside by the team truck, set up the chairs, and we all sat around together after dinner talking and laughing. It felt like we were camping. Actually Bernard and David, our mechanic and soigneur, DID camp outside and thought it best to sleep out under the stars. The school was only one night though so I'd like to believe I can handle anything for at least one night!
Stage 2
Monday's stage was an adventure, to say the least. Forget the tailwind. Today it was crosswinds. They were so strong that it brought back horrible memories of Tour of Holland for me. You'd look up as the field was completely strung out and guttered to the side of the road and see nothing but straight road for as far as the eye could see in the same direction. The only relief came when we'd hit a small town. Buildings would block the wind for maybe a minute and I'd be praying that at the next round about, we'd head in a different direction and get maybe a tail or head wind. But no. Straight through and onto another suffer fest. I haven't suffered like that in a long time.
The team stayed strong though and after a lot of separation, four of us found ourselves in the front group chasing two breakaway riders. Oh thank God, this was good! But then it went downhill from there, at least for me. I got a rear flat at a most inopportune time. Our director, Andrzej, was stuck two groups behind us, and could not get up to me. Amy was in a group behind and told me she would give me her rear wheel. I waited for Amy as my other teammates kept flying up the road. She gave me her rear and took a spare rear from neutral. By the time we got going again, we were about in the middle of all the splintered groups. We tried our hardest to chase back on to Judith, Kim, and Magali's group, but then I felt the rear going flat again. Was this for real? I had to drop back again but neither Andrzej nor neutral was anywhere to be found.
My poor soigneur David was in the team car behind me saying, "but I don't have any wheels!" Finally David left me and I think by this time I was absolutely DFL in the race, riding my flat. I just wanted to cry. I thought for sure I would be time cut since I still had 30km to go and really, how far can one ride on a flat tubular? Thank God David drove up to the closest neutral support car he could find, grabbed a rear wheel, and then waited for me to ride up to him. And thank God as well for the nicest gendarmerie I have ever me for allowing me to motor pace back up to the laughing bunch so I had people to ride in with. It was just a lot of bad luck.
I came to find out later that absolutely everyone on our team flatted. Judith flatted shortly after my first one. Then Kim, then Magali. And Amy would have if she had actually kept her wheel. The Univega team had us beat though with six flats. Apparently there's a lot of glass on these French roads.
I came in with a decent sized group, dejected, but none the worse for wear. Shit happens. What can you do about it? I still felt myself fortunate though because after the race, I heard that two girls went into the rear window of a car and were taken away to the hospital. I really hope that they are okay. After hearing that, I consider myself lucky.
Tonight's hotel is an actual hotel and we even have wireless. So we are really feeling spoiled. Although there ARE three of us in this tiny room and Amy is sleeping on a cot on the floor. I did hear though that during the men's Tour, the hotels were often not exactly up to par and the Gerolsteiner boys sometimes slept on their bus.
I'll report back on the rest of the stages the next chance I get. Hopefully there is more wireless to come!
Happy riding,
Kimberly