Recently on Cyclingnews.com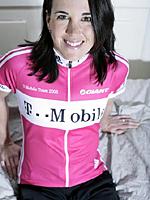 Photo: © T-Mobile
All American Gal: The Kimberly Baldwin Diary 2006
With both the men's and women's teams as one in 2006, Kimberly Baldwin now finds herself part of the all-powerful German-based T-Mobile squad. Everything is "pretty much kick-ass" is how Kim describes things. And once racing begins, kicking ass is something she's intent on doing!
Wellington, New Zealand, March 4, 2006
Stayin' alive in New Zealand
Ina on the podium again
Photo ©: Nick Warren

The T-Mobile team left Australia to fly to New Zealand this past Monday evening. I think all the womens' teams were either on the Air New Zealand or Qantas flights; I've got to say, Andrzej did an amazing job at the check-in desk getting all our bags checked and not paying one extra dime. Judith and some others had told us horror stories from last year about teams being charged close to $5,000 in extra baggage charges! I think it's Andrzej's Polish accent...he charms everyone, including other men!
A bus was waiting at the airport to pick everyone up and shuttle us to the hotel. It was a late night, as the flight didn't get in until midnight, and our bus didn't arrive at the hotel until about 1:30am. But luckily, the hotel was a big improvement on the caravan park we had just left. I've never been so appreciative of carpet on the floor, a normal size shower, and a tv with CNN and a movie channel. It's going to be a good week!
Although the racing doesn't start until Wednesday, "Stage 1" started on Tuesday with a riders' "parade" from Hutt, where we're staying, into the city of Wellington. All the riders started off together for the 11km jaunt behind a police escort and race leader car. About half way to Wellington, the race promoter told us, "Girls, we need to pick it up a bit. Please ride at least 30km an hour." Then he sped off assuming we would just follow him. But no one was really in the mood to ride very hard, so we all just stayed at our same pace. I had been warned about the wind here in Wellington, and they were not kidding! Just riding along the highway, the wind was so strong in parts that I had to stand up like I was riding up hill. This should make the racing quite interesting!
"Stage 2" was the team presentation back in Wellington at noon on Wednesday. Very few teams have cars here. The riders are to be bussed to the start of most of the stages, as well as to the presentation. Unfortunately, not much press showed up for the presentation, so we were basically cheering for each other. Amy and I went on a short ride when we got back to the hotel, and realized how truly windy it was. I thought racing in Holland was bad, but this was going to be a whole new experience. Girls had told me stories of last year's race, where Nicole Friedman got caught by a gust and went flying straight across the road into a ditch. Lord help us.
Ulmer's the best right now
Photo ©: CJ Farquharson

Wednesday night's criterium start was just outside of the hotel so no bus was needed, thank goodness. Amy and I were determined to play more of a team part in this race than we did in Geelong too. It was another large field, which encouraged us even more to stay at or near the front. Magali had great position when the break went about 10 minutes into the race. It was a fairly big break and consisted of great riders like Sarah Ulmer, Trixi Worrack, Priska Doppman, Hayley Brown, and our own Magali. With most of the big teams represented, the break got good time even though there were still plenty of attacks from behind. The chaos came at the end. The break lapped the field, so at the end of the hour, the announcer told the field to sprint, and the break to race 3 more laps. This brilliant plan didn't work out so well, as half the field didn't know they were done and kept racing, while the other half slowed down and kind of spread all over the road. It completely messed up the girls that had been in the break. So once they finally got everyone stopped, the eight girls in the break had to line up again for another 3 lap race. In the last lap, one of the girls crashed, splitting up the group. Sarah Ulmer and Priska Doppman were able to jump ahead, and Sarah outsprinted Priska on the finishing straight. I think the fans were very happy to see a Kiwi win. Especially when it's Ulmer...beautiful girl, amazing World Champion.
Thursday was a double day and we loaded up on the bus for our hour-plus drive to the start. The bus drove up and over this incredible mountain pass...it was absolutely gorgeous. But we were riding a 100-year old school bus and there were no guard rails on the road. The drop-offs were incredibly steep and I wasn't just a little afraid. I was praying the brakes would work on the way down.
The first stage was a fairly hilly 99km road stage. Not too much excitement until the final climb when the pack broke up quite a bit. But after a fair amount of chasing, most of the peloton came back together, setting up the finish for a field sprint. Judith once again did a great job helping Ina out, and even though Ina went early, she still held off Ulmer and Georgina Bronzini to take the win.
Ina T sprints to another win
Photo ©: Nick Warren

Between stages we had about three hours, so a local church provided lunch for the riders. Inside the hall were representatives for Compex, the electro-stem machine. They were offering the riders the chance to use the Active Recovery programme, and Amy, Magali, and I went for it. In retrospect, I remember getting a lot of weird looks from other riders and don't really remember anyone else using it. The three of us kind of had a little contest on who could turn theirs up the most. I think that was the beginning of my demise. Because as soon as the crit started, I felt horrible. Usually I can hold my own in a crit and at least be useful to my team. But in this case, it was all I could do to hang on. It was an hour crit plus 3 laps. So when Andrzej came on the radio to tell us we had 20 minutes left, I almost died. With 3 laps to go, my own teammate, Judith, went to the front to drive it. And that's when the lactic acid finally took over. The muscles in my legs absolutely seized...I didn't just feel like I was pedaling squares. It was more like rectangles. This foreign feeling then caused my chest to constrict and before I knew it, I was having an asthma attack...and I don't have asthma! I came back to the team car and couldn't even talk to anyone. Poor Magali didn't know what was going on and offered me a Clif shot. What I really needed was a paper bag to breathe into, and to put over my head for my stupidity in trying something new in the midst of a race. Ina won the race too. She is ON FIRE!
Judith rode well in the ITT
Photo ©: CJ Farquharson

We woke the next morning to wind and sideways rain. The bus was supposed to pick us up at 8:30am to take us to the time trial start, but it didn't arrive until shortly past 9 o'clock. Mid-way into our drive, Judith pointed to a spot WAY across the bay and said, "That's where our time trial was last year." And it was supposed to be in the same place! About 10 minutes later, the bus driver pulled over and turned around. Yes, he had in fact been going in the wrong direction for about 30 minutes. Since we were late, he started speeding on the slippery wet roads and we were afraid the bus was just going to slip right into the bay. Judith, Amy, Magali, and I planned our escape route out just in case the bus did by chance flip into the water. By the time we arrived at the start, it was almost time for the first rider to go off. They postponed the start for 30 minutes but I don't think it really would have mattered if we had just started on time. Many riders just rode the TT pretty easily, saving their energy for the World Cup on Sunday. The three riders to really fly over the course were Sarah Ulmer, a Chinese National team rider, and Judith. Sara rode a fantastically fast race at 16:07, 31 seconds ahead of second place, and 43 seconds ahead of Judith. But at least T-Mobile was still on the podium.
And back to the bus it was. The driver almost killed us on the way home. We were going through a tunnel and all of a sudden, we felt the side of the bus scrape against the wall. We thought we were going to lose Judith as she was sitting on that side of the bus. No wonder it seems that less and less riders are taking the bus. I've noticed that more girls are piling into their team cars. Oh please let these bus rides end soon! Now we've got a day off and then the second World Cup takes place in Wellington on Sunday. We woke Saturday to sideways rain again. And the forecast for Sunday is rain and 110 km/h wind. Lovely.
I'll let you know all about it soon,
Kimberly