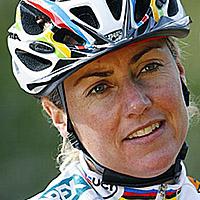 Photo ©: Multivan Merida
On top of the world: The Gunn-Rita Dahle diary 2006
Norwegian cross-country mountain bike racer Gunn-Rita Dahle is probably the best female rider this relatively young branch of the sport has ever seen. World champion in 2002, 2004 and 2005, Olympic champion in 2004 and rarely beaten in the World Cup in 2003, 2004 and 2005, she has a breath-taking palmares.
Dahle says her success is due to an unrelenting focus - she describes herself as a '24-hour athlete' - and the constant support of her husband and coach Kenneth Flesjå. Follow her exploits on Cyclingnews as she works to stay at the top of her game in 2006. Or, for more Gunn-Rita, see her personal website: www.gunnrita.com
MTB world championships report, August 28, 2006
Wild and wonderful
It was absolutely fantastic to become XC World Champion once again, and way round on the other side of the world this time. Even though there were only a few Norwegians lining the tracks, all the spectators were wonderful here in Kiwi-land. This was my best and most incredible race-day in the whole season of 2006.
Gunn-Rita Dahle Flesjaa (Norway)
Photo ©: Rob Jones

There are many different thoughts and feelings tumbling around inside my mind and body as I sit here in my hotel room. It's only a few hours since I crossed the finish line as a new World Champion, and it's going to take many days before it really sinks in. This year we have taken two gold medals out of the two available. It's amazing to once again have hit the bull's-eye on the most important day of the whole season.
Lene Byberg took a respectable 12th place, thus demonstrating that she belongs in the world elite, also at large championships. This was her best World Championship result ever, and she can look back on an impressive 2006 season. Lene has definitely taken a large step further with what she's achieved this year.
The preparations down here have been optimal for both of us. The Norwegian group has been small but rock-solid. We've had lots of fun together, which is important when waiting for the most important happening of the whole season.
And now dinner and celebrations await me here in Rotorua, while people back home in Norway have only just started to get up. We're 10 hours ahead in time. We'll be leaving for Europe tomorrow evening, so I'll use some of the endless hours on the aeroplane to write a more substantial report from the race today.
Gunn-Rita Dahle Flesjaa (Norway)
Photo ©: Rob Jones

I will take this opportunity to congratulate the Multivan Merida Biking Team, all our team sponsors, our personal work partners, our family, and our manager Roar, with this new World Championship gold medal. You all play an important role in our victories and in the fact that we're able to perform as well as we have done.
Cyclist's greetings from Gunn-Rita and Kenneth
Multivan Merida Biking Team
www.gunnrita.com
[Translation: Crispen T.P. de Lange]
Women's XC race results, report and photos.