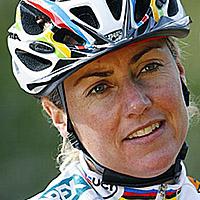 Photo ©: Multivan Merida
On top of the world: The Gunn-Rita Dahle diary 2006
Norwegian cross-country mountain bike racer Gunn-Rita Dahle is probably the best female rider this relatively young branch of the sport has ever seen. World champion in 2002, 2004 and 2005, Olympic champion in 2004 and rarely beaten in the World Cup in 2003, 2004 and 2005, she has a breath-taking palmares.
Dahle says her success is due to an unrelenting focus - she describes herself as a '24-hour athlete' - and the constant support of her husband and coach Kenneth Flesjå. Follow her exploits on Cyclingnews as she works to stay at the top of her game in 2006. Or, for more Gunn-Rita, see her personal website: www.gunnrita.com
Alpago, Italy, July 28, 2006
Gold medal collection complete
It was an awesome experience to become European Champion in Marathon cycling. It was the only gold medal which was missing from our collection. The day was extra special for Multivan Merida biking team too, as my Swiss team-mate Ralph Näf won the men's class.
It's Wednesday afternoon here in the Italian town of Alpago where we've been living since last Monday. As usual, the days pass very quickly when we're preparing for a championship.
Last week our entire focus was on my legs - lots of rest, fine adjustments to my training every day, lots of bending and stretching, correct nutrition and a grand total of nine hours of massage. In order to have a chance at a medal in the European Championship Marathon, it was of ultimate importance for me to get my legs back in fighting fettle after the stage road races the previous week, in addition to a lot of training in the period before that.
It was a fantastic experience for me to take part in the European Marathon Championship. The track suited me perfectly with a few steep hills, but not too long, plus quick descents. Extremely dry ground meant that the track was quick, making it possible to work at high intensities for large portions of the race. We certainly appreciated that, as restitution and recovery comes a lot more easily after that kind of race compared to one with lots of mud or a more demanding surface during climbs.
The women did the same course as the men and started 30 minutes after them. The men did two rounds of 46.3 kilometres, while we women did one and a half rounds, equalling 74.6 kilometres in all. The winning time was 3 hours and 35 minutes for me, and I coped with the longer distance quite well despite not having done marathon races so far this year.
The day turned out extra good as my team-mate Ralph Näf caught up with me just before crossing the finish line so we could cross it simultaneously. This was the first title in the European Championship Marathon discipline for both of us, and it tasted extremely good.
European championship XC
This coming Sunday the European Championship in XC is being held, and it is guaranteed to be a completely different race. The track is situated around a small town called Lamosano a couple of kilometres from where we're staying. It's a very demanding track with long and tough climbs, rapid descents, a lot of the surface of the track is grass and there are very few flat areas for one's legs to recover. My competitors are all the XC experts, who I normally compete against in the World Cup. There are only 2-3 girls who race European Championships in both Marathon and XC.
Today we've been for a ride on tarmac for three hours and had a wonderful long distance trip in baking sunshine at around 30 degrees Centigrade. It's absolutely wonderful cycling in the areas where we are now. Kenneth and I are sharing lodgings with the Merida team, and both the mechanic Ralf and the physical therapist Oliver are taking the opportunity to cycle a few hours on their mountain bikes every day. Tomorrow we're off to race each other around the XC track, and that could turn out to be exciting as both Kenneth and I are in great championship shape :
Apart from that I would simply like to say that it was truly impressive of Thor to win the final stage of the Tour de France. We watched it live and it was completely amazing.
On Sunday at 10:00 we women will be starting the race, and I'm really looking forward. I'm in good shape and we both know what should and what must be done in the coming days in order to hit the bull's-eye. It's going to be tough making it to the very top, but my body feels great and is ready to fight for a medal.
Our colourful gang of supporters, family and sponsors will all be present along the track this weekend, and that should help me up the toughest climbs. Have a great continued summer with lots of good training and exciting activities together with friends and family.
Cyclist's greetings from Gunn-Rita and Kenneth
Multivan Merida Biking Team
www.gunnrita.com
[Translation: Crispen T. P. de Lange]