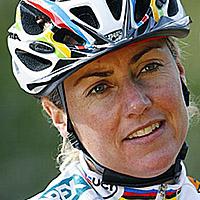 Photo ©: Multivan Merida
On top of the world: The Gunn-Rita Dahle diary 2006
Norwegian cross-country mountain bike racer Gunn-Rita Dahle is probably the best female rider this relatively young branch of the sport has ever seen. World champion in 2002, 2004 and 2005, Olympic champion in 2004 and rarely beaten in the World Cup in 2003, 2004 and 2005, she has a breath-taking palmares.
Dahle says her success is due to an unrelenting focus - she describes herself as a '24-hour athlete' - and the constant support of her husband and coach Kenneth FlesjŚ. Follow her exploits on Cyclingnews as she works to stay at the top of her game in 2006. Or, for more Gunn-Rita, see her personal website: www.gunnrita.com
Heubach-Lautern, Germany, May 11, 2006
Good racing in Nals
The Sunshine Cup at Nals in Italy was a tough experience on a demanding course, including lots of climbing and tough descents. Even though I'm not feeling totally on top of things physically, I still felt strong and managed to achieve my goals for the day very well. Many of the best riders were not present at the start, but it was still a great experience for me to win the race.
We're back in our little apartment in Heubach-Lautern which is to be our base for these two weeks. The actual race in Nals had a great atmosphere, was well organized and was a very demanding and exciting track. The race time of only one hour and fifteen minutes was possibly a little short, but still ok because of all the tough climbing which requires many more days of rest afterwards than a flatter course.
Tough experience
We drove to Nals in our great Multivan car last Friday around lunch time together with our mechanic Ralf, and it took just under five hours. We got to do a couple of rounds on the race track on Saturday morning, and had an otherwise relaxing afternoon with massage and a bit of time for the press and talking with other cyclists. It's a true pleasure to be invited to take part in races in Italy like the Sunshine Cup, where the organization can offer very exciting race tracks, a good setting and very good prizes.
The last week has been a tough one in terms of training. We've had to adjust it slightly so my legs wouldn't get too worn out, and it worked - the race was a positive experience, with a feeling of strength in my body. I also managed to work on some areas for improvement that Kenneth and I had agreed upon before the race.
It's a great feeling to feel strong while racing despite fatigue in my legs and muscles because of the tough training schedule. Then it's extra nice to see that I can still improve on small details throughout a race like the one at Nals.
Holiday in Italy
We would like to say that if you're interested in a fantastic holiday experience together with your bike, or would like to hike though mighty mountains and between fairytale castles, we can warmly recommend the area around Nals in the north of Italy, right next to Bolzano. We got to stay at the Hotel Wilma (www.hotelwilma.com) which provided us with lovely rooms, delicious food for breakfast and dinner and great activities for both body and mind. They also have an impressive wine cellar offering practically everything within courses and sampling.
Bundesliga Heubach
The Bundesliga race here in Heubach, Germany, offered huge climbs - steep and long and demanding in every way - plus descents which were anything but a chance to relax, with lots of twists and turns and loose sharp rocks. I'll let you know how it goes in my next update.
Until then, I hope you're all getting to experience spring, sun and summer, and lots of energy for cycling. The weather gods in Heubach promised sun and summer with temperatures over 25 degrees centigrade for the coming days, and under these conditions, it's great to be a cyclist, no matter what your goals and level might be. Have a good day of exercise!
Cyclist's greetings from Gunn-Rita and Kenneth
Multivan Merida Biking Team
www.gunnrita.com
[Translation: Crispen T. P. de Lange]