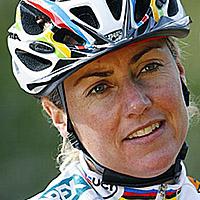 Photo ©: Multivan Merida
On top of the world: The Gunn-Rita Dahle diary 2006
Norwegian cross-country mountain bike racer Gunn-Rita Dahle is probably the best female rider this relatively young branch of the sport has ever seen. World champion in 2002, 2004 and 2005, Olympic champion in 2004 and rarely beaten in the World Cup in 2003, 2004 and 2005, she has a breath-taking palmares.
Dahle says her success is due to an unrelenting focus - she describes herself as a '24-hour athlete' - and the constant support of her husband and coach Kenneth FlesjŚ. Follow her exploits on Cyclingnews as she works to stay at the top of her game in 2006. Or, for more Gunn-Rita, see her personal website: www.gunnrita.com
Montebelluna, Italy, March 14, 2006
The season starts in Italy
It's great to be on the go again with a new season of cycling. The menu for first race of the year included lots of mud and freezing cold weather, but even so it was wonderful to take part in the Italian winter championships in cross country today. I won the race, here in the town of Volpago del Montello, just outside Treviso - a very positive start to the season. The result is very encouraging and shows that we've been working correctly through the winter and are headed in the right direction.
It's been raining hard all night, and it was bucketing down as we stood lined up at the start of the race, so we didn't have to spend long deciding what tyres to use today. Maxxis Medusa 1.8 mud tyres are very trustworthy in such conditions, but braking, however, is a different story on days like this. I had to make some adjustments along the way, but managed to stay on my bike most of the time. However, on the last lap there wasn't much rubber left on my brake pads. Today I should definitely have used disc brakes instead. So it was a somewhat uncontrolled Gunn-Rita on the way in to the finish, but I had no major crashes.
We were already in the north of Italy (Montebelluna, 50 miles from Venice) on Friday afternoon and both thought it was great being back here again. Italy is one of our very favourite countries, and it's really nice to be spending a good two weeks here. The final week on Mallorca gave us mostly good weather for training, and we were able to have many effective and important exercise sessions before we left. We can look back on three good and enjoyable weeks at Hotel Sol Antillas in Megaluf, with lots of great help from the Phillips Bike Team. I've written this before, but am glad to mention it once again. If you would like to take a wonderful and exciting holiday combined with biking activities, this is the best place you can go.
It's always amazing every time we're here to experience the enormous interest there is for cycling in Italy. The whole atmosphere around race days like this makes it a really fantastic experience, despite the dreadful weather. Italy remains a true bicycle nation.
This evening we're looking forward to yet another delicious Italian dinner (i.e. scrumptious pasta). We'll be joined by our great sponsor NorthWave (cycling shoes), and we know from experience that these dinners are always very enjoyable for all of us. Well, I guess you're expecting me to write: "accompanied by a good Italian red wine" and I guess I can write that too. But maybe I should rather tell you about the 20 bottles of wine (red wine and Prosecco) which we've received through the day from organisations, friends and fans, and from our Italian Merida family...it's great!
Next weekend I'll be doing speed interval training against Kenneth plus moped speeding in order to train that part of the "motor" as well. I expect you'll hear from us again not too long from now. Have a wonderful day with lots of physical activity in the upcoming week.
See pictures from the race at www.gunnrita.com
Cyclist's greetings from Gunn-Rita
Multivan Merida Biking Team
[Translation: Crispen T. P. de Lange]