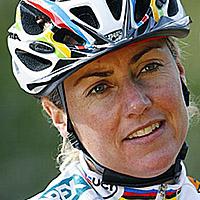 Photo ©: Multivan Merida
On top of the world: The Gunn-Rita Dahle diary 2006
Norwegian cross-country mountain bike racer Gunn-Rita Dahle is probably the best female rider this relatively young branch of the sport has ever seen. World champion in 2002, 2004 and 2005, Olympic champion in 2004 and rarely beaten in the World Cup in 2003, 2004 and 2005, she has a breath-taking palmares.
Dahle says her success is due to an unrelenting focus - she describes herself as a '24-hour athlete' - and the constant support of her husband and coach Kenneth FlesjŚ. Follow her exploits on Cyclingnews as she works to stay at the top of her game in 2006. Or, for more Gunn-Rita, see her personal website: www.gunnrita.com
Majorca, Wednesday February 15, 2006
First team gathering
The first gathering with my team, Multivan Merida Biking Team, has been exciting, action-packed and fun. A training camp combined with media commitments always means a lot of interviews and photographs from morning till night. I still feel a child-like joy and excitement at getting a new bike, and also at being able to show the wonderful machine off together with the new uniform for the season.
We've already spent a week here at Magalluf on Majorca together with the team, journalists, photographers, team sponsors and Merida dealers from various countries in Europe. The last of the press and media left for home yesterday, so now we're expecting some quieter days during which exercise, rest and restitution will once again be in focus. We were a huge group of 75 people who went out to eat together on Saturday evening. We had a delicious meal together in the large city of Palma.
It's very nice to be here at Hotel Sol Antillas again, almost one year exactly since last time. Those of you who have stayed here before will know that the Philipps Bike Team (www.radferien-mallorca.com) resides in this hotel, and all cycling enthusiasts are catered for in every way. Kenneth and I have stayed here countless times in the course of the past five years, and we always enjoy ourselves when we're here. We'll be returning again in the end of September, but then we'll be here with Stians Sport and Merida dealers from Norway.
I've unfortunately got a sore throat and I'm feeling a little poorly, so I'm going to spend a relaxing day in my room. I started to feel the symptoms yesterday morning when I got up and decided to skip training. Things deteriorated through the day but aren't any worse today, so I hope I've managed to nip it in time and that I'll be back on my bike again tomorrow. I choose to look upon these slow days of illness as a valuable opportunity to charge up and rejuvenate my whole system, which will be a good help as we start preparing for the first race of the World Cup on April 2.
As I mentioned in opening, it's still just as great a thrill to receive a new bike, even after ten years as a professional mountain biker. What I really want is to have the bike right here with me, next to the bed... and it hurts just as much as ever to get the first scrapes on the new frame. This year's new team clothing looks great, and the whole team, cyclists, mechanics and everyone, seems very focused and well prepared for the new season.
I can't say I particularly like to lie here in my bed while Kenneth is out pedalling with the rest of the cyclists. I have many good books along with me and I naturally always have something to work on with my laptop, so I guess I'll survive this as well. After this weekend, the only ones left of the group will be Kenneth and me, so then we'll be able to take proper care of each other, complete every training day to the max, and enjoy good meals here at the hotel with some good Spanish red wine every so often. Through next week we're going to go into Palma, just the two of us, for a good dinner, and we're looking very much forward to that. It'll be a sort of delayed birthday celebration, as we didn't get time for much of that on my actual birthday.
We have a good two weeks left here on Majorca before we travel on to Italy, where the first races of the season will be starting up. I hope you all get to move about a bit and exercise as you'd planned. Remember that if you're going to get any form of continuity into your exercise, you have to make it part of your weekly routine, along with all the other activities and jobs you do. Good exercising and good health to all of you!
Cyclist's hug from Gunn-Rita,
Multivan Merida Biking Team
[Translation: Crispen T. P. de Lange]