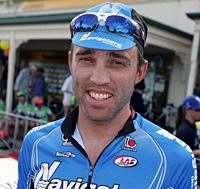 Photo ©: Mark Gunter
The flight of a Navigator: The Glen Chadwick diary 2006
Leaving the sunny shores of Belgium after riding with distinction for Team Cyclingnews.com in 2005, Australian Glen Chadwick has leapt across the pond to the USA where he'll ride for Navigators Insurance.
Follow 'Chady' as he races with this US-based squad throughout North America and the rest of the world.
Cascade Classic, Bend, Oregon, USA, July 12-16, 2006
Pace is always on from the start
Hi Everyone,
Second across the line
Photo ©: Rocky Louke

After a nice six hour flight across to Seattle and then on to Bend we had finally arrived at our destination minus our entire luggage! No probs though, we had arrived at midnight and there aren't too many things you need at that time of night apart from a nice comfy bed! By the time we had got up the next morning and had some breakfast, our gear had arrived. We were all put up at host housing which is where a family is kind enough to look after two or three cyclists for the week. It's great for a change living with a family instead of a hotel room. Lovely home cooked meals and getting to know the families is also fun! So myself, Dave and Bernie were put up for the week with Henry, Laura Kay and their two sons, Alec and Rocky. The rest of the squad stayed with Al and Katie. Both families were awesome. They have been housing the Navigators for seven or more years and enjoy having us around for the week. So a big thank you to you all. You looked after us more than we could have asked for!
Stage 1: Ironhorse - A Brooks Resources Development, Prineville
Stage 5 criterium.
Photo ©: Rocky Louke

The weather was good once again in the States and I did a bit of catching up before the start with a few other Aussie lads, which lifted my spirits even higher. It was a 150km stage made up of undulating terrain with a finish on top of a 1.8km climb in the city of Bend
As per usual the stage kicked off with a fast pace. There were a lot of fresh legs in the bunch and a lot of riders attempted to get away! At the 70km mark one rider went off the front solo and the bunch was content to let him go for now. With a tail wind out for 60 or so km that only meant that to head back to the finish there would be a nice head wind for us to contend with.
The bunch spilt up into bits over a KOM around the 90km mark but as no one wanted to drive it over the other side it gradually came back together. 30km from the finish, and after punching into the head wind for 20km, we turned left and you guessed it - Crosswind! And you guessed it, Chady missed the split. As the corner came up I was chatting to an old cycling buddy of mine (Mike Carter ) and as we came into the corner he said, "ya better move up!" I agreed and as I started punching it around the bunch I noticed that the speed was picking up and the smack was going down! As I caught a few guys the split had already been made. Five of my team mates were up there in a split of 20 guys so it wasn't bad for the team, only for me. I ended up riding in a group of 20 or so riders which were trying to bridge back across but to no avail! I had fun in that group anyway watching Miles Olman from the SA.com team making good friends with a few of the American riders in a manner of speaking! It went something like this, " Blow it out ya ass", "Go and get Fire Trucked" and a few other good old Aussie sayings.
Happy in the sun.
Photo ©: Rocky Louke

As we neared the final ascent, of which the front group were heading up, the guys in my group were all sitting on saving themselves for it??? I led the group into the climb and hit it full throttle to try and peg some time back on the break up the road! No one in my group came with me, so lucky they were saving themselves. I managed to catch four guys from the front group who were just cruising up after doing their work for their team. Across the finish I was two minutes down on the winner. Sergey was third with Cesar, Valeriy and Burke all finishing in the top 10 and giving us a few options for the coming days.
Stage 2: The Center - McKenzie Pass
We started 132km from the town of Bend and went up into the lava fields of one of many dormant volcanoes surrounding this area. The race was still very open and the plan was to keep an eye on anyone who went up the road and make sure no real threats were in the moves. A move went with Bernard in it and at one point it wasn't too bad of a move until we finally got news of who was in it. There was a couple lads from Toyota and Ed decided that it was time to chase. So Dave, Burke and Valeriy started up an awesome effort to bring back 16 guys that were over three minutes up the road already. They chased flat out, just the three of them for at least 60km and eventually pulled them back. From there the climb was only about 20km away and although guys kept trying to get away it was all together by the bottom.
Gettin' time
Photo ©: Rocky Louke

With 20km of climbing left to do, it wasn't long until the front group slowly dwindled down to about 10 - 15 riders. Sergey, Cesar and I were still there and constantly attacking along with a few other guys all trying get some time up on each other. With less than two km to go I put in a big dig but the yellow jersey chased me down. As I was caught a big unit from the Priority Health team attacked and no one chased. He got a good gap and everyone else started to think about the finish.
That's usually how you get away in the final kilometres. If you can get a good enough gap everyone else will look at one another hoping someone else will chase. In the final sprint for the line Sergey nearly caught the breakaway on the line. Cesar was sixth and I ran ninth all on the same time.
Stage 3: Pacific Power - Cascade Lakes
A 150km stage with a 30km climb at the start. We went down the other side of the climb and rode out through some amazing lakes and scenery and then back up the same climb, finishing at the top.
Navigators boys
Photo ©: Rocky Louke

The pace was on from the start as per usual. Valeriy and Burke went away in a good move of nine riders, which stayed away for the whole stage. Nearing the top of the first climb the break was still only one minute in front so Dave attacked with me on his wheel to try and launch me across. Once he had done all he could do I took over and rode on my limit to try and bridge across. I hit the one km to go to KOM sign and was down about 25secs but unfortunately I ran out of climbing and the road flattened off for the KOM and presented a nice head wind! All the elements that would not help me get across.
I chased down the other side but couldn't get those last 20 seconds. The bunch was starting to nip at my heels and Ed told me to sit up and hide back in the bunch. From that point the break pulled away again and the Toyota team set tempo to keep anyone else from thinking about attacking. They chased all the way but couldn't pull the front runners back. We came back to the mountain for the final 10 km ascent to the top.
On the attack
Photo ©: Rocky Louke

The plan was to do a five man all out attack in the order of Bernie, Dave, Myself, Cesar and Sergey. A good move except the latter two riders didn't get on our train??? Bernie hit out then Dave, We had a good gap and I kept it going but Toyota gave chase. The bunch thinned out pretty fast but after my dig at the bottom, I found it hard to hang on.
Out at the front the break was down to three riders, including Valeriy and Burke. I was yo-yoing off the remaining six riders chasing the front three breakaways. By the top both Burke and Valeriy had attacked the other last remaining breakaway rider and finished in that order. A good one-two for the team and a good win for Burke! The main chasers came in around 30 seconds down and I rode in around 20secs behind them. The leaders jersey had now swapped shoulders to Jeff Louder from the Health Net team.
Stage 4: Arnold Market TT
An 11 kilometre time trial around a rectangular circuit on a nice sunny morning, can't fault that I reckon! Not many tactics here in such a short TT, just go flat out and hope for the best. Our resident TT guru Bernie Mac is always keen for a race against the clock. He came home in second, eight seconds behind fellow TT machine Nathan O'Neill. Sergey once again rounded off the top three. I snuck home in fifth, which wasn't too bad. My TT riding seems to be improving?
Stage: 5 Downtown Criterium
The break
Photo ©: Rocky Louke

An hour and a half of flat out racing on a nice warm Saturday evening! Health Net rode at the front from the start and kept the pace high to deter a breakaways! Yeah right! It just means that guys try to attack even harder and fast to get off the front of an already steaming race. Eventually a move went with Dave representing Navigators up front. It came within 20 seconds of lapping the field but couldn't quite seal the deal.
We had all set ourselves up behind the pace setters, which kept us out of trouble. The pace was kept around the 45kph mark and as the break started to stuff around up front and I don't think they knew we were nipping on their heels. They were caught with a lap and a half to go.
It came down to a big bunch sprint, most us just cruised in at the front half of the field. Good old versatile Sergey had a dabble and sprinted home in seventh. .One stage to go and the top five are still only seconds apart!
Stage 6: Deschutes Brewery - Awbrey Butte Circuit Race
Thristy work
Photo ©: Rocky Louke

Five laps around a 25km circuit. Hot and sunny was the forecast so plenty of bidons were on the menu. Each undulating lap had a nice little 1.5km KOM every time which was gonna split the field for sure. Plus there were bonus seconds every time past the finish line, which would play a big factor in the race for the yellow jersey.
After the first sprint we hit the first run up the KOM, feeling good at the top and while the field was spread out. I put in an attack to see if I could keep the field apart and separate a few of Sergeys threats on GC away from their team mates. As it turned out I went solo for a few Ks before a group of three came across. Of the four of us I was the highest placed rider on GC at 2min 30secs down. We worked well together and rode out to just over four minutes ahead of the peloton. From now every lap I worked it with the other guys so that I could take the 15 second time bonus every lap. This would help if I was to stay away till the end. Every second would count!
The field behind was breaking up with the attacking from the GC teams trying to break each other up and this was bringing our time gap down, unfortunately. Coming into the final lap I took the maximum bonus seconds. One rider was sitting on by now and was happy to take fourth place if we stayed away. Another guy who we were letting take the KOM points was happy with third and as I was the only guy racing for time I had worked it with the final guy that he could have the stage as long as he gave his everything and worked with me to the line.
Giving it everything
Photo ©: Rocky Louke

With 10km to go the time gap was still around 1 min 40, which was gonna be close! For some reason a couple of teams started chasing that really had no reason to??? Whether it was the heat that made them do it (there was no chance they were gonna bring us back now for a bunch finish) or some coin exchanged hands (but I doubt it). Anyway we crossed the finish line about 1 min 25 in front of the remainder of the field. With that time and the 50seconds time bonuses I had picked up through the stage, that put me 22seconds behind the overall winner and into fourth place. Bugger!! It was worth a shot though.
It was never the plan but as the stage played out it gave us a second option and put a bit more pressure on other teams, which is always good. I was second on the stage and Sergey moved into third overall with myself fourth.
All in all it was a nice tour with plenty of sun, great scenery (we were racing in 30-35°C while surrounded by mountains with white caps on them still!) And the host housing was great!
Up in the hills.
Photo ©: Rocky Louke

Next up is a seven-day tour in Altoona Pennsylvania. We have another good strong line up. Hopefully all goes well! After that one last tour in 'The States' I get to go home to my girls which I am hanging out for!
I refer to this country as 'The States' now as some Americans found it funny when I called it 'America'?
Met a cool character by the name of Angelo yesterday who, when introduced, gave me a good old Jersey, 'How you Doin!'.
So till next time,
Stay vertical,
Chady.
Latest read - Beyond the Band of Brothers, by Major Dick Winters.
Latest Flick - Clerks 2
Last tune I listened to - Coward by Peter Evrard
Cycling tip of the month - Don't wear ya grandpas brown cotton socks, even if you can get good sock height! A few of us saw you in the bunch in Oregon and you have been reported to the UCI.
For a thumbnail gallery of these images, click here
Images by Chady & friends