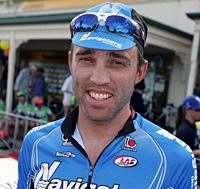 Photo ©: Mark Gunter
The flight of a Navigator: The Glen Chadwick diary 2006
Leaving the sunny shores of Belgium after riding with distinction for Team Cyclingnews.com in 2005, Australian Glen Chadwick has leapt across the pond to the USA where he'll ride for Navigators Insurance.
Follow 'Chady' as he races with this US-based squad throughout North America and the rest of the world.
Tour de Beauce, Canada, June 16, 2006
Taking charge at Tour de Beauce
Stage 3 - June 15: St-Georges-Mont-Mégantic, 153 km
On the attack
Photo ©: Mark Zalewski

Once again we were greeted with some sunshine for our 152km ride from St Georges to the top of Mt Magantic. More rolling hills and as we get closer to the finish line the hills get longer and steeper. With the Germans in yellow it was their turn to sort out how they were gonna ride the stage. They decided to put the whole team on the front from the gun and try and control the pack and the pace. This is a tactic we talked about when we had yellow but decided that it was gonna be a tough job. They proved our point indeed! Our tactics for the day were to be damn aggressive and try and isolate the yellow jersey. From the first KOM we were on the attack with Ciaran and myself getting up the road. By the top Sergey and Cesar were also with us along with the yellow jersey - but he had no team mates. This showed us that it might not take too long to achieve our objective. By the next KOM at kilometer 69 I put in an attack as planned and eventually down the other side a small group containing my Soviet connections plus the yellow had bridged across. Immediately Valeriy attacked and as no one responded I jumped across to him and we set off on a bit of an epic.
Turn for turn we went, slowly but surely pulling further and further away from the bunch. Over the radio we heard that the yellow's team was getting fewer in numbers which gave us even more momentum. We got the time gap out to a maximum of 2:20 before a couple of other teams decided to give chase. My job was basically to try and get Valeriy as much time as we could to the bottom of the climb and hopefully he would have the legs to ride the final 5km climb flat out and take the win and get some time back.
"Thanks for joining me, mate!"
Photo ©: Mark Zalewski

By the bottom of the climb the gap was down to just over one minute. The wind was blowing very hard now and gave us a nice little head wind up the 18 percent sections of the climb. Once we hit the bottom I signed off and wished Valeriy all the best! Half way up I was caught by a couple of small groups, one containing Sergey who looked fresh as a daisy, and no yellow jersey. He was back in the next group which I tagged on to for a little bit.
Meanwhile up front Sergey had attacked across to Valeriy; as he caught him Valeriy told him to keep going and take the win. They ended up first and third, both just about 30 seconds off the lead.
With those two lads second and third on GC and also Ciaran seventh we still have a good shot at taking this tour. Still there are three days to go and four stages. Tomorrow sees us tackle a 15km time trial in the morning and a criterium in the evening.
A special mention goes out to my good mate from Rocky riding for the SA.com team or Team Skippy as we call it. Miles Olman has popped his cherry so to speak over the course of this week; it's his first season racing in a full blown team and racing in the open cat races. This week has seen him tackle his longest race so far, his first mountain top finish and a fair bit of gutter action which made him think about his career choice. (Actually he was only joking about that but some people didn't pick up on his joke.) I think a lot of guys think that from time to time, but at the end of the day it's all good - there's lots worse ways to make a living!
All the gear - and the idea.
Photo ©: Mark Zalewski

Stage 4a - June 16: St-Jean-de-la-Lande ITT, 15 km
Not much to report on with a time trial, 15km was the distance and for me I thought about just cruising this one but I couldn't. It's like telling a greyhound not to chase a rabbit. Once the officials start the count down I just gotta go. I had all the gear so why not. The end result saw three of us finishing in the top five. I finished fifth and only six-tenths of a second behind fourth - so close! Valeriy was second and Sergey third which put Valeriy back in yellow and Sergey into third overall. A good morning for the team!
Stage 4b - June 16: Centre-ville de St-George Critérium, 60 km
35laps of a 1.5km circuit. The race didn't count for GC because the Spanish commissar said that in Europe crits don't count for GC and that is his law! Good on ya buddy! He has already made some funky decisions in this tour and this summed it up. No pressure on us to control it, then, and a break eventually got away with Mark and Ciaran in it. Mark finished third and Ciaran eighth. We had fun back in the bunch watching the Amigos attack to get across a 4sec gap alone only to be caught on the fast corners they couldn't get around!
Glen Chadwick (Navigators Insurance)
Photo ©: Mark Zalewski

There'll be a bit of work for us tomorrow, a bit of defending to do to keep the yellow but I'm sure we will be able to hold the other teams off. The boys are going really strong and it helps knowing that the work you do on the front won't be in vain.
Till then,
Chady