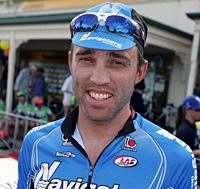 Photo ©: Mark Gunter
The flight of a Navigator: The Glen Chadwick diary 2006
Leaving the sunny shores of Belgium after riding with distinction for Team Cyclingnews.com in 2005, Australian Glen Chadwick has leapt across the pond to the USA where he'll ride for Navigators Insurance.
Follow 'Chady' as he races with this US-based squad throughout North America and the rest of the world.
June 9, 2006
No rest for the Chady
Hi everyone!
Chady hangs in Washington
Photo ©: Chady & friends

Well it's definitely been a while since I've sat down to write an update of my travels. Life has definitely jumped into the fast lane of late! Just a brief overview for you should be enough, otherwise I could be here all day!
I'm here in the back of the team van being driven along Route 83 somewhere in Pennsylvania heading to the first of a three-race series better known as Philly week. First race called Lancaster, second race Reading and then the showdown in Philadelphia which used to be the USPRO championships. The months leading up to this point in time have been pretty up and down.
From getting a nasty Achilles injury which took me on and off the bike for about five weeks, to a very high point of Belle and I becoming very proud parents with our little princess Jade, then working in our house to try and get it finished by September so we can move in, training and racing in Europe and finally travelling to the States for a three-month Tour of Duty.
The Navigators are ready
Photo ©: Chady & friends

It kicked off in New Jersey for a couple of criteriums before jumping across to Pennsylvania and Philadelphia for Philly week, then it's a long haul up to Canada for the Tour de Beauce, back down to the Fitchburg Longsjo stage race in Fitchburg, Massachusetts, a couple of days off then onto Oregon for the Cascade cycle classic.
But wait that's not all...we then line up for the International Tour de Toona in Altoona, Pennsylvania, then I finish off my 2006 US assault at the Tour of Utah. Bit of an epic but looking forward to getting into the action of it all!
So since arriving here in the States we've racked up a couple of crits and a couple of smaller road races, the weather has been great and the cash has been flowing in at a steady rate with most of us running some good places in the races we've lined up in.
Vasilli Davidenko's Houdini chain
Photo ©: Chady & friends

While the lads thrashed around the CSC Classic last Saturday in Washington I decided to take in a training ride that took me past the war memorial in the heart of Washington (Forrest Gump ran through it) and also popped in to see George W but he wasn't home and deeply apologised later on that he wasn't there.
While I was cruising the capital the boys were thrashing around the classic, dodging crash after crash; it was a nasty race but the Navigators stayed upright and out of trouble. Hilton was away for most of the race and by the time they had pulled him back the bunch had been torn to bits from the furious chase. This played into our hands perfectly and was it was gonna set up Vassili for a great run to the finish.
Baby Jade makes quite the Jedi
Photo ©: Chady & friends

Coming out of the final corner sitting in second wheel the front rider hit out for the finish line and as Vassili powered down his chain did some kind of Houdini act and wrapped its self around the cranks! It wasn't due to bad equipment as we don't have that problem - I guess it was just one of those mysteries in the world of cycling. A win definitely gone begging!
In between racing we've managed to put in some good and interesting training rides, one being here in Pennsylvania; we went training through Amish country - that was an experience to see the way these folk still live! It's a bit like going back in time, horse and buggies everywhere, horse-powered ploughs and a lot of old school kit worn by the Amish folk. Our nice colorful cycling kit and shiny bikes got a few looks indeed.
I am definitely missing home and my two girls, and its gonna be a couple months before I get a chance to see them both; but thank god for a cyclist's new best friend, Skype! I'm also already missing the nice home cooked meals Belle and her Mum dish up! It's pretty tough to eat out and eat healthy at the same time over here - well, that's my opinion anyway!
So till next time troops, have fun, and I promise the next one will be coming a bit quicker than this one!
Chady
Photography
For a thumbnail gallery of these images, click here
Images by Chady & friends