Recently on Cyclingnews.com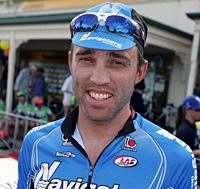 Photo ©: Mark Gunter
The flight of a Navigator: The Glen Chadwick diary 2006
Leaving the sunny shores of Belgium after riding with distinction for Team Cyclingnews.com in 2005, Australian Glen Chadwick has leapt across the pond to the USA where he'll ride for Navigators Insurance.
Follow 'Chady' as he races with this US-based squad throughout North America and the rest of the world.
April 7, 2006
It's a girl!
Hi folks,
Well, as if racing with a new team wasn't enough change for at least the next few months, along comes a bit more change - a baby. In this case it was a beautiful bundle of joy called Jade. She was was born on May 31 and weighed 3.92kg, and was 51cm long! Not too bad, hey? I reckon that means she's got a pretty good grip on the earth already, which is a good thing!
Both Jade and Isabelle are doing fine, and I reckon I could use her as my alarm clock if I have to get up early for any particular reason, including training rides! Babies like to start getting a bit cranky (and hungry) around three or four in the morning, so I'd better get used to it...there's no going back now. Hope everyone's well, whichever part of the world they're in, and I'll let you know how both the girls in my life are getting along as we start to get a bit of sunshine - just in time for little Jade.
All the best,
Chady.