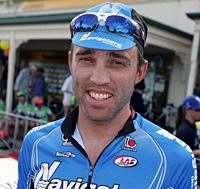 Photo ©: Mark Gunter
The flight of a Navigator: The Glen Chadwick diary 2006
Leaving the sunny shores of Belgium after riding with distinction for Team Cyclingnews.com in 2005, Australian Glen Chadwick has leapt across the pond to the USA where he'll ride for Navigators Insurance.
Follow 'Chady' as he races with this US-based squad throughout North America and the rest of the world.
March 14, 2006
Making it to the USA
Hi everyone,
The class of '06
Photo ©: Chady & friends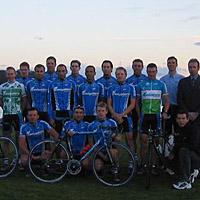 You heard about the first four stages of the Tour of Cali yesterday, but today you can find out about what's been happening before we hit the roads of California.
Date: February/March 2006
Destination: California, USA
Distance: Bloody far!
What made the trip so much better was that coming from the Jacob's Creek Tour Down Under, international teams were flown business class return...so, being from an American team, I got to kick back and enjoy my first (and hopefully not last) more comfortable ride in an airplane!
The trip was sweet. I finally got to see what was up those flight of stairs you always walk past getting on and off the plane, plus you know it's gonna be a good flight when your seat reclines to being almost horizontal. Other than that the flight isn't much different - airplane food will always be airplane food!
Ben Brooks reclines
Photo ©: Chady & friends

So after a stop over in Kuala Lumpar and a pit stop in Taipei we finally landed in Los Angeles and I could put my feet on American soil for the first time. Ben and I headed south of LA to San Diego for a couple of days. Ben's friends Pete and Michellie were kind enough to put us up for a couple of nights, so along with myself and Ben (choco) we also met up with a couple of Ben's old Aussie teammates Caleb (kebab) Manion and Matt (Ricey) Rice for a couple of solid rides out in about in southern California. Choco Ricey Kebab sounds like some kind of funky Mediterranean dish, doesn't it?
Next up was a drive north to Ventura which is about an hours drive North of LA on the coast. There we met up with some of the team to start training over some of the stages the Tour of California and get on our shiny new racing bikes. I'm riding a Colnago C50 with Carbon/Ti Record, Stella Azzurra bars and stem, Thomson seat post finished off with a nice Fizik Arione saddle. It's an awesome-feeling bike which I can't fault one bit; now I just have to get the motor tuned and running smoothly! Ben's riding the Colnago Cristallo, which looks really good, and he says it's a very stiff and responsive ride.
Woah!
Photo ©: Chady & friends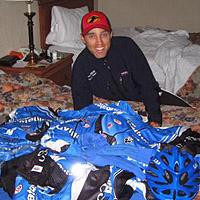 We met up with the rest of the squadra in San Francisco, with some new faces I hadn't met yet - they seem to be a great bunch of people to ride and work with. We rode a few more stages (which is a handy thing to do!) I also got a ridiculous amount of extra kit (not complaining though) and spent a day doing team and individual photos, which wasn't as bad as it sounds.
San Francisco is a damn beautiful city! The streets are amazing, and I tell you what, they're steep! Riding up and down them ain't too much fun either...the bay is cool, especially when you've got views of the famous Golden Gate bridge and the infamous Alcatraz! Ben and I have come to the conclusion after serious thoughts and debates that Clint [Eastwood] and his mates made it to shore no probs! We were also staying round the corner and up the hill from the man who makes movies about a 'Galaxy Far Far Away'...being a big fan of his I was stoked to just train past where he lives. Thanks George for some cool flicks.
So a week in the U S of A and I was impressed so to speak! It's a big-ass country, with big, bad-ass cars, (every tenth car is a Hummer or a big pick-up jacked right up with massive wheels - borderline Monster truck I reckon!) The weather was good to us and I can't fault all the Mexican food at all!
At the moment I'm trying to catch up with the pregnant wifey (only a month to go) and do a bit of work in our house. Oh yeah, and train and race...busy schedule indeed but no rest for the wicked, hey?
Photography
For a thumbnail gallery of these images, click here
Images by Chady & friends