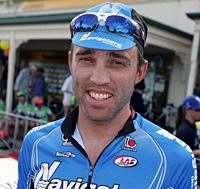 Photo ©: Mark Gunter
The flight of a Navigator: The Glen Chadwick diary 2006
Leaving the sunny shores of Belgium after riding with distinction for Team Cyclingnews.com in 2005, Australian Glen Chadwick has leapt across the pond to the USA where he'll ride for Navigators Insurance.
Follow 'Chady' as he races with this US-based squad throughout North America and the rest of the world.
January 20, 2006
Stage 3: Another tuff day at the office
Well not much action went down today folks! We set off at the standard depart time of 11:00am with the sun already high in the sky. The suncream could be smelled throughout the bunch.
After a nasty climb right from the gun, it wasn't long before the break was formed with none of us in it. While the break hovered at about 25 seconds, I followed a wheel to the front and hit out to ride across. I made some ground up really quickly, but then it was as if they saw me coming and I couldn't bridge across the last 10 seconds! I was riding right into a nasty breeze and decided to cut my losses and sit up. I felt like I had blown a gasket after that effort and tried to recover for the next few kms.
So that was the day. A group of 11 up the road and Ag2r riding tempo while we all suffered in the heat. I never counted but I had no trouble at least drinking 15 bidons. Up at the front of the race, breakaway guru Carlos Barredo from Liberty Seguros was off the front and won by 1'30. He has a real talent for breakaways. A good wheel to stay in touch with. He was in the EB (early break) in Flanders as well as Roubaix. Some say it's a lot of luck but ya still need a bit of HP (horse power) to get there! A wheel I may have to keep an eye out for this season?
Next up tomorrow, the good old Willunga-Willunga stages. I've heard a lot about this stage and expect her to live up to her reputation. Hard and fast plus a touch of 40° heat to make things even more enjoyable.
Till tomorrow, I'm off for a feed and then a leg rub.