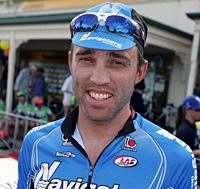 Photo ©: Mark Gunter
The flight of a Navigator: The Glen Chadwick diary 2006
Leaving the sunny shores of Belgium after riding with distinction for Team Cyclingnews.com in 2005, Australian Glen Chadwick has leapt across the pond to the USA where he'll ride for Navigators Insurance.
Follow 'Chady' as he races with this US-based squad throughout North America and the rest of the world.
January 19, 2006
Jacob's Creek Down Under Classic
Hi everyone!
Well I'm back for another season, with a new team (Navigators Insurance), new kit and a nice new Colnago. We're kicking off 2006 with the Jacob's Creek Tour Down Under.
But before we hit that we're lining up for the Jacob's Creek Down Under Classic, a 50km crit around a 2km circuit in Adelaide's east end. I was told that the crowds would be amazing and they weren't wrong! 7pm was the time we lined up on a warm Tuesday evening as the flag went down and so did the hammer. With many riders attempting to go down the road (including myself) it wasn't long before the fast pace started to take its toll.
There just so happened to be a nice u-turn corner [which I think was put in as a crowd pleaser] where there were four crashes, with with at least 10 riders going down in one of them. My teammate and roomy managed to to meet up with the bitumen nice and close with a few laps, but he's ok! It finished up a mass gallop down Rundle St which saw Robbie McEwen take the honours. 50km in 1:01:00 - smokin'! Hilton [Clarke] finished best of the squad, enjoying a good run to the line but got squashed into the barriers with 200m to go and finished 11th. Good effort Hiltz!
Stage 1 - Mawson Lakes to Angaston: Heat in the Barossa
Setting off at 11am for a 148 km run through the Barossa Valley. It was a prediction that was forecast long before the tour started like a weather man's Adelaide summer forecast! Like years before, a decent sized group would ride off the front with most teams represented, while the rest of the peloton would cruise in up to 20 minutes behind the winner.
So living up to its expectations, that's what eventually happened. We coast at the start for 5 km before two riders went clear with no-one else reacting. They snuck out to 1 min before it was time to race! I had a couple of digs, one of them being on the longest climb of the day up One Tree Hill. But not long enough to get a sizeable gap though. It wasn't long before we were reeling in.
While sucking back the O2 after that effort, the move of the day went away. 23 riders rode off the front hard and fast. Most teams had guys up there and sure enough it stuck. But not before it yo-yo'd up to 1 minute and back to 20 seconds a couple of times thanks to the Liberty boys, who got it within reach to launch defending champ Sanchez off the front and across to the break with Thor Hushovd...thanks to the commissaires not moving the follow cars from between the two bunches before the two riders could sneak through them. It's nice to see new tactical moves that pay off like that. Even though we didn't do it, I'm sure we will in future races!
Ben and Sergey were up the road in the break so there wasn't much else for the rest of us to do but ride the remaining 70 km to the finish and hope the boys were having a good one.
Off for a rub now and a feed. Might have to put a bit more suncream on tomorrow. It's damn hot down here!
Stage 2 - Stirling to Hahndorf: The heat continues
After a good night's rest and a lovely plate of plain pasta for breakfast, we set off for a nice and shiny start in Stirling. The weather hasn't cooled down at all! I think it's even hotter than yesterday?! So after slapping the 30+ on from head to toe, we headed off down the road for a scorcher. 146 km on a rolling trip around the highlands of Adelaide.
Once again, it was an epic breakaway by 11 riders that finally was let go by Ag2r at the 40 km mark. Hilton was up there so we were more than satisfied with the result of him being up there. He's a fast finisher so we hoped it would stay together for him. For the rest of us, it was basically time to sit back, roll the legs and keep hydrated.
I'll jump now till the last circuit which was roughly 40 km. A lot of us expected something from the GC contenders, but nothing. Luis Sanchez was battling some nasty sunburns. It looks like he got burned and peeled, but the new skin got fried again. Poor bugger!
Meanwhile, up ahead, Paul Crake from UniSA team had attacked with Alby Davis tapping across to him. Not the best situation for Paul being in a break with one of the fastest finishers in the peloton with him. You can guess the result with Ably taking his first stage win in this tour. He's actually done all eight JCTDU's so it was good to see Hiltz run home for fourth, another good run for us plus he should be in the points jersey after a good day sprinting for the hot spots.
With the break six minutes up the road, Ed our DS told us if we were keen, to stir things up a bit with 15 km to go. I hit out from the peloton hoping to drag a couple with him. Not the case, so off I went on my own. A bit of nice TT training for the up and coming Tour of California. It was damn hot I tells ya! I basically chased the shade all the way to the finish (with only about an inch of water left in my bidon, it was necessary). I managed to hold off the bunch by about 40 seconds I reckon to sneak home into 12th. the legs felt good so I hope they just keep getting better.
I guess normally I should be used to this heat being a Rocky lad? Apparently a heat wave is coming for the weekend. They are predicting 41° for Sat and Sun. I can only hope they are wrong.
Off for a rub now, so until tomorrow.