Some of these elite men will also be at Euro 'cross camp
Photo ©: Russ & Nancy Wright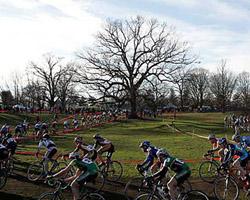 Across the pond: Euro 'cross camp IV diary
Fresh from US Cyclocross Nationals, sixteen American riders were selected for the Euro 'Cross Camp IV from December 23, 2006, to January 3, 2007, in Belgium. US national 'cross coach Geoff Proctor started the program in 2003 and runs the camps during his winter vacation from his job teaching high school in Montana. This is the fourth year that top US riders will be given this opportunity to gain valuable 'cross racing experience in Europe and to prepare for the world championships in late January.
Riders were selected for this year's camp based on their performances in the 2006 USGP of cyclo-cross and US nationals. Coach Proctor and his riders will take turns contributing diary entries.
USA, January 8, 2007
Sick, but grateful
By Ryan Trebon
Ryan Trebon
Photo ©: Joe Sales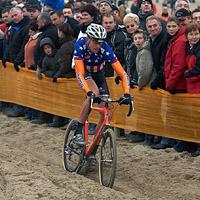 So another addition of Geoff Proctor's Cyclocross Camp is done .
I hope that everyone out there that is a fan of cyclo-cross, but especially US cyclo-cross, realizes just how important and helpful these camps are to the development of US cyclocross. I really appreciate all the time and effort that all parties involved put into making this thing happen. Because without their support and knowledge, I don't think I would have ever had the opportunity to race in Europe as much as I have.
Racing much is definitely what I didn't get to do this camp though. Being sick is one of the ineviteablities of traveling and racing as much as I do during the winter. Fortunately I stayed healthy through nationals, but being sick during the Christmas series is a bad time to come down with something. There are many important races to do.
So I had to miss a bunch of racing and training while lying in my bed watching everyone else drive off to some of the biggest races of the year. With the camp being over and still feeling under the weather, I decided to head home for two weeks and try and recoup 100% and get some good training in on familiar roads. I hope to be prepared for a good result at the world championships.
I would really like to thank everyone involved in pulling off the Euro 'Cross Camp: Geoff Proctor, Noel Dejonckheere, Els, The Fox, Luigi, Danny, Lionel, Herman, Mark, and Mario. I couldn't imagine a harder working and friendlier group of people out there. So thanks everyone for all the help and support!
Photography
For a thumbnail gallery of these images, click here
Images by Joe Sales