Recently on Cyclingnews.com
Some of these elite men will also be at Euro 'cross camp
Photo ©: Russ & Nancy Wright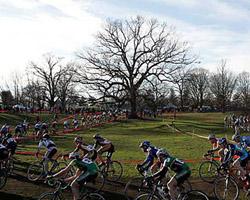 Across the pond: Euro 'cross camp IV diary
Fresh from US Cyclocross Nationals, sixteen American riders were selected for the Euro 'Cross Camp IV from December 23, 2006, to January 3, 2007, in Belgium. US national 'cross coach Geoff Proctor started the program in 2003 and runs the camps during his winter vacation from his job teaching high school in Montana. This is the fourth year that top US riders will be given this opportunity to gain valuable 'cross racing experience in Europe and to prepare for the world championships in late January.
Riders were selected for this year's camp based on their performances in the 2006 USGP of cyclo-cross and US nationals. Coach Proctor and his riders will take turns contributing diary entries.
USA, January 6, 2007
Big brothers and Greek mythology
By Eric Tonkin
Erik Tonkin (Kona)
Photo ©: Joe Sales

The camp is now over. I arrived late and left a bit early, thanks to time and money constraints. Even this shorter trip was hard on me - I felt like Sisyphus pushing his stone uphill. Yes, sometimes it felt like purgatory, but then - all of a sudden - it was heaven. Anyway, I managed to race (and finish) five 'crosses in eight days, so you could say I got around. I've attended every camp now, and I'm proud of it: I'm a four-time repeat offender!
Team USA 'cross coach
Photo ©: Joe Sales

And I'd like to go back. I'm the old guy racer there, as nobody else is above the age of 25. Geoff and Noel like to have one "more mature" rider, somebody who can reliably wake up on time every day, clean up the kitchen out-of-turn if necessary, and, most important, always show up ready to race. I'm that guy. I'm not there to be the best. Instead, I'm there to help bring the best out of the others. I like to think of myself as a player-coach, like Reggie Dunlap in "Slap Shot". You know, I try to lead by example! Really, if it was any other way, I'd feel bad about it. I mean, why else would a spot go to a washed-up, old, has-been like me?!
Erik Tonkin (Kona)
Photo ©: Joe Sales

Partial kidding aside, I'm in debt to Geoff for always choosing to take me along. Mr. Proctor makes dreams come true for people, and I'm one of 'em. He works tirelessly and selflessly, as far as I'm concerned, to make possible this unique experience.
I admire Geoff because he pursues his passion. He has successfully melded his many loves - his love for young athletes, for teaching and coaching, and for the sport of cyclocross itself - into a singular whole, the Euro 'cross camp. And, he does all this on personal vacation time. Most impressive, Geoff includes his family, being his wife Nadia and their boys Atticus and Andriy, in the adventure. The Proctors are living proof that what seems impossible is really not, that good things come to those who try hard, to those who don't take "No" for the far too simple answer it is.
I do indeed help bring out the best in the young guns at camp, but that's easy because Geoff's brought out the best in me. If I'm the big brother type to the 'cross campers, then Geoff is surely mine. I want to thank him for that.
Here's to next year!
Eric Tonkin
Photography
For a thumbnail gallery of these images, click here
Images by Joe Sales