Some of these elite men will also be at Euro 'cross camp
Photo ©: Russ & Nancy Wright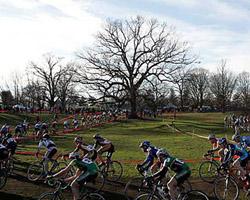 Across the pond: Euro 'cross camp IV diary
Fresh from US Cyclocross Nationals, sixteen American riders were selected for the Euro 'Cross Camp IV from December 23, 2006, to January 3, 2007, in Belgium. US national 'cross coach Geoff Proctor started the program in 2003 and runs the camps during his winter vacation from his job teaching high school in Montana. This is the fourth year that top US riders will be given this opportunity to gain valuable 'cross racing experience in Europe and to prepare for the world championships in late January.
Riders were selected for this year's camp based on their performances in the 2006 USGP of cyclo-cross and US nationals. Coach Proctor and his riders will take turns contributing diary entries.
Belgium, December 25, 2006
A day for goofing off
By Bjorn Selander (Alan Factory Team)
The author at 'work'
Photo ©: Nick Weighall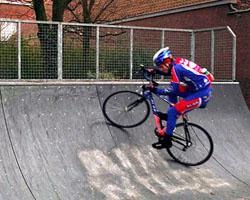 A cold wind blew over the town of Izegem while all of the riders were snuggled in their beds hoping to fall asleep soon. Apparently half of the riders were having trouble sleeping last night, resulting to a later start of training. The funniest thing that happened last night was when Troy Wells fell asleep watching Seinfeld on his computer and must have drooled or something because now his mouse pad doesn't work!
Anyway, Nick Weighal and I went out training ahead of the rest of the gang. I was glad that I wore a lot of warm clothes because once we started I felt the sharp bite of the cold hit my face.
We warmed up after we started rockin the freestyle moves on the canal. Nick was catching some sick air off of the tree roots that pushes up the pavement.
We rode down to Roselaere where we found ourselves doing a little off-road adventure. We were reminded that we had road tires on when I developed a slow leak in my rear tire and our adventure was over; but not before we had some fun on a skate ramp we found in a park.
Bjorn Selander on the run-up
Photo ©: Joseph Sales

The training today was pretty easy for everyone due to our race yesterday in Wachtebeke, we were only out for an hour or so. Ryan Trebon had pretty much the rest of the group go with him they must want to find out what makes him so fast.
The Christmas Dinner
Despite all of our goals and focus on racing we still have to celebrate Christmas somehow. It is Christmas Eve and when Els yelled DINNER! We opened the door to see a beautiful candlelight (I lit the candles) dinner with a festive red table cloth. She cooked up a storm, and as we waited for the Turkey, Super Mario served us appetizers wearing an apron and his tall black boots. Luckily for us when he turned around he had on his underwear too!
The food was good and to top the cake we had cake. The night ended with us sitting around the table eating some late night snacks and reading about (Jamey) Driscoll and his power mullet in (a cycling magazine).
Merry Christmas all. Racing starts again tomorrow.
Bjørn
Photography
For a thumbnail gallery of these images, click here
Images by Nick Weighall
Images by Bjorn Selander
Images by Joseph Sales