Some of these elite men will also be at Euro 'cross camp
Photo ©: Russ & Nancy Wright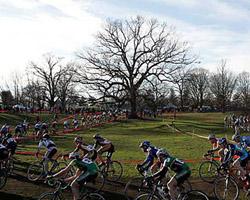 Across the pond: Euro 'cross camp IV diary
Fresh from US Cyclocross Nationals, sixteen American riders were selected for the Euro 'Cross Camp IV from December 23, 2006, to January 3, 2007, in Belgium. US national 'cross coach Geoff Proctor started the program in 2003 and runs the camps during his winter vacation from his job teaching high school in Montana. This is the fourth year that top US riders will be given this opportunity to gain valuable 'cross racing experience in Europe and to prepare for the world championships in late January.
Riders were selected for this year's camp based on their performances in the 2006 USGP of cyclo-cross and US nationals. Coach Proctor and his riders will take turns contributing diary entries.
Belgium, December 24, 2006
Where in the world are Danny and Jim
By Jerome Thownsend (Alan Factory Team)
Jerome Townsend
Photo ©: Joseph Sales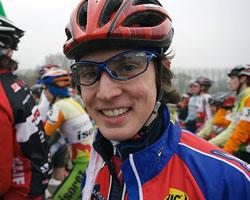 Luckily everyone who is here at the moment had a pretty uneventful trip with everything arriving on time and in one piece. Bjorn, Steve Fisher and I were all on the same flight, pretty nice flying together, although none of us got more than 10 minutes of sleep the whole 6 hour flight. However, the bad news is that Danny and Jim Lennon have not even arrived yet and it remains to be seen whether or not they will get here in one piece or not, let's hope so. They are stuck in Denver right now because of the extreme amounts of snow that is falling at the moment. We do expect them in Sunday night or Monday morning, however, perfect timing for the world cup on Tuesday.
So far most everyone has been out for 2 rides and most everyone has gotten lost at some point along the way either on Thursday or Friday. All the roads in and around Izegem are newly paved or cobbled which is nice and there are bike lanes all around which keep some of the cars out but not all. You also get an extreme variety of smells while riding ranging from the sweet smell of baking bread to the pungent smell of manure and unfortunately the latter is more prevalent. Well on to the racing.
Today was the first day of European racing this season for many and first ever for others (mostly just the juniors). Today's course was basically like riding on a sponge the entire time aside from when the course turned onto the road of walking paths. It was also really flat with the only elevation gains coming from these weird four sided mounds with stairs up one side that no one can figure out what they are for. We would typically run up the stairs (there were three sets in the course) and then mount on top and ride down one of the sides. These mounds were the only place that was reasonably dry and actually felt like we were riding on earth.
The juniors raced first and all of us were the last 3 to be called to stage so we were the last three riders on the start behind a field of about 35. I had a good start despite the bad position and actually think that I had too good of a start and had to go too hard to get to where I was on the first lap. I tend to do this almost every race I really need to work on it but I think that it stems from excitement and there was definitely lots of that today. Steve and Sean both were a little behind me for the first lap but then came roaring by as my adrenaline wore off and I road like a baby for the next 4 laps losing place after place. However, so switch turned on coming in to the second to last lap and I was able to pick off 5 riders in the last two laps including Sean who bonked harder than I ever seen and was not even put on the result page. Steve actually had a relatively good race without any technicals or crashes but was just not feeling top notch. Despite all the set backs and relatively bad legs (plane related I think) we gained valuable Euro experience for later in the trip and for Worlds.
Jerome Townsend
Photo ©: Joseph Sales

The Elite race was combined with the Espoir race and almost everything was normal, Sven Nys won despite a flat and just like the juniors most every one (Jonathon Page aside) felt as though they were not moving anywhere despite the effort being put forth. Big Barry Wicks had a tremendous start getting the hole shot but like me could not hold on for the rest of the race. Jeremy, Bjorn and Dan all started well as well but as the pace was pushed higher and higher they stated to flag, not surprisingly, and eventually were caught with only one lap to go. Still not bad seeing as two of them are first year Espoirs. As the race went on people were swapping positions and Barry was the first finisher of the camp with the rest in tow not too far behind.
All in all it was not a bad race for most and much needed information was gathered both during the race and after, from the likes of Noel, Fox the soigneur, and Geoff.
Until tomorrow, a day off thankfully, that is all there is to report.
-Jerome Townsend
Alan Factory Team
Photography
For a thumbnail gallery of these images, click here
Images by Joseph Sales