Some of these elite men will also be at Euro 'cross camp
Photo ©: Russ & Nancy Wright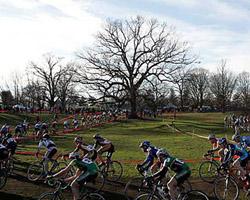 Across the pond: Euro 'cross camp IV diary
Fresh from US Cyclocross Nationals, sixteen American riders were selected for the Euro 'Cross Camp IV from December 23, 2006, to January 3, 2007, in Belgium. US national 'cross coach Geoff Proctor started the program in 2003 and runs the camps during his winter vacation from his job teaching high school in Montana. This is the fourth year that top US riders will be given this opportunity to gain valuable 'cross racing experience in Europe and to prepare for the world championships in late January.
Riders were selected for this year's camp based on their performances in the 2006 USGP of cyclo-cross and US nationals. Coach Proctor and his riders will take turns contributing diary entries.
Helena, Montana, USA, December 23, 2006
Ready for action
By Geoff Proctor
Holiday Greetings to all 'cross brethren.
With the dust barely settled from US nationals this past weekend, sixteen of our country's best cross riders are busy steaming across the Atlantic to assemble for Christmas in the trenches of northern Europe as part of the Euro Cross Camp IV. This year, new riders will share the narrative of our quest for international success with Cyclingnews.
Ryan Trebon
Photo ©: Russ & Nancy Wright

What do we have to look forward to? Well, first off, what can you say about having Ryan Trebon in "the jersey"? With Jonathan Page so ably doing the same for a number of years, believe me, it's a pride thing to work the pits at these huge races and have the stars-and-stripes battling these Euro dogs! And with Barry Wicks and Jeremy Powers already riding at a higher level than last year, this is going to be our best elite unit yet. Rounding out the group are camp veteran Erik Tonkin and the young and hungry Troy Wells. With all these guys, I'm reminded of an old Red Auerbach quote: "Coaching is simple; you need good players who are good people. You have that, you win." Enough said.
Another key component to the camp is the emphasis on the future. And this year's crop of espoirs is a good one. I'm ecstatic to have USGP U-23 champ Jamey Driscoll on board. His ride a few years ago at junior worlds in Pontchateau bodes well as he takes on his first extended, focused tour. Fresh off his silver at nationals, Morgan Schmitt is another real bright spot. And some serious pop will come in the form of that runaway chasing train we saw at nationals--namely, Nick Weighall, espoir rookies Bjorn Selander and Chance Noble, and Dan Neyens. Offering up some significant horsepower, these guys will only continue to grow. Another cool aspect to European 'cross is the knowledge base of the spectators. When they see Bjorn this year at a race, they'll whisper "Selander" as he passes, remembering his exploits in the lead group at last year's junior world race in Holland.
Chance Noble
Photo ©: Russ & Nancy Wright

And how about another stars-and-stripes winner anatomically shrink-wrapped in the form of junior Danny Summerhill? It's important for him to again sharpen his elbows against the top international 17 and 18-year-olds. And his supporting cast of Sean Worsech, Steve Fisher, Jerome Townsend, and Jim Lennon will all be there to fulfill part of the vision of the camp: gaining European experience.
The second crucial thrust of the camp is to prepare for the world championships With the parcours in Hooglede just 20 km away, the motivation should come pretty easily this time around. In fact, if you had to choose one world championship to attend, this would be the one. I reckon we'll see the same 60,000 fervs we saw in 2002 in Zolder. And then some!
So, 9 races, 12 days, 16 riders, 32 bikes, 2 directors, 4 mechanics, 2 soigneurs, and 1 chef. Sam Smith's film "Transition II" does a nice job of capturing a bit of the undertaking that is Euro Cross Camp. My hope is that these ensuing journal entries will add another dimension. As Director, my sincerest appreciation goes out to all sponsors, teams, coaches, families, and supporters for giving these guys a chance to race cyclo-cross in Europe.
Meanwhile, some of the elite guys are already in Belgium strapping on their fenders to head out for road training. It wouldn't be Belgium without that nice, manured spray rooster-tailing up off your rims in raw, dark December! Time to prep the mind, body and soul. I need to remember to bring my copy of "Beowulf." You know, recite some excerpts on the honor ethic and warrior code during pre-race pep talks. Something like:
"It was their habit
always and everywhere to be ready for action
at home or in the camp, in whatever case
and at whatever time the need arose
to rally." (1247-1250).
Hoist on your mail-shirt; fasten your helmet. The battle is about to begin.
Geoff Proctor
Director, Euro 'Cross Camp &
National Team Coach, USA Cyclo-cross
[Editor's note: A complete list of riders and a race schedule for this year's camp is below. Due to the limited availability of women's races, no elite women are part of the program this year.]
Elite Men

National champion Ryan Trebon (Kona)
Barry Wicks (Kona)
Jeremy Powers (Jelly Belly)
Erik Tonkin (Kona)
Troy Wells (TIAA-CREF)
U-23 Men
Collegiate national champion Jamey Driscoll (Fiordafrutta)
Morgan Schmitt (Hagens-Berman)
Dan Neyens (Hagens-Berman)
Bjorn Selander (Alan)
Chance Noble (California Giant Strawberries)
Nick Weighall (Alan)

Junior Men
National champion Danny Summerhill (TIAA-CREF)
Sean Worsech (Rad Racing)
Jerome Townsend (Alan)
Jim Lennon (TIAA-CREF)
Steve Fisher (Rad Racing)
Race program
December 23: Wachtebeke*
December 26: Hofstade - World Cup #9
December 27: Sylvester Cyclo-cross, Torhout *
December 28: Loenhout - GvA trophy #5*
December 29: Middlekerke*
December 31: Diegem - SuperPrestige #5*
January 1: GP Sven Nys, Baal - GvA trophy #6*
January 2: GP De Ster, St Niklaas
January 3: Centrumcross Surhuisterveen
* denotes junior race