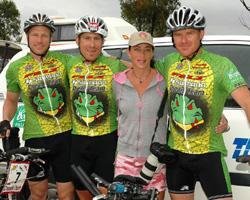 Photo ©: Dream Team
The FELT - Shimano Dream Team diary 2006
What do an Australian MTB Champion, an environmental engineer and an Austrian World Champion endurance cyclist have in common? They all ride for the FELT - Shimano Dream Team. Oh, and they are crazy for tackling the world's toughest MTB endurance race - Australia's Crocodile Trophy.
As Darren O'Grady, David Wood & Valentine Zeller battle through the bush from the Northern Territory into Far-North-Queensland, team manager Christi Valentine-Anderson will keep us up-to-date on the boys' progress.
FELT - Shimano Dream Team Diaries, October 23, 2006
Distance begins to take toll
By Christi Valentine-Anderson
Dave Wood, Darren OGrady,
Photo ©: John Flynn

Stage Seven: Irvinebank - Chillagoe, 156 km
Being the longest stage of the Crocodile Trophy, combined with the fact that it occurs after a week of hard racing, the Dream Team thought about little else than the rest day which follows stage seven.
Darren O'Grady took the 160 kilometre stage in five-kilometre segments, explaining: "that's all I could deal with. Until the 10 to go sign I didn't want anything in double digits in my head."
Valentin Zellor finished eight minutes down on race leader Christophe Stevens, which was an absolutely stellar effort from the roadie over the sandy descents and rocks. Zellor seems to be coping with the terrain and the challenges quite easily.
Wood and O'Grady stayed together today, joined by Lamont. They were all witnesses to the nasty tumble of Niek Lingier. The former Belgian downhill champion passed them downhill at 70 kilometres per hour plus. At that point Lamont said to Wood "that guy is either s**t hot or going to come unstuck". When the pair came around the corner, he had come unstuck quite badly - corking his thigh on the rocks he rolled over.
At first it appeared the Dream Team had a bit of a loss today. We had hoped to put some time into Stevens, however, looking at the results it appears we lost very little overall and we are still absolutely swinging in the team competition. The Dream Team will live to race another day!
The Dream Team will be signing the walls at the Chillagoe Pub this evening.