Recently on Cyclingnews.com
Driving it home: The Team DFL-Cyclingnews-Litespeed diary, 2006
Cameron Jennings and some of the 2005 Team Cyclingnews riders made the move to the new DFL-Cyclingnews-Litespeed Continental team. Based in Belgium, they'll teach us about Belgian weather, beer and bike racing in 2006.
Check out the adventures of Cam and the crew - a group of Aussies, Brits (English, Welsh, Scottish), the odd New Zealander and remarkably, even a Belgian - as they tackle a hectic race schedule on three continents this year.
For further reading about the team, visit the DFL-Cyclingnews-Litespeed official site. To check out Team Cyclingnews during 2005 and earlier, visit the 2005 site.
Belgium, May 20, 2006
Drawing first blood
Well it has been a long time since I have written a Cyclingnews diary but here we go…
OK, where's the camera?
Photo ©: Leigh Palmer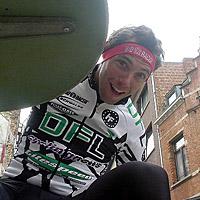 Things could have been going better for me - just like Cameron, the Tank has had some bad luck also (and yes, I do refer to myself in the third person). Form was not good when I came to Belgium back in Febuary; however, with a lot of racing I thought I could ride myself into some form, instead I got sick on the flight to China for the tour of Chong Ming Island.
So, no problems - go to the doctor, get a blood test and some antibiotics and deal with it, but this has not been the case I went through three lots of antibiotics and had another lot sitting there waiting for me. The blood test came back ok, I guess. A few things were pretty low but it was no big deal, so the doctor told me; after a few days off the bike as recommended by the doc I start into some training again and have been doing a couple of three hour rides and feeling pretty good and only sleeping nine hours at night instead of sleeping 13-14 hours and having a lovely Belgium chicken (kip), in the afternoon.
Now hopefully I can get some longer rides in while still feeling reasonable healthy, then try racing again to try and get some form as the season is nearly half the way through and I've only raced a handful of times. Apart from that everything else has been going pretty well for most of the guys in the team, with Russell taking a win the other day.
Now it is about time for me to sign out as I am sitting down at the loft, which is our local coffee shop, and if anyone is in Aarschot I highly recommend they go for an illy coffee, the best in town, honestly. Would I lie? I'm better than that. Alright, it's been a good talk and will write back soon...enjoy the pictures.
In the end we all look glorious,
Tank
Photography
For a thumbnail gallery of these images, click here
Images by Leigh Palmer