Driving it home: The Team DFL-Cyclingnews-Litespeed diary, 2006
Cameron Jennings and some of the 2005 Team Cyclingnews riders made the move to the new DFL-Cyclingnews-Litespeed Continental team. Based in Belgium, they'll teach us about Belgian weather, beer and bike racing in 2006.
Check out the adventures of Cam and the crew - a group of Aussies, Brits (English, Welsh, Scottish), the odd New Zealander and remarkably, even a Belgian - as they tackle a hectic race schedule on three continents this year.
For further reading about the team, visit the DFL-Cyclingnews-Litespeed official site. To check out Team Cyclingnews during 2005 and earlier, visit the 2005 site.
Belgium, May 20, 2006
High marks for the crew
By Kane Oakley
Hi,
Kane poses
Photo ©: Team DFL-Cyclingnews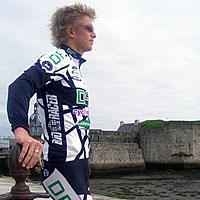 It has been a busy last couple of weeks for a few riders, with plenty of races and a few tours. I had a full plate and now it's time to let it digest, because I think I ate too fast. It slowed me down, but there is nothing like getting a few tours in the legs.
After coming back from China I had a few easy days then was off to the Tour of Bretagne in France. This was a good tour with every day ending with a tough finish ciruit - five laps of a beautiful town and a steep climb thrown in.
Russell (Fonzy) was the man for that tour; last year he had some great results and was looking for the same this year. Fonzy showed his strength in the first couple of days, then after this was a marked man. Most times he found himself outnumbered by other teams. The team did well during the tour with great results from Fonzy, but there where a few casualties and tired bodies. I pushed through a few walls and finished it.
Alex (Casper) gets the HARD Award for the Tour. After breaking his forks before the time trial he had a few issues in the head about trusting them for the next day's race, but he got on with the job and finished. Now I'm pretty good at understanding him when he speaks and he's also throwing in a few Oz sayings to make it easy for us. Go the Scotland boy!
Kane (l) and Russel
Photo ©: Team DFL-Cyclingnews

The weekend just gone we had a crazy couple of races in Holland. The team had some great results from Dag, Bernie and Fonzy. Great effort in these mad left/right windy single file gutter action races!
In the house all is good. The sun is out and the boys are taking full advantage of it. Sleeves and shorts are rolled up to expose the white pasty legs and arms. Coffee time has increased and we are sitting outside. The last couple of days all the boys have been busy making themselves pretty for some team photos today. Most of the boys look better with helmets and Euro glasses on!
Badger's cousin left us an Aussie rules football, so this has been getting a good work out in the bike room and on the street. We went to the local football fields and were attacked by the under 8's soccer team - they just laughed at us kicking this funny shaped ball around and taking classic high marks! Well that is about it, I have to go and do my hair. They say it takes the focus off the face!!
Till next time bye bye for now.
Kane "Munge" Oakley
P.S. Here are the last nicknames for the list- Alex = Casper, Matt = Cocky!
Photography
For a thumbnail gallery of these images, click here
Images by Team DFL-Cyclingnews-Litespeed