Driving it home: The Team DFL-Cyclingnews-Litespeed diary, 2006
Cameron Jennings and some of the 2005 Team Cyclingnews riders made the move to the new DFL-Cyclingnews-Litespeed Continental team. Based in Belgium, they'll teach us about Belgian weather, beer and bike racing in 2006.
Check out the adventures of Cam and the crew - a group of Aussies, Brits (English, Welsh, Scottish), the odd New Zealander and remarkably, even a Belgian - as they tackle a hectic race schedule on three continents this year.
For further reading about the team, visit the DFL-Cyclingnews-Litespeed official site. To check out Team Cyclingnews during 2005 and earlier, visit the 2005 site.
Belgium, March 15, 2006
Snow, snow, snow and some racing
By Cameron Jennings
More snow
Photo ©: Cam Jennings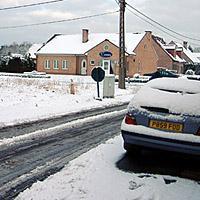 Greetings to you from a very cold, damp and white Belgium. The bad weather has arrived and it has been sticking around now for a good two weeks. Racing has been difficult due to the weather and also the fact that my Litespeed Sienna bike is not feeling 100% at the moment. Still waiting on correct length stems and seat posts, so battling through at the moment. As I mentioned, racing has been tough going, so here is a rundown on what we have been doing.
First weekend of racing took place a day after we came back from England and an exhausting two days of travel and functions. Not much bicycle practice happened either I might add. First race was the Beverbeek Classic, a 1.2 up near the border with Holland. It was flat and fast from the start and straight away I knew I was not quite ready for it. New bike felt weird and my two-day car legs were still present. Long story short - was with a group that got pulled out after the first feed at 100km. Not the best start, hoping things will turn around.
Backed up the next day with the whole team and raced the Oud-Heverlee kermis the other side of Leuven. Temperature was hovering around zero degrees as we headed off for this nice season-opening kermis. We were all in the thick of it from the start and enjoyed the race. The race itself came down to a bunch sprint and with parked cars, huge gaps between the concrete slabs and a bunch of crazy "Kermis Johnny's" I kept out of it as best I could. Nobody came down so it was a good day out.
Bern Sulzberger and Leigh Palmer
Photo ©: Cam Jennings
A week followed with no racing apart from racing home from training to dodge a snow storm or racing the washing machine in the house on the wind trainer when it was on its spin cycle. The weather was downright lousy and no real sign of it letting up. In total this week we ventured out twice in five days for two hours and four hours respectively. The remainder of the time was spent on the wind trainer peering outside for a ray of hope.
Next race was last Saturday - Vlaamse Pijl. Tough 1.2 raced over the famous cobbled climbs of Flanders. Not much happens during the first 60km apart from racing to be first to the bottom of the Oud-Kwaremont, the first cobbled beast of the day. Was too far back at the bottom and spent the next 40km chasing but to no avail. Dean Downing meanwhile was up front and placed 10th on the day. Feeling a bit down with myself and wondering what is going on, hoping it is only the cold and unfamiliar bike letting me down.
The new Toyota
Photo ©: Cam Jennings

Backed up on Sunday and raced at the Neerlinter Kermis and we all raced well and picked up prizes. Rode out to the start with Munge and Fonzy, signed on, got dressed with every piece of available clothing and lined up shivering with snow flakes on the shoulders like a bad case of dandruff. Fortunately it didn't snow albeit for the first lap, by which point the pace of the race was pretty hot. Russel and Dean were in the move that mattered after 5km and despite a good chase from the group containing Munge, Tom, Sven and myself the group was never really in danger. In the closing stages Dean got away and cleverly outwitted the "Johnny" for the win (much to his disgust) with Russel in sixth. The rest of us (as stated before) all picked up prizes, so a better than average day out.
So today an easy day was planned and was hoping to ride down and meet old teammate and mate Glen Chadwick of Navigators. He is back in Belgium after racing the Tour of California and Three days of West Vlaanderen but the weather prevailed and Bern, Munge and yours truly got caught out in a lovely snow storm. Hopefully catch up with him tomorrow, but who knows.
In closing I would like to again thank a few people that have helped me out this year. They are:
Ian Weigh at Ian Weigh Toyota
Quentin Lawrence and the team at Wizard Home Loans
Grant Olman at CQ Cranes
Central Queensland University
Dr. Peter Reaburn, PhD
DC Motors
Dr. Andrew Russel
Ian Deakin at BodyShop Health and Fitness
Anouska Edwards at CQ Physio Group
Gary Ireland at the Rock Pool Water Parked, and
Russel Tucker at Tuckers Cycle Inn Avanti Plus
I am forever grateful for their support this year and I hope to repay them all with some strong results. Bring on the sun!
Til next time we meet,
Cameron Jennings
PS: Check out the new website at teamdfl-cyclingnews.com
PPS: Congrats to the boys and girls I coach as they ripped up the concrete in Townsville during the junior state titles. Good on ya guys.
Photography
For a thumbnail gallery of these images, click here
Images by Cam Jennings