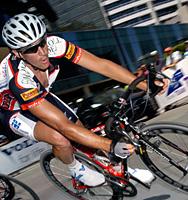 Photo ©: Shane Goss
Cody the Roady: The Cody Stevenson diary 2006
After two years in Belgium with Team Cyclingnews.com, Cody Stevenson has returned to his homeland to ride for the brand new Australian outfit, FRF Couriers-Caravello.
Follow Cody's adventures with his new squad as he makes the best use of his European garnered skills to make an impact on the domestic circuit.
Tour of Qinghai Lake and Tour of Gippsland wraps, August 11, 2006
Winning at last
Well, the past month has been as out of control as a Chinese Cabbie in Beijing (and I am speaking from experience)!
Cody Stevenson (FRF Couriers/Caravello)
Photo ©: Shane Goss

Last time I wrote I had just stepped back into the land of Oz after a successful trip to Europe and North America. My bag did not get unpacked! Before I knew it I had organised my Visa and was on a plane to China for the Tour of Qinghai Lake, a 2.HC level race… at altitude! Serious altitude for an Aussie, between 2000 and 4000 metres above!
The hotel was sorted, the stairs were climbed and seven bike riders were wheezing at the top of afore mentioned stairs… OK this altitude thing was hurting my chicken lungs!
China, what a spin out. It had everything and nothing all at once, all in the same place. BMWs, KFC outlets and Playstations stood alongside farmers driving tractors laden with family and produce side by side on the same strip of bitumen. Once we got into the mountains the contrast was even more noticeable, there were farmers who are still in subsistence mode, and only see a road bike once a year when the tour goes up the mountain while they are farming!
Back to the racing, and boy oh boy it was ON! The stages have all become a bit of a blur… it must have been the mountain air! If I wasn't suffering like a dog climbing some wretched mountain in the mist, I was having a dig in the sprints. I was able to have a dig three out of the nine days, and I managed to get some good results.
Cody Stevenson (FRF Couriers/Caravello, R)
Photo ©: Shane Goss
I missed victory on stage two by a tyre…. Had I been told I would finish second in a stage before the event I would have had a wry smile on my face… .but actually coming second… .urgh! To come so close to a win in a 2.HC race leaves you with a taste of what might have been. After some great work from the team, which was made up of Tony Mann, Brendan Brooks, Peter Herzig, Peter McDonald, Joe McDonnell and Mr Lead out Josh Marden, I was able to win the bunch sprint on stage six to take fifth place. It was nice mixing it up with the Liquigas boys, and getting my nose in front, knowing full well I have to go back to work at the bike shop! For a small continental team it was nice. The final stage was a circuit race and the whole team was geed up! I had been sprinting well all week, taking bonus sprints out on the road, and then suffering to get over the massive mountains we had to endure, all with the help of solid team mates. The mountains were crazy, one side arid land the next dense lush fields, it was kind of surreal.
The final stage was well suited to our strengths being a circuit race. Unfortunately, some breakaway riders had other ideas and we didn't catch them until right at the line. The boys all rode flat out on the front to try to bring it back. It was nice to see team FRF Couriers chasing back the break alongside Liquigas, Bouyges Telecom and Skil Shimano. I managed to bash my way up the finish straight and claim 10th, unfortunately the courier couldn't deliver the goods! Oh well! So at the end of the tour of Qinghai Lake I came away with a second, a fifth, a tenth and sixth in the points classement. The boys all rode an awesome race, and were it not for some dodgy food which Macca couldn't hold down whilst climbing one of the mountains (read, food poisoning, ensuing stomach problem, regurgitation) we all would have finished the race. A big thank you must go out to Andy Portess, Daniel Healey, Claire Bailey and Liam Cleary. Thanks for putting up with us for two weeks, thanks for the massage, thanks for making my bike run sweet, and thanks for my muesli!
Cody Stevenson (R) brings the bunch home
Photo ©: Shane Goss

Just a side note from the racing. Unfortunately, a lot of guys got a bit of Beijing Belly and were forced to quit the race with stomach problems. This sickness could also have been a result of the driving of some of the locals. OK it's 3000m above sea level, there is a massive salt water lake, you can buy fireworks at your leisure, beer is $1… .and to get a licence you must pass a driving test which I can only assume you fail if you: A - don't honk your horn whilst driving on the wrong side of the road, B - hesitate for a split second whilst trying to cross five lanes of traffic, or C - if you indicate or stick to the speed limit! It's great to see that people definitely do things differently all over the world!
On the plane, off the plane, do not unpack bag, get straight into car, head to next race. Cootamundra… Coota… State titles… not much to say… missed the break… chased… came fourth… d'oh! Back in the car, head to Tour of Gippsland. I managed to hook up with my team mate Brendan and hitch a lift, and sleep in his accommodation, and eat his food… hadn't really planned the fine details for this tour! I was heading down to Gippsland which would be the first race in the Tatts Cup series. I was left wanting more after my placings in China. The crew for this race would be Noel Jory - Chef extraordinaire - who cooked up some wicked feasts each night, his son Chris who performed well in his first five day tour, Mr Brendan Brooks and his father Peter. Without theses guys I would never have got to Gippsland. Cheers fellas!
Eventual winner Cody Stevenson (FRF Couriers / Caravello)
Photo ©: Shane Goss

Okay, racing. It was flat out! With two stages every day I wasn't sure how I was going to go. I had only been back in the country for a few days, I had been in the car for most of that time, and had done a 180km road race in between. Stage 1 - my legs hurt! In the arvo road stage I got in the break and ran fourth, my team-mate Tony Mann got away with two others, took second on the stage and the KOM jersey.
Day two and my legs were starting to come good. I came away with fifth in the morning stage and seventh in the afternoon. Brendan had been in the break until 500m before the line when he was gobbled up by the peloton. The course went over some heavy terrain, and the rain and wind made things pretty cold.
Day 3 and I was beginning to feel a bit better. I got in a break about halfway through the stage, which was brought back about 10km from the finish and Tony belted off the front to try to gain some more KOM points and hopefully keep trucking to the finish. The peloton chased him and his breakaway companions down, and we caught them with 1km to go. I moved into good position for the sprint. Rob McLachlan hit out on the downhill run to the line and I managed to pass him and take my first stage win for the year. I have had some good results this year, but too many second places, finally a win! Woo Hoo!
The FRF Couriers-Caravello boys
Photo ©: Mark Gunter

The afternoon stage couldn't have gone better for me, I made it two wins in two stages! I managed to get away in a breakaway with five other riders, after some help from Wes Sulzsberger to get across, and then I used my sprint for the second time that day to take win number two!
Over the rest of the tour I managed to win two more bunch sprints but only for the placings, as breakaways were on the menu for the ensuing stages. Tony was able to maintain his lead in the Mountains classification, keeping the jersey all the way to the finish, and Brendan rode aggressively but did not have lady luck on his side this week!
A big thanks to Noel Jory, Peter Brooks, Peter Milostic, Jim Stokes and my dad for making what was a logistical nightmare a dream run.
So, I think I can unpack my bags… at least for one week! I have had a solid few months and taking two wins is some icing on the cake. I have had about ten top tens, so to win is a nice feeling. I hope that the form continues and that our team has more success in the coming months.
Cheers,
Cody
Race results: Tour of Qinghai Lake and Tour of Gippsland