Recently on Cyclingnews.com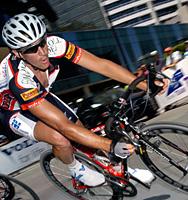 Photo ©: Shane Goss
Cody the Roady: The Cody Stevenson diary 2006
After two years in Belgium with Team Cyclingnews.com, Cody Stevenson has returned to his homeland to ride for the brand new Australian outfit, FRF Couriers-Caravello.
Follow Cody's adventures with his new squad as he makes the best use of his European garnered skills to make an impact on the domestic circuit.
Tour de Beauce wrap
The joy of travel
Five riders, six Suitcases, seven bikes, an eight-hour flight ahead and one hour to check in. Departing Manchester, destination Canada.
Three FRF Couriers-Caravello riders
Photo ©: Mark Zalewski

After three flights, four gate changes, ten hours waiting at airports and 30 cups of Starbucks we arrived at Quebec City Airport (a tin shed)... sans bikes and luggage, but we knew this as we watched the plane take off with our luggage still on the runway! Thanks Air Canada! When we arrived we were told that the plane only had a small luggage hold and that our luggage was never going to fit. I am pretty sure that they could have divulged this info to us in the seven hours that we were waited in Toronto. Anyway, after one hour explaining the necessity of our luggage the Air Canada officer seemed nonplussed and said that he could do nothing. Thanks mate! We finally got our luggage... two days later, in Montreal! This was, as we were going to find out, not the only "issue" we would have with Air Canada... hhmmm!
Montreal, warm weather, good park ups (coffee shops), and nice scenery. The boys, Tony, Joe, Josh, Macca, Professor, Brooksy and moi were kicking back in our new pad, for the week at least. We were staying in Montreal as this is the home of our bike sponsor Argon18. It is always nice to meet the sponsors and these guys were 100 percent helpful for our entire stay in Canada.
Peter McDonald tried hard on the climbs
Photo ©: Mark Zalewski

A little background on Argon18, as it is a name that some of you may not be familiar with. It is a bike company that was started by Gervais Rioux back in 1990. Rioux had been a top north American pro, amassing 150 victories, including three national titles. He became an Olympian in 1988. Once he hung up the wheels he turned his skills to the industry that had been his life for the past 15 years. He began to expand his range and now has distributed his bikes to North America, Europe, Asia and Australia. I have been privileged enough to receive a test bike from the company, this bike is very similar to the current Gallium but uses different carbon and will be the 2007 Platinum. I have found the bike nice and stiff, which is what I like, the angles are great and also that the seat tube is not too steep. A lot of small frames have steep seat tubes and slack head tubes so that the riders foot does not overlap the front wheel. By making a slightly longer top tube, and incorporating the AFS system, Argon have designed a bike that is lively, stiff and that you can get a good seat set back without jamming your seat all the way back on its rails.
I will keep you posted on its development over the season. To check out more go to argon18bike.com
Back to the racing. It seems all over the world there is a crit that is raced as though it is the world championships. In Australia we have Heffron Park on a Tuesday night... In Montreal it is the Mardis Cyclists, funnily enough also run on a Tuesday night. We were told to expect 50kph racing and 100 riders. Yeah right?! YEAH RIGHT! These guys were serious. Heffron paled into insignificance. There were teams of 12 riders, radios, Shimano service, a yellow jersey... oh and 100 riders at 50kph! I could see why Argon were so keen for us to get a result. Lap one was fast... so were the subsequent 40! It ended in a bunch kick and I was second, beaten by some kid who is tipped to be the next big thing, David Veilleux... well he is only 19! I was in about 15th wheel with 400 metres to go, luckily there was a corner 250 metres from the line. I did the big dive underneath, pedalled through the corner but the kid already had the jump on me. I was pegging him back... but...! In third place was an "old guy", 42 years old I think, named Czeslaw Lukaszewick. He is a Polish immigrant who did the Sydney Olympics but just rides for fun now. Apparently, after the race his team was upset because he didn't lead out his team mate. His response was (with a thick Polish/Canadian accent), "#$%@... if he can't beat me, a 42 year old, he should get a job or train more!" We ended up doing five hours with him the next day. He is one hard nut, and extremely friendly! That night we all had a night out as the Professor and I had our birthdays. We took in the sights of downtown Montreal, and had a good sleep in!
Peter McDonald exhausted after his big effort
Photo ©: Mark Zalewski

Off to Tour de Beauce, Quebec. I was feeling good after my second place, but not everything went to plan in Beauce and after a few good days I began to feel a bit empty. I lost a lot of time on the mountain stage, then pinched a nerve in my back the next day. I rode the last three stages with one leg, which wasn't much fun! The other boys had an up and down time also. Brendan Brooks, however, finished top-20 on GC and second in the u/23 category. It was a great ride from the young fella...he is only 19! I am starting to feel old!!! I got through the tour and I am in the process of getting my back and leg sorted so that I will be good for Qinghai Lake in July. It was nice to also see a lot of the guys that I ridden with over the past four seasons, I think that there were about 15 Aussies in the race!
As the weather in the Blue Mountains was hitting zero, with a bit of snow, I decided to stay in Vancouver for a week with an old friend. It was good to catch up and also to hit the mountains surrounding the area...albeit in shorts and a jersey soaking up the 30-degree days!!!
I am back in the mountains as I write this diary, the weather is ok, clear and 10 degrees.
Well I guess it is time to step aboard the Argon and give it a spin around my old stomping grounds. I am pretty sure that I will be able to give more discerning feedback after tackling Mt Victoria Pass a few times!!
Life is full of numbers, here are a few I encountered on my travels:
0 - number of Birthdays I have had in Australia in the last 5 years.
1 - number of team mates with the same birthday - Peter Herzig.
2 - 2nd my best result this month.
8 - hours wait between flight.
9 - flights in six weeks.
20 - total number of hours spent in airports in two months.
120 - cups of coffee.
35000 - kilometres travelled in plane since May.
Countless - number of times Air Canada #$@@%& me off!
For all the rest there is Mastercard!
Cody