Queen of the galaxy
Photo ©: Shiela Moon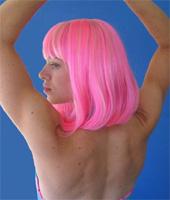 Barbarella: The Barbara Howe diary
Just as Barbarella bumps through the universe, comically oblivious to the dangers and threats being thrust at her, Barbara Howe has had a few misadventures of her own. But with a stable team and strong results in recent years, the 29 year-old Velo Bella rider looks set to navigate her way to the top of the US 'cross tree, where she hopes to be crowned 'Queen of the 'cross Galaxy'.
Follow the fortunes of this free-spirited individual here on Cyclingnews.
December 6, 2006
Who is that Vanderkitten?
Ophelia
Photo ©: Barb Howe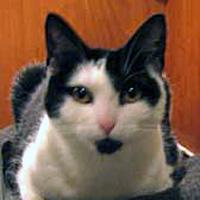 Who is Vanderkitten? She is otherwise known as Ophelia, she's the kitten of Dave and Jennie Verrecchia and the inspiration for their clothing company. As I sit here and watch my own kitty hard at work sleeping in her basket in front of the heater I imagine that Ophelia must really be something to inspire the work it takes to run a clothing company.
How did this happen? First Dave and Jennie met, in Philadelphia and during a particularly dank nasty winter, Jennie suggested that they move to California. Dave told her she was crazy. As a native Pennsylvanian myself I can relate to nasty winters, I can also say that many Pennsylvanians (myself included) view California as a state filled with weirdos, beaches and sunshine. Why would anyone want to live in a place like that? After telling her she was crazy, Dave told Jennie that they could move to California if she found a job. Within two weeks Jennie found a job so they packed up the coupe and moved to Oakland. Ophelia and her companion, Chubby Belly Kitty (CBK), were liberated from the pound shortly after Jennie and Dave arrived on the golden shores.
Dave is a graphic artist by trade, his day job is a producer of graphics for litigation. The graphics are used mostly for teaching technology patents to jurors. I didn't know such a thing existed. Dave does all of the Vanderkitten (VDK - www.vanderkitten.com) artwork himself. The first VDK logos of Ophelia appeared in 2000. If you look closely you'll notice that it's a bloody tooth not a tongue hanging out of kitty's mouth and she's got a notch in her ear. This is not an accident.
The neighborhood where Jennie and Dave lived in Oakland had a large population of feral kittys. Most of the residents like the cats due to their efficient and cheap pest control properties. Jennie and Dave felt a societal responsibility towards the ferals and took it upon themselves to see that most of them got fixed. Jennie would catch the ferals, get them fixed, rehab them in the basement then release the cats. If the kitty became domesticated and friendly then it would find a home with a friend. If you are a friend of Vanderkitten chances are you own a cat. A few of the kitties were never domesticated and still live in Oakland. Dave or Jennie drive over from their north Berkeley home each day to feed them. Much of this work was done with low cost spay and neuter programs through Fix our Ferals (www.fixourferals.org/) or the Oakland SPCA (www.eastbayspca.org/).
Vanderkitten tent
Photo ©: Barb Howe
One of the ferals, known as Tabby, lived outside the Verrecchia house. One cold rainy night Dave took pity upon the kitty and let him in. Tiny Ophelia was not happy with the way giant Tabby machinated to rule the house. She snapped one morning, attacked Tabby and beat the crap out of him. After the fur settled, Tabby was exiled to being an outdoor kitty and Ophelia proudly sat in her house with a snaggle tooth and newly notched ear.
In 2004 the run of Vanderkitten tee's appeared. The intention was to compete with Paul Frank, Hello Kitty and Emily the Strange, for good or bad it didn't really work out. Dave tried working with some DJs but that didn't work out too well either. Dave was then contacted by Velo Bella and asked if Vanderkitten would like to be a sponsor at a Surf City Cyclocross race. Being an avid cyclist himself, Dave couldn't help but sponsor Surf City. The vibe was right, the racing was fun and the Velo Bella's loved Vanderkitten. Now Vanderkitten is an official sponsor of the Velo Bella cyclocross team and the ladies love the cute tee's.
What does the future hold for Vanderkitten? Dave has started a project the Ahren's Bicycles (www.ahrensbicycles.com/ ), together they've created a unique Vanderkitten mountain bike frame. If you are itching for a new frame check it out. Dave would also love to quit his day job, hire people to work at Vanderkitten and then have them quit their day jobs. There is also a little one on the way in the Vanderkitten household. This one won't have whiskers and a tail!
Photography
For a thumbnail gallery of these images, click here
Images by Barb Howe