Queen of the galaxy
Photo ©: Shiela Moon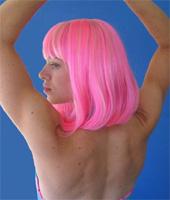 Barbarella: The Barbara Howe diary
Just as Barbarella bumps through the universe, comically oblivious to the dangers and threats being thrust at her, Barbara Howe has had a few misadventures of her own. But with a stable team and strong results in recent years, the 29 year-old Velo Bella rider looks set to navigate her way to the top of the US 'cross tree, where she hopes to be crowned 'Queen of the 'cross Galaxy'.
Follow the fortunes of this free-spirited individual here on Cyclingnews.
November 8, 2006
The fabulous Sheila Moon
Sheila Moon
Photo ©: Barbara Howe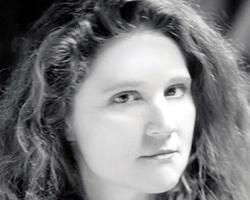 Well known in Northern California and the Pacific Northwest, Sheila Moon is rapidly taking over the world. Well, her clothing is anyway. In fall of 2003 Sheila Moon debuted her self titled clothing brand in the Bay Area and Portland with a colorful selection of hats and arm warmers. Now, just a few years later her unique clothing can be found across the country and soon the world! Being a long time wearer of her clothing as well as one of her models I was interested in how her clothing transformed from idea to finished product as well as how she accomplished so much in so little time. Here's what I found out one rainy day in November south of Market Street in San Francisco.
Sheila's love of clothing and design started early, inspired by her grandmother's sewing she began sewing at age five - no joke. In junior high she began making her own clothes. In high school Sheila ran cross country and played ice hockey. While studying history and journalism at the University of Oregon she spent her junior year abroad in London. She was in London just after the peak of the punk movement, perhaps memories of this year are what inspire her to insist on her models wearing bright pink wigs. Chains and safety pins may not be far off! After surviving London and graduating Sheila moved to San Francisco and worked for a marketing firm. It didn't take long for her to realize that this was not what she wanted to do and she went back to school for design. Her goal was to have her own line of self title clothing in a warehouse south of Market street. Even though she's been racing bikes since '95, she never expected that her clothing line would be cycling apparel.
Sheila at a Supercup
Photo ©: Barbara Howe

Here's a bit of our interview.
Barbarella: So where is it that your design ideas come from?
Sheila Moon: Mostly from high fashion, I spend excessive amounts of time perusing fashion magazines seeing what's out there. Sometimes I'm inspired by a certain fabric, I see a fabric and immediately know what garment it will become. I also create clothing as a solution to a problem or a perceived problem.
B: Like this skinsuit? (holding up a skinsuit she made for herself to race in)

S: Yes, exactly. I needed a skinsuit that fitted perfectly to race in, so I made one. (these might be available to a lucky few in the future)
B: After you've been properly inspired what's the next step for the idea to become a garment?
S: You make sketches of the garment, front and back.
B: Then?
S: Then you have to create a pattern from the sketches. After the patterns are created you have to find the proper material. I source material from fabric vendors or from my vaults. --interviewer's note (This seems like a tough process to me, when you make a garment you cut several pieces of fabric that look nothing like the end garment. Pants in particular are very confusing and it seems that only by magic do the misshapen bits of material turn into something you might be able to wear). After finding the material the patterns need to be graded, that is made for all sizes from XS-XL. Then I make samples and go on the road to sell my wares.
B: So you do this all alone?
S: I have a sales rep in the east, but I take care of the west coast by myself. After taking orders I spend some time thinking about going into production. I order fabric based on the orders received and estimated sales. I also need to order all buttons, zippers, elastic, snaps, labels, tags and velcro at this stage. The fabric goes directly to the cutting contractor to be cut, then straight to the sewing contractor. (Sheila's sewing contractor is conveniently located next door) After sewing, the product goes to the warehouse and distribution center, then off to stores and onto the bodies of customers!
B: And then?
S: Then I start all over again with ideas.
B: Tell me something that I don't know about yourself, preferably something juicy and sordid.
S: Um, ok. I had a crush on Gully while he was racing.
B: Who didn't?
S: Once, in a beer hall in Germany, I found out what Scottish men wear under their kilts.
B: Oh?
S: They were dancing on the table. I also like to go skinny dipping after bike races, but I only race cross and the ocean here is very cold so that doesn't happen too often.
B: What are some of your best memories from cross?
S: Getting to meet Daniel Pontoni. When I first started racing I had a video of him winning 'Cross Worlds. I watched it the night before every race for inspiration. Two seasons ago he was in California racing and I got to meet him at Candlestick Point. I gave him one of my hats. He came back later and gave me a hat!
B: Changing the subject from the past to the future, where do you want to be in five or six years?
S: I'd like my business to be big enough that I can train and race my bike again! Specifically I want to race La Ruta de Conquistadores. Also, I'd like to spend more time running around in the woods with my dog Luna.
Sheila Moon's clothing is available at fine bike shops and on the internet. I highly recommend her clothing, it holds up to severe abuse and looks damn good! If you can't find it nearby, ask your local bike shop to become a Sheila Moon dealer or check out sheilamoon.com.
Also, check out Sheila's soup, it's the best black bean soup I've ever had!
Sheila Moon's Famous Black Bean Soup
1/2 C olive oil
2 onions - chopped
2-5 cloves garlic - minced
1-2 serrano chiles - finely chopped
1/2 teaspoon each: sea salt, pepper, anise or fennel seed
1 teaspoon each: brown sugar or molasses, mustard, grated lime or lemon rind, celery seed
1/4 teaspoon allspice
2 C black beans
2 1/2 quarts water (approx)
3 tablesoons lemon juice
1 small can tomato paste
Saute onions until almost translucent. Add garlic and chile and saute a little longer. Add sugar/molasses, mustard, and spices and cook briefly. Add beans and cook a little longer Cover the beans with water, cover pan and bring to a boil, reduce heat and cook at a slow boil until beans are soft (to your liking) - 1-3 hours. Finally, add tomato paste and lemon juice. Enjoy!
Photography
For a thumbnail gallery of these images, click here
Images by Barbara Howe/Velo Bella - Kona