Queen of the galaxy
Photo ©: Shiela Moon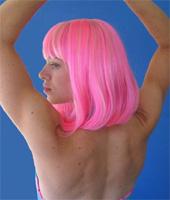 Barbarella: The Barbara Howe diary
Just as Barbarella bumps through the universe, comically oblivious to the dangers and threats being thrust at her, Barbara Howe has had a few misadventures of her own. But with a stable team and strong results in recent years, the 29 year-old Velo Bella rider looks set to navigate her way to the top of the US 'cross tree, where she hopes to be crowned 'Queen of the 'cross Galaxy'.
Follow the fortunes of this free-spirited individual here on Cyclingnews.
October 23, 2006
Where in the world is Barbarella?
Getting some work done in Jamaica.
Photo ©: Barbara Howe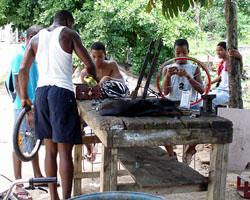 As many of you may have noticed, I haven't been to a single cross race this season. You may be wondering why. Did Barb get lazy and quit training? Did she finally have enough racing and decide to get on with her life? Did she join Earth First move undercover to a undisclosed location and begin a career as an eco terrorist?
The boring answers are no, no, and not yet. The real answer is that I've been afflicted by an unknown illness since January and can't train. Originally I thought I had Mono, but that would have been too easy. I've been to countless doctors ranging from traditional western medicine, to alternative medicine to a combination of both. Several diagnosis and some lack of diagnosis later I'm still not back to normal.
Thousands of dollars of blood work show that I'm a pretty damn healthy person. Too bad I don't actually feel that way. Some weeks I don't want to spend any more money seeking the root of the illness, it seems like money could be better spent on something more interesting such as a lovely bottle of wine or a new knife for the kitchen. Other weeks I feel crappy and want to know why. Either way I am slowly getting better and plan on racing next year.
Watch out ladies, although I've had a slow year off, I will have a year's worth of pentupedness to unleash. Enough of my complaining, I didn't write all summer 'cause I figured my fans didn't want to hear me whine about feeling bad. But I can't let everyone down and plus you need something to read during the long dark days of winter.
Without traveling and racing all summer I had plenty of time to try out new recipes and cultivate my herb garden. Actually the garden grew fine, most of my time was spent protecting the tomatoes and string beans from deer. Hordes of deer prosper in Marin on a diet of manicured lawns, organic heirloom vegetables and ornamental flowers. Yards of netting, bundles of zip ties and various poles were used to create my garden enclosure.
Sweet Jamaican bike trick.
Photo ©: Barbara Howe

It lasted for several months until the tenacious cloven hoofed predators knocked everything around smashing several plants in the process. Damn deer; they should be glad I don't eat meat.
Josh and I had the fortune to travel to Jamaica for vacation in August. He brought his bike along and got to explore the island on two wheels with a local racer Marochi. I mostly hung around and spent as much time possible in the water.
Enjoy the pictures of bike shops in Jamaica, they are a bit different than the one I work in in California. One of the best parts of the vacation was eating as many exotic fruits and vegetables as possible. Note to self, eating four mangos in a row can cause an upset stomach.
Jamaica inspired this weeks recipe. Ivee, our cook in Jamaica, made callalloo every night. Callaloo is the green part of taro root and I imagine it contains a good amount of nutrients. This tastes a bit like what she made for us.
Barb's Greens:
1 bundle of swiss chard, beet greens or kale chopped
1 jalapeno or serrano pepper diced
1 onion diced
Juice of 1 lemon or 1 lime
White wine or rice vinegar, a few tablespoons
A few thyme sprigs
Salt
Pepper
Olive or canola oil
In a large skillet sauté the onion until it begins to brown. Add chopped greens, cover. Stir occasionally. Add juice, stir, cover. Add thyme leaves removed from the stem and diced pepper, stir and cover. Add vinegar, salt and pepper serve over rice.
Till next time,
Barbarella
Photography
For a thumbnail gallery of these images, click here
Images by Barbara Howe/Velo Bella - Kona