Queen of the galaxy
Photo ©: Shiela Moon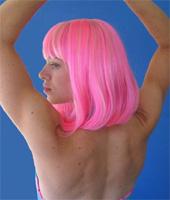 Barbarella: The Barbara Howe diary
Just as Barbarella bumps through the universe, comically oblivious to the dangers and threats being thrust at her, Barbara Howe has had a few misadventures of her own. But with a stable team and strong results in recent years, the 29 year-old Velo Bella rider looks set to navigate her way to the top of the US 'cross tree, where she hopes to be crowned 'Queen of the 'cross Galaxy'.
Follow the fortunes of this free-spirited individual here on Cyclingnews.
January 5, 2006
Ready for Worlds
Happy New Year! Mother Nature has decided to punish Northern California this season. We've been hit by several large storms, one after another. Friday's storm was the biggest and nastiest. The wind blew, rain fell and rivers overflowed their banks. Flood warnings repeated on the radio and people were evacuated from their homes in Northern California.
Living in a basement apartment, I didn't hear the hours of pounding rain and was surprised by the extent of the damage Saturday morning. The exit to work off of highway 101 was flooded and I could see the bike path on the other side under several feet of water. Sometimes during a leap tide the bike path will flood, but this was far more water than I'd seen before.
The highway pinched from four lanes to one as the other three integrated into the bay. Drowned cars lined the side of road while friendly State Policemen shooed everyone else on their way.
Josh called while I was at work to tell me of the destruction he saw in San Anselmo; a small town to the north. The strangest sight he saw was forty or fifty balls (soccer balls, baseballs, footballs, basketballs, etc) stuck on the side of a small bridge straddling the swollen creek. It was like the rain was in the mood to play and swept all the balls it could find out of garages, back yards and porches and sent them to play with a bridge abutment.
On Sunday I rode out through San Anselmo in a surreal haze. People shoveled mud and debris out of their garages, off their porches and out from under their cars. The businesses in the small downtown area were hit the hardest when the water peaked five feet deep on the main street. Continuing my ride I gingerly rode through pile of mud and downed branches. The next storm caught me 40 minutes into the ride. Yee-haw, more rain.
The biggest problem with all of the debris is that I was forced off the large shoulder into the road and with poor visibility I was worried about getting hit by a car. After a flat and nearly getting blown off the road twice I decided the safest course of action was to go home and finish my workout on the trainer. Seeing the destruction caused by five feet of water really gives me an idea of how much damage was caused by the tsunami and Katrina.
There is less than one week before I leave for Belgium. Preparations are under way and have yet to become hectic. Yesterday Josh stripped one of my bikes to the frame and put it back together again. The bike now shifts perfectly and all of the major noises are gone. Bike number two will get stripped later this week. I don't want to overhaul the bike then ride it in large puddles and mess everything up right away.
A few new tires should be arriving soon to replace one of my favorite Dugast's that got a rip in its sidewall. I found several good paperback books at the thrift store today, books that I can read and then pass along. The owner of the house I'm staying at in Belgium requested a copy of Pure Sweet Hell so that too got ordered and is headed my way.
Tomorrow the real fun of packing begins, it goes like this. Choose all the clothing, cycling and normal, and make a big pile (remember, you need two of everything for 'cross). Pick out your favorite shoes, hats, gloves, flair, lipstick, and socks. Make a pile of tools, include spare bike parts such as shifters, tires, handlebars, seat posts, and blinkie light. Add miscellaneous items such as books, shampoo, shaving gel, DVD's, computer, more shoes, camera, peanut butter, flashlight, etc. Smash all of this stuff into a very large duffel bag. Take everything out of the bag and divide into piles according to category. Remove one or more item from each category because the duffel bag was too full and you need space to fill with chocolate for the trip home. Smash everything into the bag again. Repeat the previous three steps until the zipper closes with little to no resistance. Now your bag is ready to go!
To prepare for the land of waffles, I experimented with a new recipe this past week; polenta waffles. I'm sure these waffles don't exist in Belgium.
Polenta Waffles:
2 C water
1 tsp salt
4T vegetable oil
1/3 C masa harina, aka: corn meal
2 large eggs
1/2 C flour
1tsp baking powder
Extras: Finely chopped serrano or jalepeño pepper, vegetable stock instead of water, ground pepper or hot pepper
To make the polenta, bring the water (or stock), oil, and salt to boil in a large pot. Reduce heat and slowly add masa harina, stir constantly. Add chopped peppers and continue to stir until mixture thickens, about 15 minutes. Pour polenta into a large bowl and let it cool for a few minutes. Preheat your waffle iron. Beat eggs into polenta one at a time followed by the flour and baking powder. Now you can treat the batter just like normal waffle batter.
I topped the waffles with molé and goat cheese. Beans and avocado would also taste good.
- Barb