An interview with Vasilli Davidenko, June 14, 2005
A cyclist's life - in three acts
Hailing from the former Soviet state of Georgia, Vasilli Davidenko has experienced plenty of changes when it comes to the environment he races in. Moving from Russia to the United States and becoming a father again are two of them, but this hasn't stopped the 35-year-old from enjoying an excellent 2005 so far. Cyclingnews' Steve Medcroft discusses these changes with one of the quickest men on the US domestic racing scene at the moment.
Vasilli Davidenko
Photo ©: Sirotti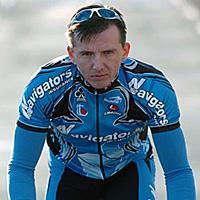 Age: 35
Date of birth: March 17, 1970
Turned professional: 1993
Teams:
Career highlights
2005
1st, Stages 1 & 2 - Tour Of Connecticut (USA)
1st, Athens Twilight Criterium (USA)
1st, Stage 2 - Owasco Stage Race (USA)
2nd, Overall GC - Owasco Stage Race (USA)
2nd, Stage 3 - Owasco Stage Race (USA)
3rd, Overall GC - Tour Of Connecticut (USA)
3rd, Stage 1 - Owasco Stage Race (USA)
2004
2nd, Tour de Medford Criterium (USA)
3rd, Murraysville Classic (USA)
3rd, CSC Clarendon Cup (USA)
1st, Stage 5b - GP Cycliste de Beauce (CAN)
1st, Stage 3 - Tour of Connecticut (USA)
2nd, Stage 3 - GP Cycliste de Beauce (CAN)
1st, Sports Grand Prix Pro-Am Challenge (USA)
1st, Housatonic Valley Classic International Road Race (USA)
1st, Clarendon Cup (USA)
2nd, GP des Rennes (FRA)
2nd, New York City Cycling Championship (USA)
2001
1st, Stages 3 & 5 - Tour de 'Toona Stage Race (USA)
1st, Tour de 'Toona Stage Race - Sprint Competition (USA)
1st, North Jersey Cycling Classic (USA)
1st, Prospect Park Cycling Classic (USA)
1st, Stage 6 - Giro d'Abruzzo (ITA)
1st, NY Easter Parade Classic (USA)
1st, Sea Otter Classic Stage Race - Sprint Competition (USA)
1st, Stage 2 - Sea Otter Classic Stage Race (USA)
2nd, Overall GC - Tour de 'Toona Stage Race (USA)
2nd, Stage 6 - Tour de 'Toona
2nd, BMC Software Tour of Arlington (USA)
2nd, Stages 2, 8 - Circuit des Mines Stage Race (FRA)
3rd, Clarendon Cup (USA)
3rd, Stages 3, 5 - Circuit des Mines Stage Race
2000
1st, Stage 4.2 - GP Cycliste de Beauce (CAN)
1st, Stage 2 - GP Cycliste de Beauce
1st, Stage 1 - GP Cycliste de Beauce
1st, Killington Stage Race - Sprint Competition (USA)
2nd, Stage 2 - Killington Stage Race
2nd, Overall GC - Tour de 'Toona (USA)
1999
1st, Stage 6 - Tour de 'Toona Stage Race (USA)
1st, Stage 5 - Cascade Cycling Classic Stage Race (USA)
2nd, Russian National Road Championship
3rd, Stage 3 - GP Cycliste de Beauce (CAN)
1998
National Off-Road Champion (RUS)
1996
Stage win, Tour of Poland Stage Race
Team Member, Russia Olympic Squad, Atlanta
1st, Russian National Road Championship
After an early season campaign that took his team, Navigators Insurance, to Malaysia and Europe, Vasilli Davidenko arrived in the US just in time for the Athens Twilight Criterium. Just before the race, his wife told him that the child she was carrying, the couple's second, was a boy; a set match to their almost two-year-old girl.
Flushed with excitement, he took the bold approach of soloing off the front early in the race and managed to stay away long enough to take the win uncontested. "Today I felt really strong and I took a lot of risks. I was willing to work without breaks," he said after his strong performance in the wet.
From a rider with less experience, it would have been a bold (and probably failing) approach. But Davidenko doesn't lack in experience. At 35, he's enjoyed a long enough career that his story has to be broken into three distinct chapters to be properly told.
In the first chapter, Davidenko makes a name for himself as a junior on the velodrome in his hometown of Tblissi, Georgia, and is picked up by the Soviet National team. In the second chapter, he enters the sink-or-swim world of Italian professional cycling, grinding out endless and unforgiving seasons. In the third chapter, Davidenko settles into a more controllable and sustainable lifestyle on a US domestic team only to see his career put in jeopardy after testing positive for banned substances contained in an over-the-counter supplement.
To learn more about this perennial member of the US pro peloton, we caught up with Davidenko one week before the Philadelphia US Pro National Championship.
"I was really hoping to do well there because I live on the East Coast and I have so many friends there."
-Davidenko responds to the cancellation of the New York criterium
Cyclingnews: After the win at Athens, you've won stages in the Tour of Connecticut and been part of the action at every top US race. You're having an exceptional year. Did you do anything different from years past to prepare?
Vasilli Davidenko: I've done basically everything differently and things am going better than previously. The last two years I had complications; interruptions in my training during the winter. Ever since I moved to the United States, in 1999, I've been working hard to make my life comfortable. This last year, I finally got my family and myself comfortable - we have our house and our first child (almost two years old), and my wife is pregnant again and gave me some really good news before I raced in Athens - that our second baby is a boy. In the past two years, in the winter time, I was doing different jobs, taking care of another business and coaching. I had too many things to take care of. And to me, if I get sick in the winter, if I take antibiotics or I miss some time, then I feel it during the season.
CN: And this year you stayed healthy?
VD: Like I should. To make a really good base in the winter and come into the season strong, I need consistent training; I need to start on a strong level then see which races are important and which ones are less important to make the best schedule - some races to try and win, some to get better form and others to take it easy and recover. Last winter I got in some good training, and I never got sick. Basically, I did what I was supposed to do. Good base training; swimming, mountain biking and mileage. When I spoke to Ed Beamon (Navigator's team manager) about our program for the year, that the team had decided to go to Malaysia (Tour de Langawki), I was excited because it gave me a chance to race in late January in good weather; a great follow up to a strong winter of base building. So from the winter - from the gym, from the training, to mountain biking to road then to Malaysia - I started to feel really confident. Then we went to Europe to race for one month then I got back to the States and basically started with Athens. Athens was good. I won. Basically every weekend since then I've gotten some good results.
CN: But we're only halfway into the season. Does it worry you to have gotten so fit so early - that you're spoiling a chance of keeping this kind of form through to the end of the year?
VD: I was planning to be strong in May and June anyway, so no. I knew we'd have a month without many races after that and I figured it would be good to use as a break; to take a little bit of time off then get ready for...well, I'm really sorry about New York. New York is cancelled and I was really hoping to do well there because I live on the East Coast and I have so many friends there. But anyway, there's Charlotte, the Criterium Championships, San Francisco hopefully. It'll be good to have two week's recovery before everything picks up again.
CN: Any more racing abroad this season?
VD: I think I'm going to race in the US the rest of the year. First, for family reasons. Second, I've had good results in the US And I'm 35. I'm getting older. It's hard to race in Europe; different than here. There was a time when I was young, on my first professional team when I was 22, when it was different. But now everything is basically behind me. I prefer to race here. I like criteriums, flat races. It's what I need.
CN: What brought you to the States in the first place?
VD: In that time, in the Soviet Union, we were given an anti-American education but I remember that people of my generation were always looking forward to going to America. We wanted to speak English. We were different than the previous generation. In 1995, I was racing for Navigare-Bluestorm (an Italian team) and we came to America to race the Tour du Pont. I won a stage and had a really good time in this country. Then I went to the Olympic Games in 1996 and was introduced to Mr. Beamon. I had a short chat with him, left my resume and told him I was interested in racing in America. He told me that his team was already full for the next season but he would keep me in mind. A year later, I got the phone call.
CN: You've been with Navigators your entire American career?
VD: I had the opportunity to race for a different team but I really feel comfortable with the Navigator's programme. The atmosphere on the team is so good. Early in my career, I changed many teams and none have been as good as the team I'm on now. In Italy, I was racing for Roslotto-ZG, a Division one team. The leader was Maurizio Fondriest. There was too much pressure there. I started when I was 22 and at age twenty eight, I was really tired. I figured I was ready to stop. I had raced two Vuelta's, three Giro's and all those classics - Paris-Roubaix, Milan San-Remo. Sometimes we were travelling from race to race without any recovery - you got your recovery in the car on the way to the race. We'd get home and have to get up and go race the next morning.
CN: Racing in the US was a chance to live at a different pace?
"After two weeks riding at the track, I got my first bike."
- Davidenko on his early days riding in Georgia.
VD: Racing in the US is different. We go to a race every weekend and only sometimes have races in the middle of the week. I have the winter time to train and a programme that includes recovery to go along with the intense racing. And that ends in September.
CN: Tell me about growing up in the Soviet Union. You were born in Georgia. Did you live in a large town or a rural community?
VD: The thing with the Soviet Union is that I was born in Georgia but my parents were born in the Ukraine. My father is from Ukraine and my mother is from Russia. Why my family was in Georgia is another story: we had a revolution (the Bolshevik Revolution started in 1917 with civil and political unrest against the rule of Czar Nicolas II in reaction to the huge national losses suffered during World War 1 under his rule). My grandfather had been a powerful, rich man in Ukraine and the Bolsheviks wanted to kill him because he was rich. My family escaped to Georgia; where people didn't ask where you were from and why you were there.
CN: How were you introduced to cycling?
In yellow on the podium
Photo ©: Mark Zalewski

VD: We had two tracks in my home town; Tbilissi, the capital of Georgia. One track was cement and the other was wood. I remember that they bought this wood from Australia, kind of a red wood. It was beautiful except they built it a little bit big - it was like four hundred meters (The Dunc Gray Velodrome in Bass Hill, Australia, used in the 2000 Olympic Games, is 250 metres by comparison). I was at school one day and my friend and I decided to go and see the race on the track. At the race, someone said 'hey guys you know if you start racing, after two weeks you're going to have your own bike and you can ride your bike at home and after home, you can go training with us.' It was my dream because Sport bikes, the racing bike at that time in the Soviet Union, were difficult to get. Because production was so limited, you weren't able to buy a bike even if you had the money.
After two weeks riding at the track, I got my first bike. Well, for the first few weeks, I shared just one bike with my friend. He would go ten laps on the track then he was supposed to stop and I was supposed to go for my ten laps. But sometimes he would do 11 laps then I would go for 15. From there, I won nationals on the track and the junior national road race. Then I was brought to the Soviet Union national team. From when I was 17 until I was 22, I travelled around the world with the Soviet national team.
CN: You weren't living at home any more?
VD: We had 12 months of training camp. It was really actually cool. We'd spend one month in the mountains then another somewhere on the ocean. The whole year was like that - going from place to place. We had a good salary and lifestyle. Colnago was our sponsor and we used to have Colnago bikes; nice equipment.
CN: Sounds like a pretty good life. Where do the rest of us get one of those?
VD: It was. Then one day we turn on the TV and we see that a revolution has happened in Moscow and there is no more Soviet Union. After two months they told us 'you guys are free to go.' I spent two months at home wondering what I was going to do. I had to find a job. Of the probably fifty guys on the national team, 20 of them found something in racing and the others just stopped racing. It was a good thing for me that in my last year with the elite amateur team, I won an important race in Italy race for amateurs who want to go to the professional level. I was lucky to find my first contract and started racing in Italy.
"if you're a professional, only take supplements from your sponsor."
- Lessons from Davidenko's brush with the authorities
CN: You were able to compete in the '96 Olympics road race. How was that experience?
VD: The team was good but there was absolutely no co-operation. The team had all the big names - Pavel Tonkov, Dimitri Konishev, Eugeni Berzin, who had won the Giro D'Itlia just a couple of years before. It seemed that everyone was excited to be there but everyone was so quiet at the team meeting. No-one said what he expected or how we wanted to do. I started the race and felt like I was racing by myself. I finished 23rd or something, which was not really that good.
CN: When you got picked up by an Italian team, what kind of a racer were they getting - a sprinter, because of your size and track background?
VD: They got a sprinter. But when I moved to Italy, after a few months, I realised that I needed to lose some kilos or I wasn't going to finish even one race because of all the climbing. I lost ten kilos in five or six months.
CN: You're coaching now, right?
VD: For a few years now. I did a couple of years of coaching before I came to America too. I have some really strong, talented young kids and I believe they have a really good future. They are really talented and they are all doing well.
Celebrating a win
Photo ©: Mark Zalewski

CN: Is it a burden for an active professional to also be a coach?
VD: Sometimes during the season I'm probably overloaded but I like using my experience to help guys, and I'm happy when I see them have good results. I have the time, I have experience and I have a Bachelor's degree to be a coach so I feel good about doing it.
CN: Five years ago you took an over-the-counter supplement and tested positive for a banned substance. What lessons do you take away from that experience, and how did it impact your life?
VD: Originally, I got some supplements in a health food store. It was a major store, you know; a store where anyone can get vitamins and supplements. There was nothing bad listed on the label. When I got the positive test, I was in shock. I immediately mailed the supplement to the Russian Federation. They tested it in the Olympic laboratory and found it had something in it that wasn't on the label. Ultimately, they told me that even though they knew this was a case where I shouldn't have been in trouble, because of UCI rules they had no power to help. I got two months suspension in the winter time - starting at the end of October. I turned my relationship with the Federation cold; the last time I was there was five years ago. From it all, I learned only one thing and I tell the same thing to everyone - if you're a professional, only take supplements from your sponsor. Don't even try to get something else. If you need protein or something, buy it from a cycling shop, from a reputable cycling supplier, or get it from your sponsors.
CN: Is the US your home for life now or do you plan to retire back to Russia some day?
VD: I've spent a lot of time traveling around Europe and the only place I'd really like to live is the US. Our life is in this country. I've built my house here and I feel really comfortable here. The thing about America is that there is always something to do. Not just in cycling but in regular life too - if you're looking to find some interesting job, there are lots of opportunities.
CN: Although the domestic scene seems a little dominated by HealthNet this year, Navigators has been around for a long time - how has the team changed over the years?
VD: We have a lot of new guys, but there is still a core of older guys - Chris Baldwin, Mark Walters. HealthNet is a new team. They have good sponsors. But they are racing mostly in America right now. What's good about Navigators is that we have a diverse programme. We're happy to race in Europe and not just in America. We also raced in Australia this year. We did Malaysia, and the team is going to China in July. So we're racing around the globe.
CN: Is it still important to race abroad or is there enough of a season for a team to race a purely domestic program?
VD: I think it's still important to race in Europe - not full time, just a month or two - because in Europe, you race at a different speed and distance. Going to Europe was a great experience for the young guys on our team. You can't get that kind of experience if you stay in America year round.
CN: Thanks for talking to us and best of luck with the new baby.