Recently on Cyclingnews.com
An interview with Sue Haywood, May 23, 2005
Search for Transcendence
Sue Haywood is one of America's most experienced mountain bikers; with a pro career that started a little later in life she's still learning and striving for that perfect rhythm and the perfect race. Cyclingnews' Steve Medcroft caught up with Sue to discuss her development as a rider, the Olympics and that search for transcendence.
Sue Haywood
Photo ©: Beth Seliga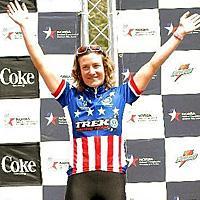 Age: 33
Date of birth: October 9, 1971
Resides: Davis, West Virginia
Turned professional: 1998
Team: Trek Volkswagon
Career highlights
2005
1st Overall, NORBA #2, Arizona
1st, TT NORBA #2
2nd, Short Track XC, NORBA #2
3rd, XC, NORBA #2
2nd, XC, NORBA #1, Texas
4th TT, NORBA #1
5th, Short Course, NORBA #1
2004
1st, Chequamagon Fat Tire Festival
1st, Great Wall Cycling Festival, Bejing, China
1st, Pan American Championships
2nd, Vlaamse Ardennen Trofee, Belgium
2nd, Stage 5, Redlands Bicycle Classic
2nd, Voroklini International
3rd, Swiss Power Cup
3rd, NORBA XC National Championships
4th, NORBA SXC National Championships
4th, NORBA STXC, Waco, Texas
5th, NORBA STXC, Durango, CO.
5th, NORBA TT, Waco, Texas
6th, NORBA XC, Durango, CO.
6th, overall, Sea Otter Classsic
6th, NORBA STXC, Aspen, CO
9th, UCI Marathon World Championships

2003
1st overall, NORBA Short Track Championship
1st, NORBA NCS STXC, Big Bear, California
1st, Stage 1, Subaru Nova Desert Classic
1st, Stage 2, Subaru Nova Desert Classic
2nd, NORBA NCS STXC, Snowshoe, West Virginia
2nd, NORBA NCS STXC, Mt. Snow, Vermont
2nd, Stage 1, Sea Otter Classic
2nd overall, Subaru Nova Desert Classic
3rd, World Cup #5, Grouse Mountain, Canada
3rd NORBA NCS STXC, Sand Point, Idaho
3rd Stage 3, Subaru Nova Desert Classic
4th NORBA NCS XC, Snowshoe, West Virginia
5th, NORBA NCS STXC, Durango, Colorado
5th, Stage 3, Sea Otter Classic
6th, MTB World Championships, Lugano, Switzerland
6th, NORBA NCS XC, Big Bear, California
9th, World Cup #3, Mont-Sainte-Anne, Canada
9th, NORBA NCS XC, Mt. Snow, Vermont
10th overall, Sea Otter Classic
2002
1st Team, 24 Hours of Moab, Moab, Utah
4th, World Cup XC, Grouse Mt, Canada
4th, Norba NCS STXC, Snowshoe, West Virginia
4th, Norba NCS STXC, Durango, Colorado
4th, Norba NCS STXC, Mt. Snow, Vermont
5th, 360º Festival, Telluride, Colorado
6th, Norba NCS XC, Durango, Colorado
7th, Norba NCS XC, Big Bear, California
7th, Norba NCS XC, Troy, Wisconsin
7th, Norba NCS XC, Snowshoe, West Virginia
8th, Norba NCS XC, Mt. Snow, Vermont
2001
US Short Track Champion
1st, UCI World Cup TT, Durango, Colorado
1st, 24 Hours of Moab, Utah
2nd, NORBA NCS STXC, Park City, Utah
3rd, NORBA NCS STXC, Snowshoe, West Virginia
5th, NORBA NCS STXC, Big Bear Lake, California
5th, NORBA NCS XC, Snowshoe, West Virginia
6th, Sea Otter Classic STXC, Monterey, California
7th Overall, NORBA NCS
7th, Sea Otter Classic TT, Monterey, California
7th, NORBA NCS STXC, Mammoth, California
8th, UCI World Cup, Vancouver, Canada

With two races in the books in the 2005 U.S. NORBA mountain bike series, West Virginian Susan Haywood (Trek/VW) has a clean grip on first place. She stood on the podium at both the Texas opener and the Arizona follow-up and with an almost three-month gap until the next NORBA, Haywood has plenty of time to rest, recover, train and peak for the remainder of the series, making her a favourite the rest of the way.
The fact that she is the leader of the series is a testament to Haywood's persistence and determination to make a career out of mountain biking. Since her first race on a Trek Antelope in the early nineties, to her two short-track national championships and her third place in the 2004 XC national championship race, Haywood has developed slowly into her role as one America's leading mountain bikers. In fact, if you had looked at her career throughout the last fifteen years, you probably wouldn't have predicted this kind of success. For seven years after that first race she was no more than a serious amateur. When she did make the transition to the pro ranks, she struggled, saying she underestimated how tough pro racing was - thinking that because she could ride nasty, technical terrain, she'd be able to succeed.
"I'm still looking for that perfect feeling, that perfect race"
-Haywood shows us that surfing and MTB may be related after all
But Haywood wasn't discouraged, and her dedication to the sport culminated in 2004 when, after a year-long battle for UCI world-ranking points, she was named the lone US women's Olympic mountain bike representative. Anyone who followed mountain biking knows what happened next: Haywood was relegated in arbitration by Mary McConneloug, who contested the nomination due to what she felt (and was able to prove to the arbiters) was inconsistency in the way USA Cycling counted the UCI points used to make the nomination. To Haywood, it was a blow. She had just raced in ten countries, earned a third place in the world rankings and won the Olympic nomination by one point but ended up being named the alternate rider instead.
But again, Haywood has not given up and is being rewarded with even greater success. To catch up on the history that brought her to and through that tough year, we talked to Haywood by phone at her home in Davis, West Virginia. Haywood had just come in from spending the afternoon working in her garden.
Cyclingnews: The opening races of the U.S. domestic mountain bike season are over and you have a gap before it picks up again; do you get to spend some time at home between races?
Sue Haywood: A little bit. I'm here in West Virginia now. Today was the day to get into the beehives and check them out.
CN: Bee hives? How many do you have?
SH: I had three but one died off over the winter so now I have two. But I may get a couple more this spring.
CN: What exactly do you get out of having beehives?
SH: (laughs) Not too much. Just get honey from them. It's a little hobby, you know. I have the suit and everything: although today when I was messing with them I didn't put the suit on - I didn't think they'd be interested in me because they were out getting pollen - and I got stung like thirty times.
CN: It's an unusual hobby. How do you even think to try it?
SH: Someone else got me into it. I told him I thought I'd like to do it then I came back from a trip last summer and there were a couple of beehives in my back yard. But it's good he got me started; I would have procrastinated about it forever.
CN: You said spring is the time to check out the hives. Are bees hibernating during winter?
SH: Kind of. They don't sleep per se, but they do kind of stay in a big bee ball, eat the honey they've stored and keep warm by staying together.
CN: With the weather changing and the pollen out, they're probably going crazy now?
At Norba #1, 2004
Photo ©: Chris Davidson

SH: They look really, really happy. You can see the pollen on their little legs. They were out collecting today.
CN: You can see pollen on bee's legs?
SH: Sure. You can see just by looking at them.
CN: Have you always lived in Davis?
SH:I grew up in Wilmington, Delaware and I was a serious local and regional swimmer until I graduated high school. I've been living in Davis since 1993.
CN: Who introduced you to cycling?
SH: When I was a Freshman at West Virginia University (Morgantown, W.V. - a neighbour to Davis), several of my friends had bikes so I begged my dad to buy me a mountain bike (a Trek Antelope). We'd ride trails in the state park on the weekends and evenings; get lost, thrash and have fun. It was my transportation too.
CN: When did you race the first time?
"Race my strengths. One race at a time."
-2005 may prove more enjoyable than a disappointing 2004 for Haywood
SH: In '91 as part of the West Virginia mountain bike series. A friend who was doing the race said 'hey, come do this' and there weren't that many girls racing at the time so I did it even though I wasn't really good. It's probably the same way most people start. Then one thing led to another.
CN: Do you remember that first race vividly?
SH: Oh yeah. I remember it because it was hard. I remember sweating and panting a crashing. I remember it being a real struggle. I remember the excitement of the downhills and the competition - the pure adrenalin rush. I wouldn't say I was totally hooked yet but it was a challenge and I wanted to try it again and see if I could do better.
CN: When did you decide you were going to be serious about racing; turn pro and make it your living?
SH: Five or six years ago. I turned pro in 1998 but I really didn't know what I was doing; I didn't know what it meant to be pro. I struggled for a couple of years then I got a coach, made more of a time commitment; made a greater financial commitment and stopped doing all the part-time jobs and all that. Trek picked me up about that time and could pay me a decent salary. One thing led to another.
CN: That's seven years between your first race and turning pro?
Getting through some singletrack
Photo ©: USA Cycling

SH: I did a lot of regional and state racing. I was a serious recreational rider but I didn't know how to take it to the next level. When I first turned pro, I thought my technical skills would carry me to success - we ride really tough stuff here in West Virginia. I thought mountain biking was mainly a skill-based sport and I knew I had the technical skill. I didn't yet realize that it required a level of fitness I didn't have.
CN: What was the eye opener?
SH: Maybe the second race I did - at Seven Springs, Pennsylvania. It's a technical course and I should have done well but I got maybe sixteenth or eighteenth place. I realized then that mountain biking wasn't about how to negotiate a rock garden. So for the first couple of years I struggled with the whole uphill aspect of the sport. I'm not a pure climber. I'm heavier than a lot of the girls. Don't get me wrong, I've improved. And when the course is technical and gnarly, I get more comfortable. It was just something I needed to learn.
CN: In your racing career, you've done marathon, short-track, 24-hour, cross-country - everything right?
SH: I have. And there's still so much to experience. I like the way Bob Roll put it when he said 'the more you suffer, the closer you get to transcendence.' I'm still looking for that perfect feeling, that perfect race. I get glimpses of it and I'm like 'man, this feels so good,' when I have the perfect luck and everything I did in training seemed to be the right thing to have done for that race. I'm searching for perfection I guess, for the ultimate fun. That's what keeps me racing. And I accept that I may have to suffer in a hundred different ways to get to those perfect rhythms.
"It's good to just get in touch with people whose soul is in what they're doing."
-The local racing scene is still visited regularly by Haywood
CN: You were part of Trek's regional sponsorship program?
SH: For three years. I started racing as part of a team sponsored by my local shop, which was a Trek dealer. From doing all the races around here, I got to know the Trek regional program and got an opportunity to join.
CN: How were you making ends meet?
SH: I taught ski lessons in winter. I worked as a waitress. I worked at a kid's adventure camp for a couple of summers. But the regional team found some money for me and I was able to put a lot of that aside. I was also sponsored by the West Virginia Division of Tourism. West Virginia has always been into biking and mountain biking and thought it would be innovative to sponsor a racer. It was really cool while it lasted and they're still actually a great supporter of me in.
CN: Then Trek gave you an upgrade to the factory team. How did that come about?
SH: I had one short-track national championship on the regional team - on a full-suspension bike that weighed twenty-seven pounds - so in my mind I felt that I was ready to step up to the national team. Things just came together.
Out front in '05
Photo ©: Rob O'Dea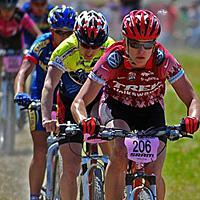 CN: About short track. You said you felt at a fitness disadvantage early in your pro career. Why did short track suit you?
SH: It's funny though; when it first came out, I thought short track was lame and stupid; stupid for mountain biking. Then I started to get better at it and I saw how the crowd loves it and how it gives different riders a chance to showcase their strengths and I came around. Short-track ended up suiting me because it favours power riders and it's a short effort.
CN: You've built an impressive list of results. You handled the Olympic controversy (being awarded the Olympic selection then losing it in arbitration to Mary McConneloug) admirably. What would you say are the major milestones in your career so far?
SH: I'm most proud of my two national championships (both in short track). They represent that I was good over the course of the entire season. Any time I can get a title like that, it's really special. This year, I also thought I could win cross-country nationals (contested in a single-day race rather than a season-long points system) and even though I was third, I'm really proud of that result too. I was only twenty something seconds off the win. It tells me that I'm getting better at my weaknesses.
CN: Do you prefer the one-day national championship to the season-long points race for the national championship?
SH: Absolutely. I still don't like the timing of it though; it shouldn't be held at the end of the season - in July when the rest of the world holds theirs; so we can gain UCI points that could help our world's start positions. (Starting positions in World Cup MTB races are determined by accumulated UCI points. A national championship is an opportunity to gain the highest possible single-race UCI points without a field crowded with competitors from other countries).
CN: What are your future goals? What do you still want to accomplish in the sport?
SH: This year, the 2005 season, I want to get back to having fun in racing. Last year was a big bummer for me. I want to find my space in this sport again; I want to take it one race at a time. Race my strengths. One race at a time.
CN: Is MTB still as good a sport to be part of as when you were a regional amateur?
"as long as you're out there on something, you're part of it"
-Sue Haywood on why MTB still appeals to her
SH: Oh yeah. Although anyone who's seen the things that have gone on the last couple of years would be concerned about it. The UCI is out of touch with mountain bikers; and USA Cycling, although I have a lot of respect for the work they do, isn't generating a lot of warm feelings towards mountain biking right now. But yes, the sport is fun for me. And the grass roots in mountain biking is healthy. You can open any magazine and see mountain bike races happening all across the country.
CN: You still participate in regional events?
SH: I do it to keep in touch with the grass roots because that's where the fun is. It's good to just get in touch with people whose soul is in what they're doing. Plus, at a regional event, the course is usually really sweet, you see all your friends and maybe get some good training in.
CN: Less pressure?
SH: No pressure.
CN: Does Trek encourage you to race non-national events?
Sue's steed for '05
Photo ©: Chris Davidson

SH: Trek is a big bike company and they have Lance and everything but when it comes down to it they appreciate the value of the sport and want their racers to be accessible to everyone. To go out and ride the bikes. Talk to people about them. So yeah, they're really into it.
CN: About your search for perfection - have you found it? Is there a trail out there in the world that has the distance, the climbing and the sweet singletrack to make it the perfect ride?
SH: It's great riding here in West Virginia; we have a mix of everything. We have a great local race, right here out my door - Revenge of the Rattlesnake - that's got a mix of everything. There's awesome riding in Harrisonburg, Virginia - you have to climb but you get rewarded with these sweet downhills. I even like the trails in the middle of the desert in the Texas races...
CN: Sounds like maybe there isn't one perfect single trail for you? They're all perfect in different ways.
SH: Yeah. And that's the cool thing about mountain biking. It's like, as long as you're out there on something, you're part of it.