An interview with Scott Sunderland, November 10, 2005
Part II: Stress, juggling, new arrivals, and the ProTour
In the second part of our interview with Scott Sunderland, the CSC team director tells Jeff Jones about some of the more stressful moments of 2005, juggling his riders, the new signings, and (of course) the ProTour. [Part I is here]
Stressful situations
A relaxed attitude helps
Photo ©: Sabine Sunderland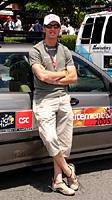 It wasn't all beer and skittles for Mr Sunderland in his rookie director's year. Although nerves were never a problem, there were times when things became a little stressed, and it was Scott's job to keep a lid on everything. "For example, there was a slightly stressful and nervous situation in the Eneco Tour when they stopped the race. That was so unnerving because I was trying to talk to riders. They wanted information, I wanted to give them information, I had no information, I couldn't get any of the information from the commissaires that we needed to have. It was really not good. At that moment I wasn't able of communicating anything to the riders, I was getting frustrated. I said 'look guys, you'll just have to wait and sit. I'll tell you when I know something.' We dealt with it and we saw that at the end of that stage, Bobby was really good and made a fantastic attack; we just had to capitalise on the situation and we did so quite well.
"It's not always easy, because you've got to keep your mind with it at all times. It's been a solid experience for me this year. There are a few moments where I thought 'yeah, I could have done that better', mainly handling the stress and that. Now I'm coming to the end of my first season with the team, and I've come a long way."
Juggling act
Always thinking ahead
Photo ©: Sabine Sunderland

The number of directors in Team CSC will be increased by two next year, with the arrival of Tristan Hoffmann (who started already in the second half of 2005) and Dan Frost. That will allow the team to run three concurrent programs more consistently. "The third program isn't going to be any different to the other two programs, as far as A or B or C riders. It's purely that young riders have to do the smaller races where they can learn and grow, then in parts of the year do the bigger races. And we've always got riders who are peaking. For example, classics-riders always want to do a few smaller races after their break, to catch back up a bit. Riders coming out of a rest period or illness like to ride the smaller races to get back to form.
"You need a good rotation of different types of races for different types of riders under different circumstances. If you just do the ProTour program it's crazy. Imagine you've got a rider who is coming back after being injured and you have to send him to the Tour of Catalonia, how is he supposed to get fit there? He'll be dropped already on the first day in the mountains. You can't get the race fitness then. You have to offer enough races to the riders to keep the balance in the team so that everybody can get the most out of it.
"Some of the younger riders need to have enough days of competition. It's important to still be competitive for the young riders. If they're just getting tailed out the back of the big races, their confidence won't grow 'cause they're not able to contribute to the race. Even if they're only doing 80-90 percent continental races, that's already a lot more than what they were doing as amateurs. That's very much so when you've got young neo-pros at the ages of 20 and 21."
New arrivals
2005 neo-pro Lars Bak did very well
Photo ©: Sabine Sunderland

Team CSC boasts eight new riders for its 2006 lineup, and the team roster will be maxed out at 30. The big signings are Stuart O'Grady, Fabian Cancellara and Karsten Kroon, but there's also the experienced Marcus Ljungqvist, Iñigo Cuesta, and Volodomir Gustov, as well as neo-pros Kasper Klostergaard and Martin Pedersen.
"It's a big team," says Sunderland, running through the names. "We have got a very strong team for next year with guys like Cuesta and Kroon and now Stuey coming into the team. Gustov is a good addition for the mountains and long stage races. Along with Cuesta, we have a very good team for the three week tours. Our Tour line up hasn't changed much from this year. There's no team time trial next year, so our climbers are definitely going to be the ones that we'll be taking."
O'Grady came to the team after his potentially big deal with Giancarlo Ferretti fell through. Suddenly, the Aussie all-rounder was without a contract for next season, but it didn't take long for him to be snapped up by CSC. "We were looking at taking a neo-pro as the 30th man. We had a Danish rider who was a stagiaire with us this year. He just needs another few months to learn a bit more and mature so he would have come in later in the season. But after Stuart O'Grady contacted the team, Bjarne wanted to give him a chance.
"O'Grady's signing is good for us because we've got a talented bike rider, a great addition for the classics. Stuey didn't have a lot to barter with at that time of year, because it comes down to a) a team that you like b) one with a position open and c) budget. So it was possibly more advantageous to us than him from financial point of view. On the other side, I think for Stuart, he could not be with a better team than with CSC to make a step forward in his career. With Bjarne and the way the team is structured, it's a very tight ship. If you toe the line and do your work, you get results.
"I think for Stuart it will be great. He could have a very big year in the classics next year. He knows he's got a team that's 110 percent serious. He knows he can do it. I think it's even better for him not doing the Tour Down Under. Our training camp in January is harder, physically, than the Tour Down Under, but there's no stress. He cops a lot of stress in that race, because he's the home town boy and the favourite. If he's got any problems at the camp, we will be there to help him."
Onto the team's other top signing, Swiss tester Fabian Cancellara: "He is a top time trialist and a one day specialist, as well as being a fantastic domestique in the major tours. It's not a problem to ask him to do stuff and he's great to work with."
CSC's classics and one-week stage race team has also been strengthened, in the opinion of Sunderland. "The riders still with us, like Lars Bak, who showed himself in the Tour de l'Avenir, and our mainstays like Bobby Julich and Jens Voigt. We've also got newcomers for the classics: Marcus Ljungqvist is one of our very good riders for one day races. I know him very well, and he knows most of the team. He knows all the classics and one day races now, and all the three week tours. He's going to be useful everywhere as a domestique."
Finally, there are the two neo-pros, Kasper Klostergaard and Martin Pedersen. "We had very good success with our neo-pros this year. We're looking forward to seeing how they go next year. We took on four for 2005 and two for 2006, so we still have a very young team."
"For the riders who've left or stopped (Scott names Fabrizio Guidi, Tristan Hoffmann, Manuel Calvente, Vladimir Gussev and Thomas Bruun Eriksen), we've replaced them with riders as good or better. We definitely haven't taken a step back."
The ProTour
Making sure
Photo ©: Sabine Sunderland

Everyone's got an opinion on the UCI's ProTour, which is now at the end of its first year. As a concept, it seems to have worked, but there are still flat spots that need to be bashed out. Scott Sunderland's take on it is that it is full on, a bit too maybe. "I look at it from a rider's perspective, because I can still do that. I think we've got it a little bit too crammed. We've got the Tour, then ProTour races straight after the Tour, then ProTour races coming up to the Tour of Spain, then we've got the Tour of Poland in there as well, then we've got all the one dayers afterwards...
"Looking at things, to be honest, I think races like the Tour of Poland - they've put a lot of money into it and it's great and everything else – but it's also logistically such a long way to go there. For us, the Tour of Poland was a breaking point. We could practically handle everything else, but the Tour of Poland was too much. Not necessary, when you're trying to send the best team to the Tour of Spain and you're doing the Tour de l'Avenir or something. You're losing the essence of being able to be competitive everywhere. We could have chosen not to send riders to the Tour of Britain, but for us that was important, it was for our sponsors. It was a ProTour race in Poland but really, the only thing we were getting out of that was more points for the ProTour ranking. So we're going to race there for one week with the only interest obtaining the points. Taking publicity or doing exceptionally well in Poland was of lesser importance."
Handing up a bottle
Photo ©: Sabine Sunderland

One option, according to Sunderland, is to run the Tour of Poland before the Vuelta, and only have one day ProTour races during the Vuelta. "That way it wouldn't be as hard on the team staff, it's not as hard on the riders. Because who's going to be doing that if they're not doing the Tour of Spain? It's the riders who've done the Tour, and the ones left over who've got big form. You've still got the Worlds and three ProTour one dayers to go, and more. And you can take as many points in one of those as you can racing one week in Poland. On that part, the UCI has defeated themselves. For example, in Plouay, you can go there and run third or fourth or you can go to Poland and ride around for a week for the same points! It's crazy. I think there's something amiss there. That needs to be reassessed."
The ProTour has also affected the smaller races, some of which have struggled this year to attract as many top teams as they used to. "They're actually having problems. We saw an example in Asturias. They wanted to offer us the moon if we'd go there, but there was no way we could do it. Certain races, we just couldn't participate in: Fourmies - that's a fantastic race, Paris-Brussels...We couldn't do those races. It was impossible. There was so much on in September. You miss a lot of good continental races, but that's how it is now.
"Even Quick.Step is not doing some continental races here in Belgium because their program is too loaded. Belgian teams, ProTour teams can't do it. It's the same in Spain. In Asturias I think they only ended up getting one ProTour team. T-Mobile sent a team at the last moment and they were the only ones."
The race face
Photo ©: Sabine Sunderland

Of course, it's not just the smaller races that have issues with the ProTour. It's the big ones run by the three grand tour organisers (RCS Sport, ASO and Unipublic) that have been locked in a fierce battle with the UCI over rights and money. So far, the UCI hasn't budged very far from it's initial stance, and the organisers aren't happy. The 20 ProTour teams are a part of this, and so far, they have sided with the UCI. But that doesn't mean that there can't be more compromise.
"There's getting to be a lot more solidarity between the teams, and they're working much better and they're communicating more. Whereas before the Spanish guys would just stick together, the Italian guys stuck together and vice versa, now they're actually talking a lot more and saying, 'Come on, if we're going to do this ProTour thing we've got to do this correctly.' It's going to take a couple more years.
"Once the right communication is there and they have more of a transparent book between team managers, team owners and the UCI, and the bigger race organisers - especially the three major tours - then we're going to get somewhere. It's not going to happen overnight though. I think now we'll see a bit of a change with a new president of the UCI. Verbruggen was too stiff in a few of his ideas, too rigid, and he didn't want to bend. Hopefully we'll see change with McQuaid. He's seen this himself maybe – again, hopefully - and he'll be already prepared to make things work better, at least get it on the table to be negotiated rather than just saying 'No. My way or the road.'
"Nobody's going to pay that sort of money to be part of the ProTour and not be able to do the big tours. The Tour de France is the main one. Most teams are interested in doing two of the three big tours. The Giro/Tour, or the Tour/Vuelta. There's not too much interest in doing just Giro/Vuelta. If you can only do one race, then it'll be the Tour de France.
Time out
Photo ©: Sabine Sunderland

"Even I think if the ProTour had only the Tour de France in it that would be more than enough. If the Giro and the Tour of Spain said 'Nope, we don't want to be part of it' and they don't, they will still get teams wanting to be there. The Tour de France has to be ProTour. If the other two bail, I don't think that would cause any problems. If we still have interest in going then we'll go there. The same with all the national teams that are always going to be there. The Italian teams will always be wanting to ride the Giro, the Spanish ones will always want to go to the Vuelta. Add half a dozen foreign teams and everyone's happy."
After a very brief discussion of the best ProTour races of the year, and Roberto Heras' dominance of the Vuelta in its final week, we called it a night. Scott Sunderland has completed his first year as a sports director with flying colours. Next year, he'll be behind the wheel with 12 months of valuable experience, and that will surely show in the results even more.
See also part I, where Sunderland looks back on his first year, the difference between being a director and a rider, and his highlights of 2005.
Photography
For a thumbnail gallery of these images, click here
Images by Tim de Waele
Images by Lars Rønbøg/picturesport.com
Images by Sabine Sunderland
Images by Régis Garnier/www.velofotopro.fr.st
Images by Florian & Susanne Schaaf/cyclingpictures.de
Images by Sabine Sunderland