An interview with Miguel Martin Perdiguero, July 28, 2005
Taking his own path
Miguel Martin Perdiguero
Photo ©: Anthony Tan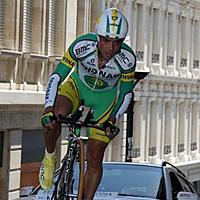 Age: 32
Born: October 14, 1972
Place of Birth: Madrid
Height: 170cm
Weight: 62kg
Turned professional: 1997
Teams: Kelme (1997-99), ONCE (1999), Vitalicio Seguros (2000), Acqua e Sapone (2001-02), Domina Vacanze (2003), Saunier Duval-Prodir (2004), Phonak (2005)
Career highlights
2004
1st, Classica San Sebastian
1st overall, Volta a Catalunya
1st, stage 2, Volta a Catalunya
1st, stage 3, Volta a Catalunya
1st, stage 4, Volta a Catalunya
1st, stage 5, Vuelta a Asturias
1st, stage 1, Bicicleta Vasca
1st, stage 2, Bicicleta Vasca
2003
1st, stage 4, Vuelta a la Comunidad Valenciana
1st, Trofeo Pantalica
1st, stage 3, Vuelta a Castilla y León
2002
1st, stage 4, Semana Catalana
1st, stage 3, Vuelta a Asturias
1st, stage 3, Bicicleta Vasca
2001
1st, stage 1, Clásica de Alcobendas
1st, stage 1, Vuelta a Asturias
2000
1st, GP Miguel Induráin
1st, Stage 4, Vuelta a La Rioja
1st overall Vuelta a La Rioja
He's not your ordinary type of rider within the pro peloton, having been in the spotlight many times during his career; not only for his feats on the bike but also for his uncommon behaviour off the road. 'Why should I follow the rules?' says it all for the Phonak rider. Hernan Alvarez Macias checks in with 'Perdi' to see how his season is looking.
With his move from Saunier Duval to Phonak in 2005, Perdiguero has distinguished himself by frequent appearances in many breakaways, most of which were caught. Last year, however, Miguel won two big races that really displayed his quality as a rider: Volta a Catalunya and Classica a San Sebastian - just reward for such a combative rider.
Cyclingnews: How are you going at this time of the season?
Miguel Martin Perdiguero: At the moment, I've been a month out of competition, preparing myself for the classics that happen at this time of year. So, even though I'm not in the Tour and I'm not racing, I'm still feeling good at the moment.
CN: How do you feel in Phonak, considering it was a recent move?
MMP: I'm fine. It's a different team, a Swiss team. I'm not used to being a rider in this team with more orders and planning, but I feel good. Everything is done correctly, so it's ok. Besides, we have a director like Juan Fernandez who is Spanish, and I have Spanish team-mates, so everything's perfect.
CN: In 2003 Spain's Interviu magazine published a report where eight Spanish cyclists posed almost completely naked. You were one of them. How was that?
MMP: That was my idea, together with Aitor Gonzalez. It was simply...to demonstrate that we riders do not have such ugly bodies as most people say. They say we are people with two colours - black and white - and too skinny, too scraggy. It was just to laugh for a while with friends and for people to see that we are not so unattractive, that we have bodies good enough to be exhibited.
CN: And people on the streets recognise you on the street for that article?
MMP: No, not really. People recognise me in the street just because I'm a cyclist. I think that all the riders that appeared in that article were rather famous before the feature was published. I think that none of us needed the piece [to become famous - Ed]. On the contrary, I think that it may encourage more women to watch those riders who have bodies which are attractive to look at.
CN: On Spanish radio you were interviewed after you were in the magazine feature. I remember you spoke about directing people's attention to cycling. Did the piece help do that?
MMP: I don't know. What I said at the time was that riders weren't as bad as the press had been saying. Regularly there are fewer young boys competing in the youth categories. So, I was saying 'why not be a cyclist? Why not be an elite sportsman?' I was showing that it's not so bad.
CN: Have things change in terms of media attention on pro cycling with the UCI Pro Tour beginning this season?
"Many times it's not where you win, but who you beat when you win."
-Perdiguero loves a win against strong opposition
MMP: I think not so far. In my opinion it's not a bad idea. I think that things haven't changed because people are not about it [the Pro Tour] too much. The local television networks [Spanish ones] tend toward not accepting that the Pro Tour races are theoretically more important. So, they keep on supporting the old races that are also interesting for me. So far it's [the change] that's hard to take; it's very difficult to end business relations with so many sponsors. Personally I think the ProTour project is fantastic, but it's obvious there should be some changes; especially in the relegation matter and also the fact that all races are compulsory for all the teams.
CN: Do you think the Spanish media's cycling coverage has grown?
MMP: Up till now, the Spanish media, the TV stations especially, have stayed on the same track concerning cycling. In Spain, apart from soccer and now Formula 1 [Spain's Fernando Alonso currently leads the championship] they broadcast all kind of sports. I think that nowadays they don't care about the Pro Tour.
CN: Was your win in the Volta a Catalunya last year your greatest achievement in your career so far?
MMP: No, I don't think so. I consider winning the Volta a Catalunya last year wasn't my greatest feat. I think it was very good because it's always been a very important race, but I prefer the Clasica a San Sebastian win [in 2004]. Many times it's not where you win, but who you beat when you win. So, without disrespecting the Catalunya podium, I feel the San Sebastian podium with [Paolo] Bettini and [Davide] Rebellin was a little stronger, when you have a look at it.
CN: Are you going to ride the Vuelta a España?
MMP: Yes, but first I'll do the Vuelta a Burgos, the Clasica a San Sebastian and then the Vuelta a España.
CN: You had very long hair years ago. That was something really unusual inside the international peloton. Why did you cut it?
At the Tour de Suisse, 2005
Photo ©: Anthony Tan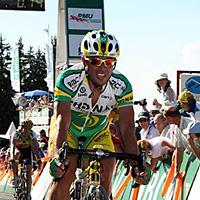 MMP: I think changes are always good. I had short hair, then I left it long. Now I have it short again. I don't know, I'm a person who likes to change. It depends on how I get up in the morning, I do one thing or another. One day I said to myself 'I'm a bit tired of this', so I shaved my head. It's something that just comes along, and that's about it.
CN: A journalist in a Basque newspaper wrote last year when you won in San Sebastian that you were the most iconoclast rider in the world; a rider who doesn't like following the rules. Is that true?
MMP: I like to do what I want sometimes. Indeed, there are moments when I can't do it or mustn't do it. But if you don't hurt anybody and you do your job, why should you follow the rules? I think that in cycling, rules should be made by the road. So, my thinking is that a cyclist's success is based on wins and publicity. Then, if you win plenty of races and you don't have publicity, it isn't worth as much; it's the same thing if you have a lot of publicity and you don't win races. I think that the rider needs to receive publicity outide of their triumphs. And there are some who don't do it.

CN: You told me the Classica a San Sebastian was your greatest achievement so far. The memory of it still remains, right?
MMP: Sure. In the end if you realise that, the riders who win a World Cup race are very important. There aren't many really good riders who don't win any of these races. So, if I think of it this way, the most important races are the ones I believe help me become more recognisable to people. This came after that race.
CN: The Phonak team looks like the United Nations because there are riders from all over the world. How do you get along with each other?
"He lets you do what you need to, but demands the maximum when he needs you to do it."
-Perdiguero enjoys a good relationahip with DS Juan Fernandez
MMP: Well, the truth is it was surprising that we understand each other so well with so many different people. The basic team speaks Spanish and English almost perfectly. Apart from some Swiss staff who are hard to understand, I think we understand each other very well. Besides, the directors and the manager speak Spanish, English and French perfectly. So, there's no problem.
CN: Phonak's headquarters are near Zurich - have you been there? I guess it'd be very different from Madrid or any other Spanish region.
MMP: We were at a training camp in Switzerland last December. During the camp, you're always in the hotel. Riders are very used to be in places where people don't speak their language, so, it's the same being in Switzerland as it is in France, Italy or Germany. You are so accustomed to it that it's the same. In the end you end up talking with everybody, no matter in which language; so you don't quite realise exactly where you are most of the time.
CN: How are things with director Juan Fernandez?
MMP: Well, very well. Juan is a director with many years of experience. He was among the elite as a rider, and now he's among the elite as a director. I think he's the right person for the job, considering the current state of pro cycling. He lets you do what you need to, but demands the maximum when he needs you to do it. I think the communication between us is great.
CN: Would you like to stay in Phonak or prefer to return to a Spanish outfit?
MMP: Well, so far I've signed with Phonak for one more year. So, in 2006 I'll stay at Phonak. There's still time to think of a move to another team or something.
CN: How do you rate Santiago Botero and Oscar Pereiro's performances in the Tour de France? They were the big stars of the team in the Tour.
Back in Spain
Photo ©: AFP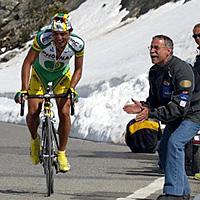 MMP: Pereiro has done very well. This year he was really looking for the stage victory and he finally made it. And Santiago started very well but it was a tough effort and cost him during the final days. He began the season very strongly, and in the Tour he started well, but in the end he lacked the consistency over the three weeks.
CN: Before the start of the Tour, Santiago Botero was one of the candidates for the final victory - so what happened?
MMP: He began the year with plenty of anticipation and form, winning the Tour de Romandie, taking second in the Dauphiné, and a stage in Catalunya. Maybe the fact that he came with too many expectations could have been a negative factor for him.
CN: What's your impression of this year's Liège-Bastogne-Liège, where you finished in seventh?
MMP: In the end it wasn't good. I expected much more from myself; I prepared for this race very well and because of some mistakes I made I couldn't perform better. I was very angry with myself because it's such an important race and right at the key moment I made mistakes that I shouldn't have.
CN: Are you going to ride the World Championships in Madrid?
MMP: I don't know. In the last few years I had some differences of opinion with the national team coach, but I hope they can be fixed. I hope he thinks I'm from Madrid; I live in Madrid and I've ridden long enough to be in the World Championships.
CN: You would be the local guy among the locals.
MMP: I hope so!
CN: What are your races after the Vuelta?
MMP: After the Vuelta, I race Paris-Tours, the classic in Zurich [Züri Metzgete] and then the Giro di Lombardia. There aren't that many races on my programme, but they're all very important ones.